God is our good, better, best and true friend in our life - A friendship day greeting.
[This entry is the 1st prize winner of the friendship day creative writing contest]

Friend is a word that cannot be forgotten in my life. I had a childhood friend named Madaswamy. We studied together from std I to SSLC. We were the bench mates. I had an excellent handwriting that he always admired and envied. After our SSLC, I got a job in a bank and was posted in Andhra Pradesh. Madaswamy continued his higher studies and became a teacher in a local school. Since I got settled in Andhra Pradesh, I could not meet my friend Madaswamy for many decades. One fine day, I happened to visit Tiruchendur Lord Sri Subramanya Swamy temple. There I could meet my friend Mr. Madaswamy with his good wife. We were surprised and had no words to express our feelings. When we parted , Madaswamy asked me to send a greeting card on friendship day to see my handwriting. I agreed. I improvised my own self-designed greeting card with a good art in it. I wrote the following greetings:
Dear Madaswamy,
My sincere friendship day greetings.
We might be worried and troubled about everything, wondering and fearing what tomorrow will be. We would long to tell someone about our problems. There is only one place and only one friend who is never busy and will be waiting to receive us with his open arms. He is the God who is our friend. On this friendship day, let us seek Him and find Him at the altar of prayer. May God bless you and be with you in all your endeavours in your life, my friend . God is our good, better, best and true friend in our life.

I posted the greeting card three days prior to the friendship day to ensure that Madaswamy gets my greetings on the right day the friendship day. While I was also awaiting a greeting card from Madaswamy where I wanted to see his renewed handwriting, the postman came with a telegram which read "Madaswamy reached the heavenly abode." I was stunned. I packed up my luggage and rushed to join the funeral procession to pay homage and to bid farewell to my dear friend Madaswamy to reach the heaven. Before the funeral procession, while we were getting ready, the postman of that area came and handed over a greeting card addressed to Madaswamy. Alas! It was the same greeting card that I sent to Madaswamy. While the funeral pyre was set by his son, I placed the greeting card on his body, cried and said," Oh My dear friend, I wanted you to seek the blessings of the God who is our best friend in life. Alas, you left us to be with your true friend in the heaven. Just read my last greetings and wonder my handwriting, my dear friend." I could feel Madaswamy smiling and reading my greeting card and telling," Thank you, Your greeting and your handwriting is marvellous. I still envy your handwriting, my friend."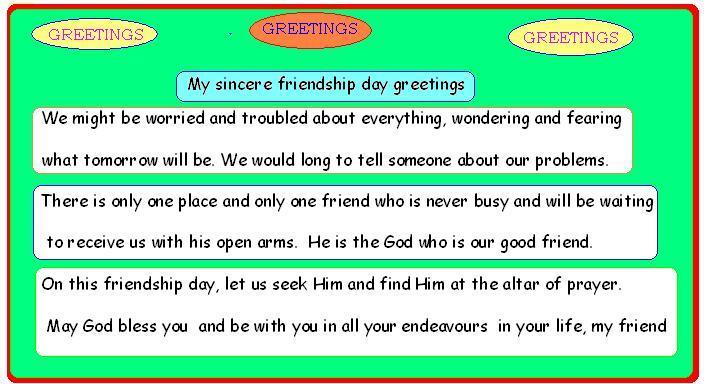 @ This is my entry for ISC's 'Me..a friend to friend friendship day greeting card.....' competition.