2016 Star of the Year Award Winners
ISC has announced the list of the Super Stars of year 2016. Check out the torchbearers of ISC.
Each year, reputed national & international magazines display on their cover the people whom they consider as 'Person of the Year'. Here, too, at IndiaStudyChannel.com, we give the highest honour to the members of the year with the title of 'Star of the Year' and a cash award of Rs.1000/-.

Each & every member has, in his or her own way, made invaluable contributions to the development of the site. However, there are some who, one would say, have done so in such an extraordinary manner that they deserve the honour to be on the cover page of ISC.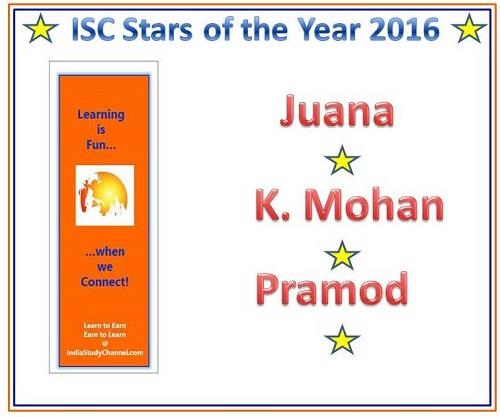 So lay down the red carpet and give a standing ovation to the ISC Stars of 2016!

Juana the author: Reminding you all of the 93 articles submitted for one triple rewards' program which left everyone else exhausted! Of course, this proficient writer has not just penned scintillating articles at a furious pace. We have read, as well, her informative feedback in responses to articles penned by others. Then there are her ever-sparkling animated forum discussions which stimulated the mind in such a manner that these stood a notch above the rest. Many of us have gained, too, by her wonderful advice in the Ask Expert section. A super bright star of ISC indeed!

K. Mohan is the most well-known face at ISC. Right from the word get-go as a member, he has been a lively presence in our forum. New members invariably know him first before all other ISCians! A few of his threads may be considered as dull by some, but, let's be honest guys, has there been a day when you did not check if he posted a thread? Many of his threads have delighted us with their perspective of the mundane things of life - who'll ever forget the mat-eating cow?! – not to mention some creative threads like the mammoth feast where all ISCians contributed and set our mouths drooling!

Pramod may not be visible in the forum, but, until a couple of months ago when professional commitments obliged him to step away, his name has always featured in our right side pane. He is the one who is the undisputed contributor of the jobs section and this was the case in 2016 as well with additional useful school posts to link them up with. As other members who contribute in the jobs section well know, it takes a good amount of time to fill in all those little & big boxes for each and every job! Many an unemployed person will have surely benefited from his postings here, so why not honor him for his untiring zeal?!

Congratulations to the three for their achievements - we're proud of you!

We hope these three star members inspire other ISCians to take that little extra step which will bring out not just their best, but their extra best.