Dear Friend salutation - further clarification
Unsure about whether or not to capitalize the word friend when used as a form of address? Clarity to this problem has been brought out here!
This is with reference to our earlier interesting forum discussion on How to write the salutation Dear friend - in sentence case or with capitalization?.

One of the members had stated that since the word friend forms part of the address, the first letter should be capitalized. Another member quoted Wren & Martin, the most reputed English grammar book since our school days.

I finally located my own copy of Wren & Martin and looked up the quoted text. It appeared under the Letter-Writing section, under the heading of 'Friendly Letters'. This is an image of the pages: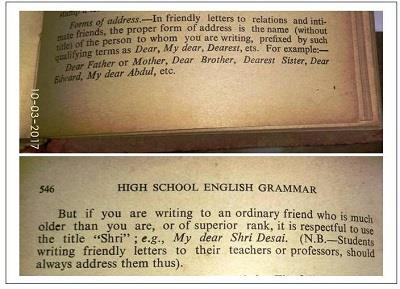 After thinking it over, I am finally convinced that indeed it should be 'Dear Friend' and not 'Dear friend' since it is stated that we would address a sibling, for example, as 'Dear Sister' or 'Dear Brother'.

Thank you ISCians for your feedback in the earlier thread. Any further discussion on this is welcome.