Information about ESIC smart identity card and how to know status

Employees have many queries in their mind about the ESI smart identity card. This article will help them to resolve their problem by providing the guidelines about the ESI smart identity card. Also know the procedure to apply for pehchan card.


Pehchaan Card
Under the concept of Pehchaan Project initiated by ESIC, a unique card is issued to each insured person, i.e. employee. The card bears all details of the person (name, father's name, insurance number, complete address, etc.) passport size photograph of person and his/her dependents and finger prints. Each set contains two cards- one card is meant for the insured person or employee and another card for his/her dependents/ family members. Family members can use their card to avail medical facilities of ESI scheme if they are away or living in another town.


ESIC Card Online Registration
First of all, you need to enroll yourself. Here are complete steps for enrollment of ID card.

An insurance number is generated to the employer registering the employee and then the latter becomes an insured person.
A Temporary Identity Card (TIC) is generated after registration. Employer will give you its print out.
Take duly attested (by the employer) hard copy of TIC as well as family photograph and step in to your nearest branch office.
They will take your photograph, fingerprints and family members.
You will get the card within 2 weeks.





You need not enroll again even if you change your employment, lose your card, card is damaged or destroyed. Same card can be used in case of change of employment. In case card is lost/ damaged/ destroyed, visit concerned branch office and collect duplicate card on payment of Rs. 25 as fee. Re-enrolment may lead to blockage. Validity of card is not expired and works on permanent basis.

As of now, there is no known method to check card status. But we will tell you more about this soon. Stay tuned with us and bookmark this page (press Ctrl+D button on the keyboard) for each access.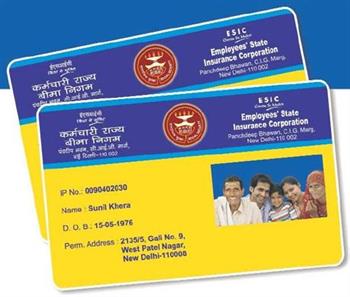 Image courtesy-www.esickar.gov.in
Features and benefits
If you are joining a job or changing your job and you are already having ESI Registration (Insurance No.), then please inform your new employer about this.
Some benefits are available on the basis of your period of contribution. You can increase (or avail) your benefits on changing your job related to contribution by registering yourself with ESIC Insurance No.
You can continue receiving the treatment benefits and other benefits even after changing your job or employer by using your present ESIC smart identity card.
If you are not nominated for any smart card or have not received it, then visit ESIC identity card camp with your family for giving biometrics for new permanent smart card within 15 days of issue of TIC. TIC is valid for only 90 days and permanent identity card is issued before this period.
If you are already nominated for smart identity card with your previous employer but has not received identity card, then you can take it form your employer or contact with the ESIC office for this purpose.
If your new smart identity card is permanent then it will be valid even on changing the job or employer. Always tell your new employer at the time of joining the job about your smart identity card.
Give the information about your mobile/ telephone/ e-mail/ family etc. to your employer to do update in the portal so that you can be contacted to give you immediate services or suggestions.
Always carry your ESIC smart identity card and/or computer generated OPD slip with you while going to ESIC dispensary/ hospital. You can avail its benefits quicker on having them with you. Also, your previous record can be found easily to help in your recent treatment.
How to contact Employees' State Insurance Corporation?
For any more clarifications or help, please send your query to itcare@esic.in
For more details, please the website of Employees' State Insurance Corporation at www.esic.nic.in
You can also call at toll free helpline No. at 1800 11 2526
You can also visit at your nearest Employees' State Insurance Corporation office.


The address of Employees' State Insurance Corporation in New Delhi is:
Employees' State Insurance Corporation,
Panchdeep Bhawan,
C.I.G. Marg,
New Delhi-110002