Three Lakshmi Nrasimha Temples in a Geographically straight Line! - A Holy Visit

This article says about my experience in visiting three Lakshmi Nrasimha temples - Singrikudi, Poovaransankuppam and Parikkal, that are said to have special values. It includes the uniqueness of each temple and also the directions to get there. I have made it as simple as possible to spread the divine power of Lord Lakshmi Nrasimha and enlighten people about three ancient temples.


Me and my family had an opportunity to visit these holy places sometime during the early part of this year. We were blessed to get the dharshan of three Nrasimha temples (Nrasimha, being our "Kula Dheivam") on the same day - Sri Lakshmi Nrasimha Swami Temple , Singrigudi , Sri Lakshmi Nrasimha Swami Temple, Poovarasankuppam and Sri Lakshmi Nrasimha Swami Temple, Parikkal.


Singrigudi or Singri temple

We started from Chennai early in the morning in our own vehicle. As we dint know the exact routes of two of the temples, we took the guidance of google maps and several blogs. We headed towards Dindukal and then took the Pondicherry - to - Cuddalore highway. After 10 mins of drive in the highway we took a right turn and enquired the local people for further guidance. We were directed to a small village called Abhishekapakkam. From there, we reached the temple in 15 mins. The temple is said to be 1000 years old and was built by the famous south Indian king Rajavarman. The temple is built atop a small hill and The idol is around 6 feet in height. The speciality of the temple is that, here you can see Lakshmi sitting on the right lap of Sri Nrasimhar and Lord has his right hand around Devi's waist. This posture is said to be unique, not seen in many other temples, and is said to be the main attraction of the temple. The temple has a separate shrine for Bala Anjaneya. Overall, a small, calm, powerful temple and a must-visit one.


Poovarasankuppam

Our next place was Poovarasankuppam. We started from Singri and headed towards Madukarai, which is around 18 kms far. Then we passed via Siruvandhadu Junction and reached the temple. The temple is also called as Dakshina Ahobilam. This is said to be 1200 years old and this is the place where Lord Narasimha gave darshan to seven rishis along with his consort, after Hiranya Samhaaram. The Lord is said to be angry and Goddess seems to be pacifying the Lord. The uniqueness of this place is that The Lord poses with Amirthavalli thayar who is partially facing the Lord and also bestows her blessings with her glance at the pilgrims. No other temple in the world is said to have Goddess in such a pose. A common belief is that if one visits this place and offers a 48-day prayer, all his debts and enemies will vanish.


Parikkal

From Poovarasankuppam, we moved to Parikkal (one of the temples we visit often). It is an ancient temple located around 23 kms from Villupuram. The place is situated between two rivers, Thenpennai and Garuda and is very divine. It is built by Vasantharaja who ruled Vriddachalam and the story says that Lord Nrasimha gave dharshan to him after killing a asura, who was troubling the king. This temple is also special for having two Anjaneya idol in the same shrine. We got to know about the three temples from a 'Sthala Puranam' book we bought in Parikkal. It said that these three Nrasimha temples are located in geographically straight lines and are also at the same height. It is a blessing to visit these three temples on Swathi Nakshatra. I wish to insert a map from that book.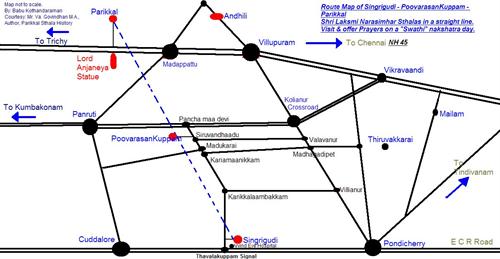 Image courtesy : www.indusladies.com