Top 5 best and most effective face wash for men in India

Want to know the best oil control face wash or cleanser available in the market? Which face wash is the best to get rid of acne and pimples? How to get a fair and glowing skin? How can you take care of your skin from the daily UV dust exposure? What is the most preferred face wash used by men across India? This article will help you choose the best face wash according to your face type no matter oily or dry and help you stay fresh all day long.


You get up in the morning, freshen up, have a very nice satisfying bath and get ready to go to your office. Once you get outside of your house everything changes, especially for public vehicle and two wheeler commuters. The amount of pollution in the air, dust and not to forget, the scorching sunlight just makes your skin dull and by the time you are back home from your office, you will be back at square and your face will be looking all the more dull. People usually have a misconception that a normal soap can actually function as a face wash, which is false. The content of a normal soap is much stronger than a face wash which can gradually make your skin lose its glow. There are a few face washes that lets you overcome these issues and let your facial skin stay fresh all the time. In this article, I have reviewed the top 5 face washes that are available in India, for men.


Top 5 face washes available in India
Garnier Men Oil Clear Face Wash


The company claims that this product was recently voted by men in the country as the 'product of the year'. The main content of this face wash is 'mineral clay' and 'cryo menthol'. The main purpose of the mineral clay is to help your facial skin improve its elasticity which it loses during excess stress conditions. The mineral clay gives the face wash its peculiar color. And menthol, you guessed it right! It gives you an icy cool effect once you use this product. It also keeps your face hydrated and keeps the skin glowing, thus working as a proper skin care treatment.
Content: 50 Grams
Price: 85 Rupees


Himalaya purifying Neem face wash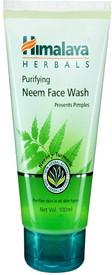 The products made by the company Himalaya are usually Ayurvedic/ herbal based and so is this. The main ingredient of this face wash as the name itself suggests is Neem which has the ability to control acne and pimples and also help it glow naturally. It also has turmeric, the most trustable and 'side – effect' free anti bacterial agent that is available to the mankind! Turmeric helps in destroying all the bacteria that are responsible for causing Acnes and pimples. It also helps in moisturizing the skin thus helping it retain the softness.
Content: 100 ml
Price: 90 Rupees


Clean and clear foaming face wash




This is a good face wash for skins that are usually acne prone. This face wash contains a chemical called Triclosan which usually acts against bacteria, the main reason for causing pimples and acnes. It also contains glycerin that helps you face hydrate more and keep it fresh all the time. Glycerin also helps you prevent any kind of irritation that the chemicals cause on your face.
Content: 100 ml
Price: 80 Rupees


VLCC Men Active Light Fairness Face Wash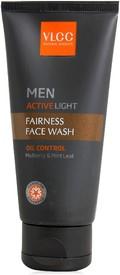 The main ingredients of this product includes natural ingredients like Cellulose, extract from mint leaves, mulberry etc. Mulberry extract helps you lighter the skin color. It also has some anti oxidant effect which helps in maintaining the brightness of your skin along with dark spot reduction. Min, gain acts as a cooling agent which gives you a very nice soothing sensation. The Cellulose granules present in this face wash helps in reducing excess oil from your face and retain the essential amount. It also acts as a 'pore cementing agent' helping in reducing the number of open pores.
Content: 75 ml
Price: 95 Rupees


Nivea Advanced Whitening Oil Control 10 in 1 Face Wash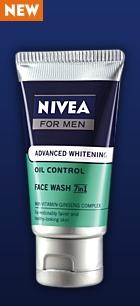 This is my personal favorite. The company claims that the product contains a Whitanat Vita Complex formula which supposedly has 10 very vital ingredients that's necessary for a long lasting fresh skin. It also has oil control systems that would clear the dust and dirt present in the facial pores without letting it clog. It also helps you to lighten the decolaration issue caused due to travelling in under harsh sunlight for longer time. The product also helps your skin remain oil free all day long, thus helping you stay fresh all the time.
Content: 50 ml
Price: 80 Rupees


Conclusion

A healthy looking skin is the base for a healthy looking body. It's really important that one takes care of their skin every now and then as it is the most frequently exposed part of our body during our day to day life and the fact that it's sensitive makes it more prone to wearing off. So select the best face wash that suits your face and make sure that you cleanse it twice a day. Also make sure that you don't use it excessively because at the end of the day all it contains are chemical and over use of chemicals on a sensitive skin in never good. So use it in moderation. Try it out and feel the difference!