Low cost house construction methods in India

In this article I will explain the low cost construction of a house. Also I have mentioned the low cost material for construction, different technics and proper planning for low cost house. By reading this article you will get an idea about how to reduce cost of house construction.


Now a day the cost of construction is increasing day by day. Every construction material like cement, brick, laterite and labor charges are increasing. In this situation the need of a low cost housing material is important. Most important thing to reduce the cost of a house is the start the construction as early as possible if you have plan to build a new home. Or start collect the material for construction. It is good idea to find the money for construction by taking a loan. There are lot of banks and other institutions are giving home loans in India.


Cost reduction by proper planning.

Proper planning will reduce the cost to a great extend. Planning means consult a good structural engineer for safe structure with durable and low cost material. A structural engineer can reduce the unnecessary cost and optimum utilization of space. Avoid too much height and lot unwanted rooms or spaces in the plan. Collect all the resource likes material before starting the construction. Using alternate low cost material like steel door, plastic door instead of wooden will reduces the cost. Consider the vaastu concepts before starting the work to avoid the demolition and extra cost for correction in future.


Preparation of low cost plan model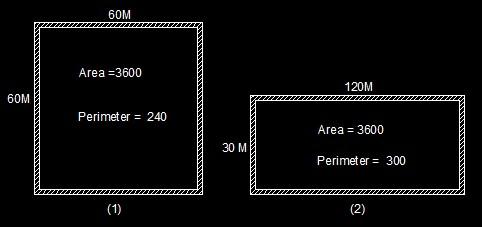 Preperation of good plan can reduce the cost of rooms and boundarywall to great extend. The boundarywall length will be shorter for square plot compared to rectangular or triangular plot. From the below figure it is clear that cost of 60m length boundarywall can be saved. This is applicable to room design also. By planning a square room, the cost of brickwork, plastering, wallbase and paint will less.



How to make low cost foundation

Avoid large width and depth for foundation. For a good soil likes sandy or gravel type only two feet width and two feet depth is enough. For loose soil or black soil Use piles. And provide arched foundation to bridge across places have large pits. Provide beltbeam only if needed. If the you are providing rubble masonry well packed with mortar, then there is no need to belt beam.


Low cost wall systems

Precast wall system can be adopted in place of conventional laterite and brickwork. Precast wall systems are made in factory and transported and placed with the help of equipment. Another method is by use of hollow concrete block as low cost material . This is blocks with dimensions similar to laterite in factory or site itself. Lot of clay can be saved by adapting this method. This method is a cost saving and provide thermal insulation. The precast stone is used instead of laterite and brick masonry. Semiskilled labors can prepare this precast stone in site or factory. Unskilled labor can easily construct wall with this type of block and reduce the cost. Length and height are 30 and 15 with width varies from 20 to 10 cm. Soil cement blocks are another substitute for brick work. For this stabilized soils and cement are mixed and compressed with the help of machine and form the blocks. Rat trap bond is type of brick work inwhich bricks are placed in such a way that a cavity is formed in the brickwall. This system will reduceS the cost and a help as thermal insulation. Half thick brick wall will reduce the cost of construction in more than 50 percentage. Usually non load bearing wall are constructed by half brickwork. But properly arranged half brickwall can be used as load bearing wall in single storied house. The strength of wall can be made by overlapping halfbrick wall. Place a belt ring of 23cm and depth 7.5 with ten mm dia MS bar is required.


Low cost roof systems

A structural engineer can accurately calculate the steel required for the concrete and hence reduce the overplacement of steel. Filler slab is another method roofing. In which concrete in tension zone can be replace by low cost material like brick and soil.


Low cost windows and doors

Cost of wood is increasing very fastly and not available also. RCC door and window frame can be used instead of wood door. It is a good practice to use wood door and window in front and others are Rcc. Another substitute for wooden door are hollow steel frame. Plastic door also used in many palces to reduce the initial cost and maintaince cost. Construction of Jalies are another method to reduce cost. These are the several small openings in the palce of window.


Cost comparison for door frames

Let us compare the cost of different material like teak, irul, concrete etc used for door frames. To make one door frame approximately 3 cubic feet material is required. Then for
Teak wood door frame : 3*5100 = 15,552
Irul wood door frame : 3*2079 = 6,237
Plavu wood door frame: 3*2241 = 6,723