How to book IRCTC Tatkal ticket fast?

10 Steps to book your IRCTC tatkal tickets easily: Indian Railway Catering and Tourism Corporation Limited a.k.a IRCTC is the only source of booking ticket online for trains in India, and one form of ticket, called as Tatkal, wherein you can book ticket one day prior to the journey.


IRCTC Tatkal ticket opens at 10 AM on the day before the journey and believe it or not this is the most crucial period of all the people who work away from their home town in different cities. Usually it is one of the best way to test our anger and we can even suggest this as a course in Anger Management.

So here, I would like to share with you some of the easy, simple and effective way of booking IRCTC Tatkal ticket, which will work most of the time, but on the contrary, if isn't your day, then bad luck.


How to book IRCTC Tatkal ticket easily, quick and fast?


1) Open a note pad and save all the details in that, viz., Proof, like driving license/PAN card etc., name, age details and other details. This will be useful when you are in the process of bookig ticket, where you could save lot of time.

2) Log in to IRCTC site at 9 : 45 AM

3) As soon as you logged in please check the Server time in the wesbite, and not the time in your PC

4) Select the Source, destination and Tatkal Ticket and select the train and class which you would like to travel, before 10 AM. Make sure you doesn't loose the session. So please make sure u starting clicking the Book button a couple of times from 9:55 AM.

5) So once the server time reaches 10:00 AM, click the Book button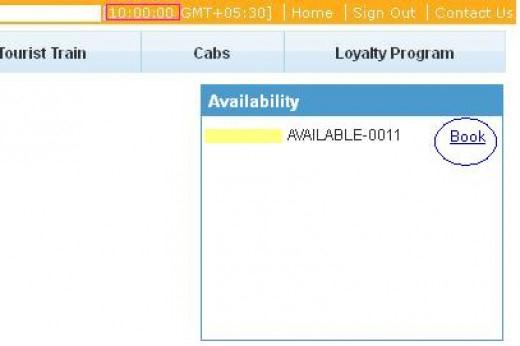 6) Remember this point: As soon as you start booking, if you find Service unavailable page at any point of time, never close the window or click back button. Just refresh the page, and in couple of refresh you will be directed to the page where you left.

This was the common mistake which many of us will do. So just try clicking refresh button couple of times, and 90% of the time you will get back to the page where you left in 2/3 try.

But at any point of time, if session expired page comes, then no other go, you need to log in again to proceed from first. For this just make sure you have opened the site in 2/3 tabs, without logging in.

7) Captcha Issue: You could feel the heat, when the Captcha isn't visible. At those time just be cool and select for new captcha once the option comes in. Again make sure, you don't close the window without giving a try.

8) Make Payment: Select the bank and proceed further. If you face the service unavailable page, don't close as such, and try refreshing the page.

9) When you finished with your bank process, please make sure that you are reverted back to the IRCTC page again. Don't close the window or refresh in the middle. Unless and until if your transaction fails, don't interrupt the process

10) The most important of all is your PATIENCE. Just be relaxed, cool, calm and be alone while booking the ticket. When some one is around you, there are chances of getting panic.

This technique which I followed was working most of the time. I it isn't your day, then its bad luck.