Top 4 Microsoft Windows 8 apps for photography

Have Microsoft Windows 8 installed in your PC and looking for top photography apps? Here in this article you can find best Windows 8 apps for imaging and also read its exclusive features and review in detail. These are in fact paid apps from their manufacturers and thus provide the complete entertainment when compared to its free versions.


To start with the overwhelming entertainment that Microsoft Windows 8 has brought to the world, let me tell you that I have turned into an app-crazy person these days. Yes, after trying and using several Windows 8 apps for photography, music, video, messaging and others, I wanted to share my brief experience with you all app-lovers. For that purpose, I enlisted all the apps that I used and also noted down one after another with its pros and cons. Here is that piece of summarized review essay which describes the top apps from Microsoft for photography in Windows 8. Have an in-depth reading tour into it.


Top Microsoft Windows 8 apps for Photography
Album HD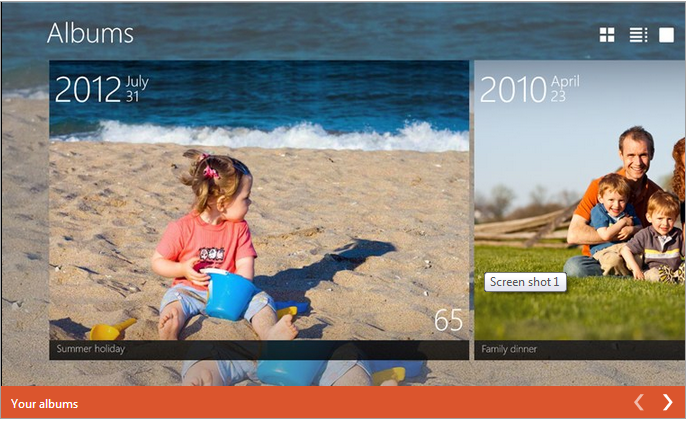 Album HD is an amazing photography app from Microsoft Corporation. If you have shortage of memory in your digital camera or mobile phone cards and are looking for a larger place to store all of your fond memories at one destination, then this is the app highly recommended for you. Select your favorite photos and organize them with the beautiful templates of Windows 8. Make your personal album as large as you can! After you upload all your photos to Album HD, you can easily share them with everyone you want. You can also animate your desire photos and view them in a slideshow without repeated tapping or clicking to open. Another important and convenient feature of this app is that you use the well optimized search function to get a particular photo from your album (whose location takes at least 15 to 20 minutes to find out because of the large number of your total photos in it) at once by typing the name of that image in the provided box. If you want to know more, you can go to:-

http://apps.microsoft.com/webpdp/en-us/app/albums-hd/525763e6-9aee-4323-9ec4-154b718dca82

The specialized technical features of this app are follows:-



By using this app, you can easily create, customize, view and share your personal albums.


It fixes the grammatical errors in the title and descriptions automatically.


You can add personal notes to your photos.


It has options for live tiling and secondary tiling your photos. Live tiling is the option by which you can view all your photos from the start screen.


This app is exclusively available in English (US).


Only x86, x64 and ARM processors are supported by this app.


And finally, if are looking for the price details of the Album HD app, then you can buy it with an amount of $ 1.49 (approximately INR 75 - 80 as latest) from the Windows store.


Photos

The Photos app from the Microsoft Corporation is exclusively made for Windows 8 and it has all new exciting features. In a nutshell, I can say that it is central hub for storing all your valuable photos and videos. You can also keep them on Facebook, Flickr, SkyDrive or local drives in your PC. To know more about this app, you can read the Microsoft Windows 8 photos app review.


Fhotoroom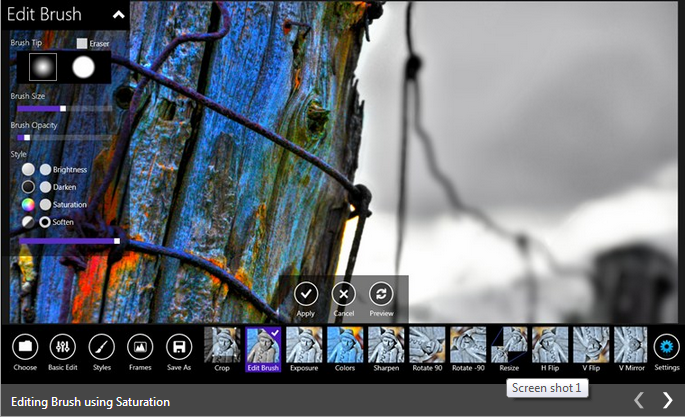 This app is well known for its outstanding performance in the Windows phones and having won the community award. Now, it is made available in the Windows 8 too. Okay, let me tell in detail about the qualities and features of this app.



Fhotoroom app release 2 has improved +76 image editing tool with new vignettes, denoise filter, rotate filter, red eye removal brush, sharpen brush, brush wireframe, various styles and light teaks to make it very simple and easy to use.


With these fine tools, you can edit and adjust your photos with perfect color combination and saturation, contrast, brightness and clarity in no time!


This app has 22 image frames, 21 light peaks, 21 styles and 15 other important editing tools like exposure, flip, white and black point, mirror etc.


This app supports the English (US) exclusively.


Its supported processors are x86, x64 and ARM.


To know more about this app, you can visit the following link of the Microsoft website:-
http://apps.microsoft.com/webpdp/en-ca/app/fhotoroom/4d91298a-07cb-40fb-aecc-4cb5615d53c1


Photoscape app for Windows 8

Here is another free photography app for Windows 8 and also for you – Photoscape! Yes, this is free photo software but if you are satisfied after using it, its initiators will prompt you to make donations for further improvement. If you like, go for it and make your payment through PayPal.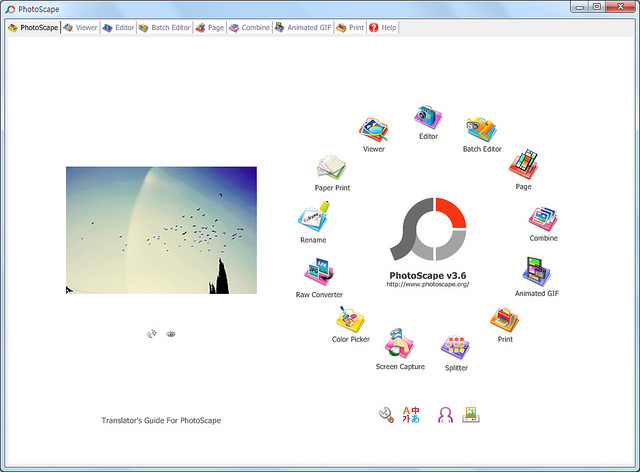 Well, let me give some glimpses of its extraordinary features. This app has much wider range of image editing tools than any other app. What I like the best about it is that you can combine multiple photos into a single frame instantly to make your memories more memorable! Photoscape has all unique tools and all different from others. Another peculiar feature of this app is that it converts the raw formatted pictures into JPEGs immediately. Quite stunning performance, isn't it? So, if you like this app, you can go to its website www.photoscape.org and get a copy for yourself without any delay.


Conclusion

Hoping that my suggestions of photography apps for Microsoft Windows 8 fit to your needs, I desperately look forward to your valuable feedbacks. I also suggest you all Windows 8 users to try any one of the above imaging apps and verify all correct information from my end. However, I will be happy to welcome your comments to improve my review further. All the best!