Top 5 anti-acne and oil control face washes in Indian Market

If your are looking for an anti-acne and pimple clearing face wash then this article is for you. Here I have listed 5 very effective face washes in the Indian market that fights acne and pimples on your face making it clean and smooth. Go through this resource to know about these anti-acne face washes along with their product description and cost price.


Introduction

Who doesn't enjoys the feel of an all-clear smooth facial skin but for those whose skin has the tendency to breakout can only understand the real emotional break down behind it.There are many reasons for breakout of pimples and acne on your face some of which cannot be control by you but you can surely reduce its effect by proper care. An acne-prone skin needs extra special care in cleansing it. Whenever you see a break out of ugly looking pimples and acne, you turns to best anti-acne creams and natural anti-acne face packs/masks to clear it but wouldn't it be much better if you keep on doing this acne treatment each time you are washing your face? Wouldn't this be more convenient as you do not have to remind yourself to apply the special acne cream each time? Of course it would. There are many effective face washes from reputed brands that does the magic. Here I am going to brief you about top anti-acne face washes in India which are super effective in fighting against acne breakouts and are very gentle on your skin.
Best 5 anti-acne face washes in India are:

Nomarks acne pimple face wash.


Clearasil Ultra rapid action daily face wash.


Neutrogena oil control face wash.


Lotus anti-acne face wash.


Clean and clear Pimple clearing face wash.
Nomarks Acne pimples face wash

The anti acne and pimples face wash from 'Nomarks' is a specially formulated face wash that helps remove excessive oil from the face and also protects the skin from harmful effects of UVA and UVB radiations. It has a unique synergistic action of encapsulated active formula in the form of beads that release the active ingredients on gentle rubbing on the facial skin. This formula is very effective for sensitive skin types.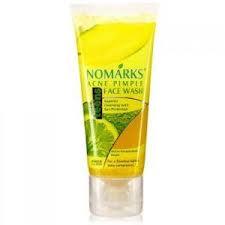 Recently, along with the general acne and pimple face wash,'Nomarks' has introduced special formulation for teenagers to fight against acne and pimples outburst.


Cost price :
Rs. 60 for 75 g tube pack.


Directions for Use :

Wet your face. Take out small amount of Nomarks face wash on your fingers and rub it gently over your face in circular motion. This rubbing action will release the active ingredients encapsulated in the face wash. Now wash off your face and pat it dry with a soft towel.
For a flawless lighter tone complexion use Nomarks face wash twice daily.


Clearasil Ultra Rapid Action daily face wash

Clearasil Ultra Rapid action daily face wash is dermatologist-tested and is proven to deliver very fast results. The company claims that with the 'Rapid action' face wash you could get a visible results in as little as 12 hours. The main ingredient in this face wash formula is salicylic acid 2%, which is a major medication against acne and pimple treatment.

About Clearasil : Clearasil is one of the well known and a leading skincare brand that is progressively working to perfect the science of beautiful skin. With a wide range of products for daily skin care that includes face washes, scrubs, facial treatment creams and pads, Clearasil has over 60 years of skincare expertise. Clearasil is dedicated to creating innovative solutions for skin care that give consumers the assurance of visibly clearer skin.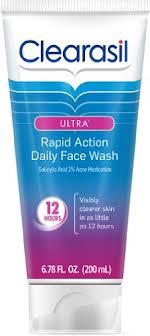 Product Description :

Clearasil Ultra Rapid action daily face wash is scientifically formulated with the maximum strength medication allowed by the medication council to fight pimples and acne. Its regular use prevents the outburst of new pimples on your face. The rapid action formula works very fast by first unclogging the fine pores on your skin and secondly working against the bacteria and other microbes developing in pimples. The face wash in this product washes away the pore-clogging dirt , oil and bacteria, thus keeping your skin clean and pimple free.


Cost price :
Rs. 55 for 50 ml.


Warning :
This product is for external use only and avoid contact with eyes. If by mistake it gets into eyes, wash thoroughly with excess of warm water. Keep out of the reach of children.


Neutrogena oil control face wash

Neutrogena Oil-free Acne Wash is one of the best face washes in the market that is dermatologist recommended. It has a special acne-fighting cleanser that smoothly washes away the excess oil along with dirt and bacteria from your skin. One of the major ingredient in Neutrogena face wash is salicylic acid that helps you get rid of existing acne and pimples on your face and also prevents future breakouts. The specially formulated oil-free formula works gently on your skin. Special skin soothers in the face wash helps in preventing/reducing irritation of your skin by not over-drying it. Finally the skin is left clean and beautiful without dirt, oil and bacteria.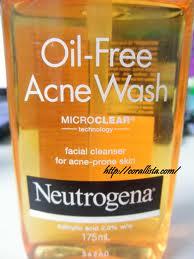 Directions for Use :
Wet your face. Now take very small amount of Neutrogena oil-free acne wash on your hands, add water to it and work into lather. Apply gently over your face. Massage gently in circular motion. Finally rinse and pat dry.
For better results use it twice daily.


Cost Price :
Rs. 350 for 175 ml.


Warning :
This product contains salicylic acid so avoid contact with eyes. In case of accidental touch with eyes, rinse properly with water and if the irritation persists, consult a physician.


Lotus anti-acne face wash

Lotus is a leading company in herbal skin care products. Lotus Herbals Tee Tree and Cinnamon anti-acne oil-control face wash is specially formulated for acne prone oily skin types. It is specially formulated to regulate the sebum production in your facial skin. The key ingredients in it are tea tree oil, cinnamon and oak bark extracts which are known to be very effective in removing excessive oil from the skin and along with it is removed dirt and acne causing bacteria. Along with working on pimples and acne, it also removes blackheads and whiteheads from your face. Its natural ingredients are its powerful marketing base.



Active Herbal Ingredients :
Tea tree oil: It is a powerful anti-microbial, anti-acne and antioxidant that is very effective in fighting skin infection.


Cinnamon: It is known to have anti-microbial and antioxidant properties.


Oak Bark: It is a natural astringent and has powerful healing properties.
Directions for Use :

Squeeze a small quantity Lotus anti-acne oil-control face wash on your palm. Add water and gently make lather. Now apply on your wet face, massaging the skin in circular motions. Wash off and pat dry. Use it regularly twice during morning and in the evenings.


Cost Price :
Rs. 160 for 120 g and Rs. 125 for 80 g.


Clean & Clear Pimple Clearing Face Wash

'Clean and Clear' is one of the best known brands for clear skin that everyone desires. It is one of the most ideal face wash for Indian skin type and climatic conditions. It contains natural ingredients scientifically formulated with anti-acne medications. Clean and clear pimple clearing face wash is suitable for all skin types.



Product Description :

The active pimple clearing ingredient in Clean and Clear face wash is salicylic acid that is best known for its anti-bacterial properties. It gently removes excessive sebum (oil) and acne and pimple causing bacteria from the face. This product is enriched with special organic "Active Botanicals" like 'Cedrus Atlantica Bark Extract' which effectively reduces redness of the skin caused due to acne, keeping the skin soothed. Glycerine helps in healthy healing and prevents over dryness of the skin. By using Clean and Clear Pimple Clearing face wash, your skin becomes noticeably clearer with acne, pimple and other skin problems getting reduced with its continuous use.


Composition of Face wash :
Glycerin, Portulaca Oleracea Extract, Cedrus Atlantica Bark Extract for cleansing action and salicylic acid for acne and pimples.


Direction for Use:

Squeeze a small amount of Clean and clear pimple clearing face wash on your palms; wet it and work into a thick lather. Now gently massage it all over your face in circular motion, concentration on problematic areas. Avoid contacts with eyes in any case. Rinse thoroughly with water. Use it twice daily for perfect results. Regular use will keep your skin pimple and acne free always.


Cost Price :
Rs. 95 for 80 g.


Conclusion :

There are many effective face washes in the market for acne-prone and problematic skin. To have clean, clear and beautiful face free from acne and pimples, along with regular cleansing your face with a suitable face wash, try some easy to make face packs form natural ingredients at home. To get a clear and smooth skin, you do not need costly products but simple formula for keeping your face clean and a little bit of care. Love your skin and be proud of how it looks.