Facebook game: Magical Ride review, strategy guide, walkthrough and tips to game-play

Read all about the Magical Ride game on Facebook and learn what it has in offer for you in this article. You can also know about the required tips and tricks to its game-play and strategy guide in detailed manner which can definitely help you to master this game.


I just want to present something special which suits people of all age. It is about a new interesting game on Facebook – Magical Ride. Yes, as the name suggests, it is purely a racing fun with full of magic and merry which I must elaborate to help you play it successfully. Although it has basically some characterized child-like sporting actions, still people of all age will derive immense pleasure and relief from mental distress when they involve themselves in it. Let me explain everything below.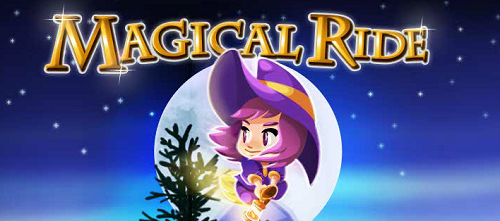 'Magical Ride' Facebook game review
Introduction and Walk-through

This is game which comes in the 'Actions and Arcade' category of Facebook and it is developed by 'Pretty Simple' unit. As you enter the arena of Magical Ride, you will be prompted to provide your email and name (as you like) to register yourself in it and only then it will allow you to play the game. When it starts, you will enter a beautiful forest full of natural scenery, herbs and plants. You will have to race towards right with a constant speed and save yourself from the fearful ghosts, witches, fireballs, poisonous apples and many others which stand as obstacles on the path of your progress. In the meantime, you will also have to collect golds, gems, bonus packs etc. on the way to score high by simply picking them. More miles you go, better promotion or level you get.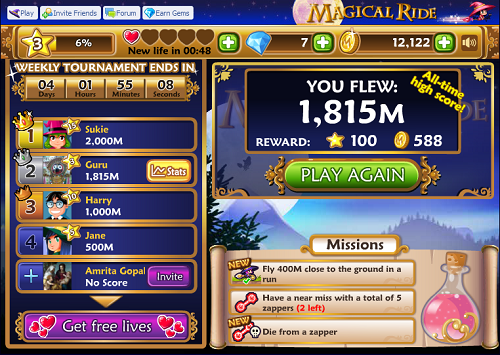 Super-cool designing in graphics, pictures, movements and the thrilling realistic sounds just add butter to this brilliant game-toast! Yes, that's why I am of the opinion that it's not only the kids, but also your grandpa or grandma will also be entertained to the equal extent. This is a very simple, intuitive, funny and amusing game indeed! Moreover, it loads in seconds [at a racing speed like this game?!] when compared to other FB games and you are all set to launch and go with a flash! I must say you should play it at least once.


Strategy Guide to the Magical Ride game on FB

Well, by saying everything easy, I don't mean to imply that you will succeed at once. There are some points to be careful and note down to play successfully. Here are some bits for you to be serious of:-



You will be provided only 5 lives at the start of the game.


Each time you collide with a fireball, zapper or a ghost eats you up, you are all finished. You will resume the play if you have lives in stock.


Please note that an automatic life is restored by default in every 10 minutes. But if you don't want to wait for that much time to lose the excitement and intensity of your game, you can pay some gems from your stock to revive a lost-life or alternatively you can ask and invite your friends to lend you some number of lives to resume the action.


If your friends do not respond and you don't have that much gems in stock (if you are a beginner), then you can use your PayPal account to buy those elements to continue playing.


Each time you get a promotion level, you will get your designation name. For example, if you are at level 3, then your title of designation is 'Novice'.



Try to complete some featured missions or tasks which are assigned to you exclusively to earn rewards of golds, gems, crowns (shown above and it is given if you rank among the top three scorers) and bonus packs.


From my experience, it is very difficult to continue after 2000 Km run. To ease the play, you must reach level 6 where you can buy a 'magic start' weapon worth 2000 golds to cross the initial 600 km with no harm in spite of so many obstacles. Similarly at level 9, 'magic boost' is unveiled to help cover some extra mile even if you die or lose life. At level 15, you can buy 'resurrection' to be alive again after losing life! Yes, as you go on till the final stage, you will be thoroughly entertained.


At any point of the game-play, you add new gems, golds or lives to your stocks by clicking the parrot colored '+' sign that appears next to each relevant tabs and making a purchase via PayPal.

How to play the game Magical Ride – tips and tricks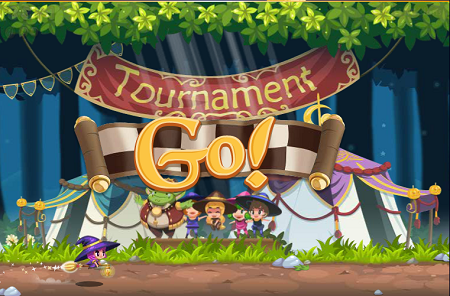 As the name of the developer of this game says, playing is pretty simple. If you are new to this game and want to play it, simply type 'Magical Ride' in the search box and when results appear, just click on 'Go to app' where it appears. You will be directed to the play-screen and you will be required to click 'play'. All set and the game starts. A tiny bonny character (representing you) makes an entry with a whack and the word 'GO' is cheered by his supporters. Then he marches ahead and plays according to the story given above. All you need to do is to right click and hold the mouse to fly up and loose a bit to fly down when needed. All your success is based upon this feature i.e. how you manage your flying and running on ground to avoid the unnecessary hits and collisions with fireballs, ghosts and others which block your progress.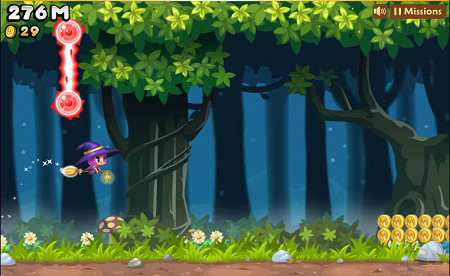 As soon as you master to control you mouse pressing and the degree of flying and jumping, you will score at fast rocket speed and over power all your rivalries in this game. Try to hit yourself with the big floating gold coins, the small gold coins in flock and the bonus gift boxes on the way to earn as much as you can. You can also achieve your own specified targets by fulfilling some special tasks or 'missions' which are highlighted at your 'Stats' home screen. At any point of the game, you can pause or mute the audio by clicking the pause and loud speaker buttons respectively which appear at the top right corner of the screen.


Wrap Up

I have already fed myself with the stuff and I want you to have a go with it to let me know how you feel about it. Another such game with action packed stunts can be found in Dragon City. You may try it to have some extra fun to yourself. Share your good feelings on the this brilliant Facebook action game Magical Ride and also do write some lines regarding how good and useful was my basic guide to you. Some suggestions, omissions or corrections are all welcome to improve my review further.