List of Penny Multibaggers Stocks for 2013 - 2014

This article explains the penny and multibaggers stocks for the year 2013-2014 and definition of penny and multibagger stocks. List of stocks are given so as the risk and return associated to that. One should go for such stocks only if investor has high risk high return taking capability.


List of Penny Multibaggers Stocks for 2013 - 2014
What are Penny Stocks ?


Penny Stocks are any stock that trades at very low price with low market capitalization. Most big financial advisors and investment bankers tend to avoid them as they are risky that comes with owning them. These stocks are very much in trade fluctuate wildly in their listed price, and although some news speculation can take these to multiple times in a matter of a few days or even hours.

Penny stocks are generally is very low priced like in single or double digit hence the volumes and price fluctuation is very very high. Considering these as a high price and event sensitive stocks, one who can take high risk high return only should consider such stocks into their portfolio.

These stocks can be proved as multibaggers or can disappear from stock market at anytime. These stocks are surely not for long term investors.


What are multibaggers stock?


Those stocks are called multibaggers who has the potential to give very impressive return and are currently trading at low price than its peers. In other definition, these stocks have the potential to perform better in future in terms of Sales and Profit, which ultimately lead to increase in EPS so as in price.

There are many multibaggers available as listed equities in bombay stock exchange and national stock exchange. To identify those, one should have thorough study and understanding of the fundamentals of such stocks. Various factors like EPS, PE ratio, Balance Sheet, Profit and Loss statement, cash flow analysis should be taken into consideration.

Such stocks are good in fundamentals and having better future perspective.
Below are the list of stocks based on the research done by one of investment firm.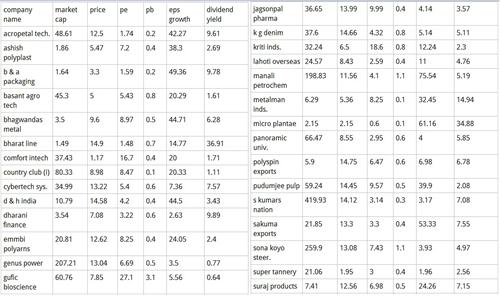 Disclaimer: Stocks given are purely based on the research. Please consider all the risk factors before investing into these. Individual will be held responsible for any incur losses which arises out of it incase.