Review and details of VLCC Anti-Cellulite Slimming Products in the market.

This resource article deals with the best Shape-up anti-cellulite slimming products from VLCC. Due to hectic schedule and busy lifestyle, most of us find it really difficult to hit the gym regularly to remain in shape; in such a situation slimming gels and anti-cellulite products comes to our rescue. Read on to know all about their main ingredients, cost price and treatment duration.


About VLCC

VLCC is one of the largest and trusted wellness brands in India. It is internationally recognized for advanced scientific weight loss solutions and therapeutic beauty approach. VLCC was established in the year 1989 by Ms. Vandana Luthra. Since then this company has spread over 230 locations in more than 75 cities across India. Internationally it has under its wings 8 centers at UAE, one in Nepal, one in Bahrain and Oman each. It is growing rapidly to cover other major cities of the world.

One of the most famous venture of VLCC in health and weight management is its well appreciated and clinically tested anti-cellulite slimming products and programs. Every product from VLCC blends the scientific knowledge and the wisdom of Ayurveda to give us the best formulation for our skin. The main motto of VLCC is to help its customers achieve a healthy and happy lifestyle.


Introduction to 'Anti-Cellulite' products from VLCC

Women usually gains a lot of extra body weight during pregnancy; after delivery shedding this extra kilos becomes a huge problem for them. Sometimes wrong eating habits, lack of physical activities and sitting in one position due to professional demands results in the accumulation of extra mass in our body especially around our waist. Being overweight also welcomes a number of health disorders and lifestyle related issues such as Diabetes (a silent killer), high blood pressure, and so on.
Due to the restricted life style and super busy life, it is sometimes very much difficult to do work outs to shed those extra kilos from our body.
VLCC, a leading brand with millions of trusted users worldwide, tried to help people fight those extra kilos by formulating special massage oils, creams and lotions that works on layers of fat stored under the skin. These 'Shape-up slimming oils' attack the fat accumulated in our body and slowly tries to reduce their size resulting in more firm and toned up skin. Special anti cellulite creams from VLCC works on the lumpy cellulite deposition under the skin and soothes it out.

The best thing about shape up slimming products from VLCC is that they have special formulation for every troublesome part of the body. Since every part of the body have different type of cells which behaves differently, thus it is important to target them with specific formulas.

Best shape-up slimming products from VLCC in the market are as follows:


VLCC Shape Up Slimming Oil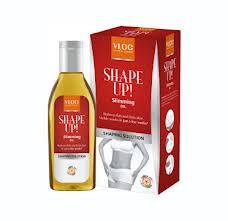 VLCC shape up Slimming massage oil helps you to get rid of extra fat stored in your body. If you are bothered by annoying flab around your waist, thighs and/or stomach, then you may think about giving VLCC Shape up slimming oil a try. It has a non-greasy texture and is readily absorbed in the body. With regular use the elasticity of the skin increases and it will become firmer and healthier. This product claims to tone up and even out the skin with regular use. Now no more crying over those stubborn fats stored under your skin!

Sesame oil is one of the active ingredients in VLCC Shape-up slimming oil which is very good massage oil. It tones up the loose muscles and improves the circulation of blood in the body along with providing the basic nourishment to the skin. Another ingredients present in this slimming oil is Wheatgerm oil that rejuvenates the skin gently; It is a very good nourishment for the dry skin. Along with nourishing and hydrating the skin, wheat-germ oil also helps in reducing the ugly looking stretch marks which are the signatures of slimming process when you lose your extra body fat. The Shape-up slimming oil also contains Pomegranate which helps in improving the skin elasticity and Rosemary extracts which has diuretic properties. All these active ingredients are useful to fight cellulite deposit and extra fat cells deposited under your skin. Now do not fear of obesity but start a battle against it to get a firmer and slim body. The aromatic and unique smell of VLCC Shape Up slimming oil is because of the presence of Sweet Fennel in it.


Ingredients

VLCC Shape-Up Slimming Oil comprises of natural herbal and aromatic oils like Wheatgerm oil, Sesame, Ajowain Seed, lemon peel, Pomegranate, Cyperus, Geranium, Sweet Fennel, and Rosemary.

Treatment Time: 14 Days.

Cost price: Rs.237 for 100 ml.

Directions for Use

Apply VLCC Shape-Up Slimming Oil on problematic flabby areas around your stomach, thighs, legs and upper arms. Keep on massaging the area with this slimming oil for about 15 to 20 minutes. Let it get absorbed completely. Now cover the massaged area for about 10 minutes properly with a hot towel.For best results use Shape-up slimming oil twice daily.


Specifications of VLCC Shape-up Slimming Oil

VLCC is'anti-cellulite' treatment oil is ideal for women of all skin types. It is an organic Ayurvedic product with no side effects. This product claims to show the visible results in 14 days time duration.


VLCC Shape Up Waist & Tummy Trim Gel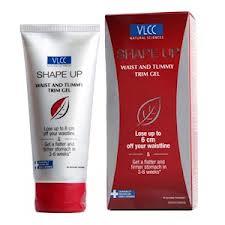 The most problematic area to lose weight in our body is around our waist. Even with heavy work up and proper dieting, we usually do not lose much fat around our tummy. These are in fact the last areas to lose some fat. Weight gain during pregnancy is a natural process and most of this extra weight gained is shed down once the baby is born. But for some women the tummy remains bulging as a signature of pregnancy with ugly stretch marks over it, which really annoys them and thus they starts looking for means to get a slimmer and toned up tummy which they had before pregnancy. In such a case Shape-up waist and tummy trim gel comes to their rescue.
I would also like to include busy working class here who spends most of their time sitting on their office chair and accumulating fats around their waist; they simple are too busy to carry on with their other life activities and duties that they finds it really difficult to hit the gym daily. This magic Shape-up Waist and Tummy Gel is the perfect solution for their dream of slim and shaped up body.

VLCC Shape-up Waist and Tummy Gel is suitable for men and women equally. It is clinically tested for being effective against cellulite deposit in the problematic areas of waist and tummy. Special organic Ayurvedic active ingredients present in shape-up waist and tummy gel helps in burning fat around the mid-area naturally and tones up the body for a firmer skin. It has an 'easy to absorb' non-greasy texture that quickly gets absorbed into the thick layers of skin. This gel works by breaking down and converting the cellular fat deposition into energy. Along with breaking down of fat cells, this gel also helps in flushing out excess of retained water from the body which gives a toned up look to our body. With regular use, you would be able to see visible results in about 3 to 6 weeks.

VLCC Shape-Up Waist and Tummy gel is one of the most effective anti-cellulite treatment formulations, enriched with Galnut Oil and Wheat Germ Oil. These two active ingredients help in reducing the appearance of spots and stretch marks. Now no more reason to carry those extra pounds around your waist, just apply Shape –up gel to get your dreamed slim body.

Treatment Time: 3 to 6 weeks depending on your fat deposition and body type.

Cost price: Rs.285 for 100 g pack.

Main ingredients

Main ingredients in VLCC Shape-Up Waist and Tummy gel are Wheat Germ Oil, Galnut oil and Vegetable Extracts.

Directions for Use

Apply about 5 ml of Shape up Waist and Tummy gel on your problematic body areas twice daily ; once after the bath during the day and second during the evening. You have to gently massage this gel over your waist and tummy, till it is completely absorbed by the skin.


VLCC Shape-Up Hips, Thighs and Arms Shaping Gel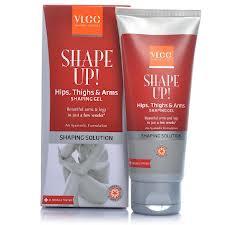 With special Shape-Up Hips, Thighs and Arms Shaping Gel you can get rid of annoying cellulite lumps in your hip, arms and thighs without much difficulty. This magic anti-cellulite and shape up treatment gel comes with an assurance from the company to rid of your saggy and flabby skin. The special nourishing ingredients in it tones up, nourishes and hydrates your body leaving you with younger and healthier looking skin.

Shape-Up Hips, Thighs and Arms Shaping Gel is formulated with organic ayurvedic ingredients which trims down your body in a natural way without any side effects. This gel is enriched with the goodness of Cyprus and sesame oil which helps in increasing the elasticity of the skin and gently nourishes it. The special non greasy property of this gel enables it to get easily spread and absorbed in the body. The magical rich ingredients present in this gel blends easily to give your skin a healthier and firmer appearance. With regular use on your hips, arms and thighs you are sure to get visible results within 2 to 3 weeks. Shape-Up Hips, Thighs and Arms Shaping Gel helps you to get rid of stubborn deposits of cellulite with ease. This product is ideal for all skin types of women and helps in removing uneven texture and fatty lumps in the problematic areas. Use it twice to get a radiant and toned up skin.

Treatment duration: 2 weeks.

Cost price: Rs.361 for 100 g pack.

Directions for Use

Apply Shape up Hips, Thighs and Arms Shaping Gel on your problematic body areas twice daily. Gently massage in this gel till it is completely absorbed by your body.


VLCC Shape Up Bust Firming Cream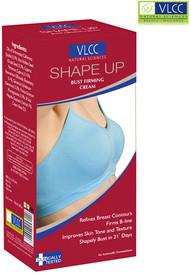 Shape-Up Bust Firming Cream is specially formulated product from VLCC that promotes firming of bust region in women and gently tones it up. This cream is empowered with the wisdom of Ayurveda. It blends the benefits of organic ingredients to give you a toner and firmer bust. The main organic ingredients in this cream include aromatic oils, natural organic extracts and skin nutrients. Mothers with heavy bust usually gets shagging bust as their age advances; thus the best tip for breastfeeding mothersis to start using this bust firming cream once they stopped nursing their baby and as soon as the sign of shagging starts appearing on their breasts.

The main purpose of this cream from VLCC is to promote toned, firm and uplifted breasts that could envy everyone around you. Now do not worry about the shagging and lose skin in your breasts, just try Shape-up Bust firming cream from VLCC and see the magic.

Shape-Up Bust Firming Cream contains super power of Pomegranate and Geranium extracts which gently works on the sensitive region such as breasts in your body. Active extracts from pomegranate helps in improving the elastic properties of your skin tissues. Geranium contains phyto-hormones; it helps in toning up and maintaining the contour of your breasts. Regular use of bust toning cream makes your skin more supple and firm.

Treatment Period: 3 weeks.

Cost Price: Rs. 470 for 100 ml pack.

Directions for Use

Apply the VLCC Bust Firming Cream all over your breast and massage gently in upward and circular motions till it is completely absorbed in the skin. For best results use it twice daily.


VLCC Shape Up Chin & Neck Firming Cream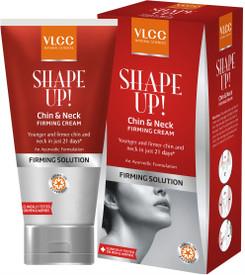 Shape Up Chin & Neck Firming Cream from VLCC is a special formulation to work on the fat and cellulite deposition on chin and neck region. As the age advances, the chin and neck regions starts showing the signature of time with loose and shagging skin. With this shape up cream you can give a fairer chance to your face to fight against aging effects of time. It is usually very difficult to tone up skin present in and around the chin and neck, but with this magic cream you can now attain an uplifted skin even in these areas. It helps your skin revive the lost life and magic.
Shape Up Chin & Neck Firming Cream works by fighting the formation of cellulite in your chin and neck region giving you firmer and younger looking skin. The active ingredients in this cream include olive extracts and orange peel that keeps on nourishing your skin in a natural way. Olive oil soothes your skin and also, accelerates regeneration of cells so your skin shines with new life. It refreshes, tones up and nourishes these regions. It also improves the texture of your skin making it look younger and beautiful. This cream is suitable for all skin types of men and women.

Treatment duration : 3 weeks.

Cost price: Rs.470 for 100 ml pack.

Directions for use

Gently massage Shape Up Chin & Neck Firming Cream onto your chin and neck in upward direction till it is completely absorbed into your skin. For best results apply this cream twice a day for three weeks and watch the magic.


Conclusion

VLCC has tried to catch the basic nerve of its customers by presenting them the most effective shape-up and body slimming oils/creams and gels. The customer satisfaction after using these products could be rated as 4 out of 5. These anti-cellulite products are boon for all those busy working people who do not have enough time to work out and maintain a balanced healthy diet. All the products from VLCC combines the magical natural ingredients scientifically blended together to give maximum beneficial results, though the final result may vary from person to person.
At last I would like to emphasize that there is no alternative to healthy diet and sweating it out at gym or at your home for better health and toned up body.