Career of Air Traffic Controller in India: Job description, work environment, eligibility criteria

What makes a career as Air Traffic controllers jobs so unique. In this article you will find information about a typical day of an air traffic contriller, their work environment and work load. Learn about air traffic controllers jobs in India, how to be an ATCO, what are the selection process and eligibility criteria and more.


Ever wondered about the uniform-clad guys shouting perennially in the high-security Airport towers communicating and instructing Pilots navigating the aircraft. Even if you have not noticed, the 9-11 air-attack on World Trade centre and the analyses of the attack had repeatedly brought the importance of one job that is Air Traffic controller. Series of interviews were published in electronic as well as in print media about the attack of which the air traffic controllers were the only official witness to survive and to narrate the ordeal.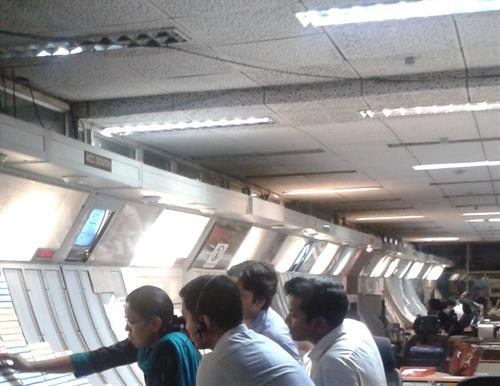 If you want to give one of the most challenging job a shot, than along with tremendous mental strength and capability to take decision in split seconds , ready to work in odd hours then you are perhaps made of the stuffs that make an air traffic controller. Like most Air Traffic controllers today you may end up loving the job and enjoy air traffic controlling for the sheer involvement of challenges in the job.

What an air traffic controller does in a typical day?

An air traffic controllers job description includes lots of multitasking. Air traffic controllers have to manage aircraft through all aspects like ensuring timely arrivals and departure of the flight with safety. Of course they use navigation and surveillance to communicate advice, information and instruction to air-craft pilots via radio.

Air Traffic controllers work from Air traffic control towers and area controls. There are several work areas for Air traffic controllers like Tower controllers, Area controllers and approach controllers. These division of work areas are defined by the position of aircraft that is controlled by air traffic controllers. For example area controllers' duty is to communicate and instruct the pilot while the aircraft is in mid-ar. They use radar to track the exact position, maintaining proper distance from other air-crafts to ensure safety on the route etc.

Approach controllers work is to take over from area controllers when the aircraft is approaching the airport. Their duty is to make the clearest, safest and the most fuel-efficient way for landing.

Air Traffic controller in the form a Tower controller has to guide pilots for a safe landing. While maintaining communication with other safety measure the tower controllers have to do a lot of multitasking because at a busy airport there are lots of air-crafts seeking to depart and arrive at the same time.
Some busy airports also have both Air control and ground control officers.


Typical work activities of an air traffic controller includes

Communicate via rado or radar to the aircraft pilot.

Guiding the movement of aircraft from one airport to another.

To instructing aircraft to climb or descend and informing about final navigation level.

To provide weather conditions like visibility to the aircraft.

Providing the most fuel and time-efficient route i.e, the shortest path available.

Controlling movement in runways including ground movement in the runways.
How to be an Air Traffic controller

ATCOs are recruited by Airports Authority of India a PSU under Civil Aviation Ministry of Indian Government. The selection process of Air Traffic Controllers in India quite long. These are the basic educational qualification if a person wants to be an Air Traffic controller can have some alternatives.

Eligibility criteria are

Engineering degree in Electronics or Telecommunications or Radio Engineering or electrical Engineering with specialization in Electronics with 60% marks.

M.Sc Degree or its equivalent with wireless Communication, Electronics, Radio Physics or Radio ENgineering as a Special subject. equivalent with First class.

Age limit for entry level posts in Air Traffic Controllers jobs is minimum 21 to maximum 27 years.

There are standard reservation policy for recruitment of Air Traffic Cpntrllers which applies for SC/ST/OBC/Ex-Servicemen. But no reservation for Physically Handicapped candidates please excuse.


The selection process for the job of Air Traffic Controller in India.

In India Air Traffic Controllers are recruited by Airport Authority of India. The selection process involves Four stages viz., Written test, Voice Test and Medical tests and personal Interview.

The written test:
There are 50% questions on subjects relating to prescribed educational qualification.
50% questions will be based on General Knowledge, General Intelligence, General Aptitude and English etc.
A Voice test

Personal Interview: Personal interview is like any other job interview which assess the overall personality of the candidate, decision making ability and much more.

Medical fitness will be as per ICAO Annex-1.


Conclusion

The job of Air Traffic Controller is of the most challenging job of the world. The person seeking a career in air traffic control should be extremely balanced person who has the ability to handle tremendous stress involved in the job. The perks are amazing if one can be extremely devotional to the work responsibilities and can adapt to ever increasing safety guidelines, learning materials and above all stiff rules and regulations.

Image by author