2013 MHADA lottery online application form and housing scheme information

Are you eager to buy a low cost home in Maharashtra, India through the MHADA lottery scheme 2013? This article gives complete information on the 2013 lottery housing scheme which will be conducted by the Maharashtra Housing and Area Development Authority in May. You will get details of the application form fee, eligibility requirements, cost of the MHADA homes, etc.


Overview

Every year, the Maharashtra Housing and Area Development Authority (MHADA) announces a sale of low budget homes of the Mumbai and/or Konkan Boards. This sale is conducted via a lottery system, so it is luck which plays a huge role in whether or not you will get a MHADA home. Prospective home buyers have to apply as per their income group – high income, middle income, low income and economically weaker section are the 4 groups.

This MHADA lottery sale enables people to get an inexpensive home which otherwise they would not get through a private builder. Real estate prices skyrocket each year and it is well-nigh impossible for them to get a roof over their heads within their budget. Hence the MHADA sales are looked forward to by eager home buyers. During its first year in 2008, there were over 65,000 applicants for the 870 houses on sale. In subsequent years, the popularity of the MHADA sale has grown phenomenally, with lakhs applying. Last year, there were 1.38 lakh applicants for over 2,500 houses.

It is not sure, though, how many will apply this year as MHADA is offering the so-called budget homes at very high prices. The exorbitant rates may keep buyers away, nipping in the bud their hopes of owning a dream low cost home.


Features of MHADA lottery 2013
Application Fee

The fee for one application form is Rs.100/-




Eligibility Criteria

1. Your age should be above 18 years.

2. You should not be owning a flat/house/residential plot of land/membership of any co-operative housing society (registered or proposed) in your name/spouse's name within the jurisdiction of the Municipal Corporation of Greater Mumbai (MCGM).

3. You should have a Domicile Certificate as proof that you have had a period of 15 years continuous stay within the limits of the State of Maharashtra within the last 20 years (the reservation category of Central Government employees is exempt to this rule).

4. Your family's average monthly income (this is Basic + D.A. + City Allowance + Bonus) should be as per these categories:
(a) Higher Income Group (HIG): Rs.40,001 and above
(b) Middle Income Group (MIG): Rs.20,001 to Rs.40,000/-
(c) Lower Income Group (LIG): Rs.8,000/- to Rs.20,000/-
(d) Economically Weaker Section (EWS): less than Rs.8,000/-

5. You cannot submit an application more than once in 1 reservation category in the same code number. If you do so, all your applications will be rejected prior to conducting the lottery.

6. You should possess a Savings Bank account. You should not possess a Joint Bank account, a Current account or NRI Bank account.

7. You should not use any other person's Bank Account number to submit your application. If you do so, your application will be rejected.

Important Notes:
1. You must go through the information booklet available at the MHADA lottery website before you fill in the application.

2. In addition to the cost of the flat, you will need to pay the requisite Service Tax as well as Maharashtra Value Added Tax (MVAT) in the concerned Government Department. You will get physical possession of your home only after you have produced these tax receipts issued by concerned departments.

3. The application form should not be submitted at the MHADA office. The online application form for the lottery will be available here from May 1st 2013: https://lottery.mhada.gov.in/

4. Check that you have all the required documents: Documentary proofs required after lottery results


Location and Cost of MHADA homes for lottery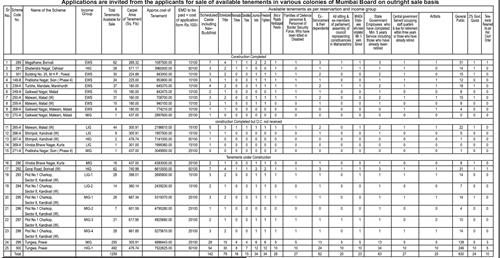 [Image of Table taken from advt. notification from official MHADA website]
Important Dates

Online application forms will be available from May 1st 2013 at 2p.m. up to May 21st 2013, 6p.m.

Applications will be accepted from May 1st 2013 up to May 22nd 2013 (as per Bank working days and time)

Online payment facility will be available from: May 6th 2013

Date of MHADA lottery: May 31st 2013




Contact Information

Dy. Chief Officer, (E.M. – I),
Room No. 201, 1st floor, Griha Nirman Bhavan,
Kala Nagar,
Bandra (East),
Mumbai – 400051
Helpline Phone No.: 022-66405099 / 66405010
MHADA Website: http://mhada.maharashtra.gov.in/

MHADA Lottery Website: http://mhada.maharashtra.gov.in/?q=mhadalottery

Advertisement lottery notification in English:
http://mhada.maharashtra.gov.in/sites/default/files/English_Lottery2013_27April2013.pdf

Advertisement lottery notification in Marathi:
http://mhada.maharashtra.gov.in/sites/default/files/Marathi_Lottery2013_27April2013.pdf