Micromax Canvas 4 vs Micromax Canvas HD : Comparison

Are you wondering to know about the differences between the two most popular flagship phones from Micromax- Micromax Canvas 4 and Micromax Canvas HD ? This article will give you a review based comparison between these two devices.


At the current age of competition in the smartphone market, its almost going to be difficult to survive at the top level even for the big brand name like HTC, LG, Nokia etc. But at the same time Indian smartphone maker 'Micromax' is showing a great growth in the popularity and profit graph. Micromax is able to attain this achievement mainly for its 'Canvas' series. In the last six months, Micromax released two models of its Canvas series- one is Micromax Canvas HD and the other one is Micromax Canvas 4. The two flagship device is praised by many technology review site. By making a general overview, you will not find any big difference though there is a remarkable price difference between these two devices. So, here we bring a review based comparison between Micromax Canvas HD v/s Micromax Canvas 4 so that you can make your own decision to choose the right one for you.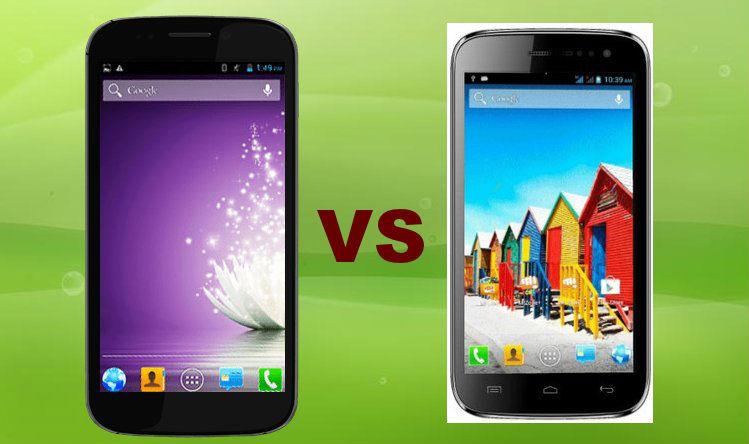 Design
Micromax upgrades its design structure in Micromax Canvas 4. So, the Canvas 4 comes with better build quality over Canvas HD. Canvas HD was built with plastic and now, with the use of brushed aluminum metal, Canvas 4 looks stylish and gain better built quality. There is nice arrangement of front camera, proximity sensor and ambient on the both sides of earpiece in Canvas 4 while in Canvas HD, the front camera, proximity sensor and ambient are in the same sight (right side) of the earpiece. The micro USB port has been brought to bottom in Canvas 4 while the port was at the top in Canvas HD. The primary camera and LED is located at the top right corner of backside in case of Canvas 4, on the other hand, in case of Canvas HD, the primary camera and LED is located at the top centre of backside. Micromax has done its best to provide a good design for better look in Canvas 4.


Display
Both the phones have 5 inch LCD capacitive touch display which has HD resolution of 1280x720 pixels. Both the phones have 16M color depth and IPS display feature which provides wide range of viewing angle. One feature that comes in exception from that of Canvas HD is that Canvas 4 has Corning Gorilla Glass which resist the phone from breaking the display.


Hardware and Performance
Both the phone is powered by 1.2 GHz Cortex-A7 Quad Core processor with 1 GB RAM. Also, both the phones have PowerVR SGX 544 graphics which offer high-end gamming experience. One big difference comes in case of internal memory between the two phones. Micromax Canvas 4 has 10 GB internal storage while Micromax Canvas HD has 1.77 GB internal storage. While using Canvas 4, you will not feel any short of space to install your favorite apps.


Camera
Micromax Canvas 4 has more camera features than Micromax Canvas HD due to updated version of its operating system. The canvas 4 comes with 13 MP primary camera with LED flash and Sony Sensors along with a 5MP secondary camera.The Canvas HD comes with 8 MP primary camera with LED flash and a 2 MP secondary camera. The cameras of both the device can record video in HD resolution at 30 frame per second. The camera features available in Canvas HD are Auto Focus, Night Mode, Creative and Shoot Stop-motion, Burst Mode, Zoom - 4x, White Balance, Color Effect and Scene Mode. The camera of Canvas 4 provides wide range of features like Auto Focus, 6+ Face Detection, Scene Mode, 99 Continuous (Burst) Mode, Smile Detection, Photosolid, High Dynamic Range Synthesis, 4 Direction Panorama, Effects Library, Geo-tagging, Touch Focus, Anti-Shake Technology, Sony Sensor, Photo Effect etc which will lead your shooting to the next level.


Softwares
The Micromax Canvas 4 runs on Android v4.2.1 (Jelly Bean) Operating System while the Micromax Canvas HD runs on Android v4.1.2 (Jelly Bean) Operating System. The Canvas 4 comes with some pretty cool softwares from Micromax. One of them is Blow to Unlock, just blow air on the screen, the phone gets unlocked automatically. The smart pause feature automatically pauses a playing video when you look away from the screen. With Canvas 4, you don't have to touch to receive or dial a call, just hold the phone to your ear, it automatically do the required action.


Battery and Connectivity
Both the phones are powered by 2000 mAh Lithium ion battery and the power back up duration is almost same. For both the phones, connectivity features include GPRS, EDGE, 3G, Bluetooth v4.0, WiFi. The Canvas 4 supports 42 Mbps HSDPA while the Canvas HD supports 21 Mbps HSDPA. The Canvas 4 comes with microUSB v3.0 on the other hand, the Canvas HD comes with microUSB v2.0.


Conclusion
The Micromax Canvas 4 is available at Rs. 18499/- and the Micromax Canvas HD is available at Rs. 13449/-. As you have seen the difference of Rs. 5,000/- will give you a good featured camera experience, 10 GB internal storage, smart applications and enhanced performance. It's up to you, which one you would like to consider by looking the comparisons. The price of Canvas HD slashed in the last couple of months, hope, the price of Canvas 4 too will come down soon.