Contestants on Bachelorette India live TV reality show with Mallika Sherawat

Are you looking for information on the candidates who will date Mallika Sherawat on Life Ok Bachelorette India TV show? This article provides a list of the contestants, their age and where they are located. You will also get information on the date and time of the Bachelorette India TV show.


Overview
Mallika Sherawat is better known for what she wears than for her acting prowess. The films in which she did made some impression with her acting talent was in the Bollywood films Murder and Welcome. She is also known internationally thanks to her film 'The Myth' with action super star Jakie Chan.

Now Mallika Sherawat will appear on your TV screens on Life OK channel daily from 7th October for the next 5 weeks, at 9.30p.m., Monday - Friday. The reason: she is doing a TV reality show titled "The Bachelorette India - Mere Khayalon Ki Mallika", based on the American television reality show 'The Bachelor'. In that show, a bachelor dates ladies. Here, in the Indian version, Mallika will be dating bachelors. The host of this show is Rohit Roy.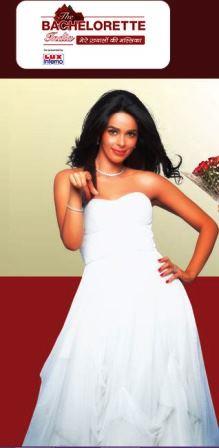 [Image courtesy: www.lifeok.com/bachelorette]

Through auditions and a short-listing process, 30 candidates were selected out of 1 lakh entries from across the globe. Even though Mallika Sherawat claims she is doing the reality show to find "true love", nobody is fooled. Everybody knows she is getting a whopping amount for the show so why would she refuse?

Apparently during the pre-launch of the reality show, the bachelors gave her a variety of gifts, including a baby goat – now where on earth is she supposed to keep this pet goat?! At least the tin of ghee she received from another bachelor can be used in her home for making mithai for the current festive season! Then there was a cheeky young lad who sent her a DVD player & listed his father's qualities (the lad seems to want a mother as his father is divorced) – no comments on that. A far more useful gift was a sari. No matter. All these gifts are piddling, compared to the price Mallika will receive per episode (reportedly 1 crore for each episode).




List of bachelors dating Mallika Sherawat in Bachelorette India TV show
While it was stated that 30 candidates would be dating Mallika Sherwat during the TV reality show, the official website has listed 25 candidates. Maybe the others got cold feet?

Here they are, in order of their age:

Prof. Sudershan Batra: Why on earth is this 63years "young""professor from Hyderabad dating somebody who is 27 years younger to him? Perhaps to give his worldly-wise advice?


Sanjay Harry Kapoor: This 40 year old PR professional is based in Delhi. Will his PR skills be of any use on a live show?


Sanjay Mirani: A 38 year old restaurateur from Mumbai who knows all about wines & loves travelling, Sanjay perhaps thought it would be better to give a dining invite on a TV show than send mail...


Bivas Biswas: This 37 year old NRI based in USA does software consulting work for government projects (is that some top-secret stuff?). Apparently composes music too and is a film-maker as per his resume. Oh...so he is auditioning Mallika for a role? Or is it the other way round...


Abhishek Sethi: Not sure what this 35 year old bachelor does, other than vrooming on a bike with other bike club members in Noida. Supposedly good at chatting, just might be the one to ride away with Mallika on the pillion. Romatic idea, that!


Arun Kumar Upadhayay: 34 years of age, this bachelor from Mumbai hopes to become a popular model & actor. Maybe on the show to catch the eye of a film director or fashion designer?


Manu Panjabi: Likely to give comedian Kapil some competition perhaps, as supposedly this 32 year old real estate bachelor from Jaipur is a guy who makes others laugh.


Aashim Vaid: From the beautiful State of Jammu, this 31 year old is in the pharma sector. Said to be outspoken, will likely mince no words when dating Mallika and trying to eliminate the other candidates.


Prashant Bhutoria: This 30 year old bachelor from Kolkata has got an inclination towards all things cultural & is very confident of his chances.


Konstantyn Kosta: Exciting to have a foreigner on the show, right? Maybe. Nothing much is known about this Ukrainian, presently based in Mumbai, other than his age (30) and that he is not as articulate as the others. Just looking for a brief shot at TV fame maybe?


Jagjit Singh Atwal: Desi abroad guy, age 29, from Columbia, Canada & based in Vancouver at present. Suitable for the role of Mallika's bodyguard, what with his giant-like looks & the work he does (professional fitness model – what's that exactly?).


Harman Singh Makin: From Chandigarh, this 29 year old bachelor is said to be soft spoken. Well, he better get himself heard if he fancies his chances against the others!


DJ Akhil Talreja: His main love is entertaining people with the right mish-mash of music on his DJ console. Works in Mumbai, age 28 years. His brief bio reads, "He is always willing to try anything at least once." So that means he will date Mallika once and only once?


Ranjan Sehgal: Close friend of other candidate, Prashant, this 28 year old from Mumbai will naturally not let friendship get in the way of getting the attention of Mallika Sherawat.


Vinay Jhambh: From Fazillka (that is in Pujab), this 28 years young man is holding a supervisory post in a private company. Did the Boss give him paid leave for the show?


Jashan Singh Kohli: A Chandigarh lawyer, the 26 year old sardar has got some brilliant dance moves. Maybe he could share a few tips with Mallika.


Arjun Mutneja: From Delhi, the 26 year old is a TV actor (have you seen him on the small screen?).


Parmeet Singh Wahi: Delhi model, age 25 years. Very concerned about keeping his body fit.


Rohit Sachdeva: We have one DJ. Now here's a RJ. So you can expect this 25 year old from Panchkula, Haryana to express himself well when dating Mallika.


Ather Siddiqui: Yet another would-be actor from Mumbai, age 25 years.


Udit Ohri: The fourth guy of same age (25) & yet another aspiring model/actor. He is from the capital city and presently working as a financial analyst. So he can do the number-crunching stats for Mallika's earnings from the show?


Kabir Chauhan: Too many models/actors already. So what? There's room for this 24 year old bachelor too, right? Location: Mumbai.


Amritpal Singh Bullar: Said to be a traditional, conservative 24 year old from Chandigarh - so what's he doing on this show?


Vijay Singh: Another guy who is bothered about his fitness levels. Age: 24. Presently in modelling field in Mumbai, originally from Himachal Pradesh.


Bikramjit Singh: The youngest bachelor on the show (23 years), this Chandigarh lad loves to do stunts on his bike. Well, looks like he is pulling off his own stunt by coming on a show to date a glamorous lady who is 13 years older.
Conclusion
So who do you think will win this TV reality show?

Well, you can keep guessing, but don't get any ideas, though, about any saat pheras taking place at the end. As Mallika Sherawat said, she is just "looking" (remember the part where she said she is looking for true love?) & it is unlikely that a marriage will take place. Just sit back and enjoy the fun & games on what surely promises to be a highly entertaining, giggle-a-minute show!

[Note: Reference for contestants taken from official website http://www.lifeok.com/bachelorette]