How to apply for 2014 Indian Idol auditions online selection?

Want to sign up for the online selection of Indian Idol? This article provides a step by step guidance to applying for the 2014 Indian Idol show via online selections.


About Indian Idol 2014
As everybody knows, Indian Idol is a television reality show which brings out the hidden singing talent of many an Indian citizen. Bathroom singers to trained ones, beginners to experienced stage performers, there are a wide variety of genres to listen to. There is an initial round of auditions conducted in numerous towns and cities across India.

A panel of 3 or 4 judges will hear the vocals of participants during the auditions and select them for the next round. This next round generally is held in Mumbai from where there are further auditions and the most talented will be selected for the next stage of live television performances. Anu Malik, Salim Merchant and Sunidhi Chauhan have been part of the jury panel. Legends like Asha Bhosle have also been invited as guest judges during the live performances. Then there are numerous Bollywood celebrities appearing in different episodes to pep up the show, though primarily doing so to promote their forthcoming films.



The auditions for Season 8 of Indian Idol will soon begin. While we wait eagerly for the official announcement of the dates and venues of the audition rounds, the organizers of the show launched a unique online selection process. Anybody can record and upload a Hindi solo song on YouTube. Then share it on the Facebook page of Indian Idol 8. Those who have joined the Indian Idol Facebook page will vote for you if they like your vocals.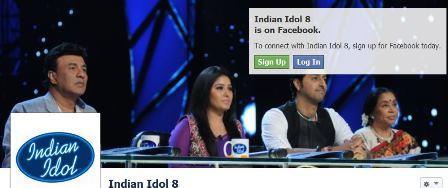 [Image courtesy: www.facebook.com/IndianIdol.08]
The Procedure for Online Selection
Sing a Hindi song solo. You are not allowed to submit any song which is recorded with a chorus or as part of a group. It must be a recording of you alone.


Record your singing. The recording should strictly be of the vocals part only. No recording of instruments should be incorporated.


At the very beginning of your recording, you must state: (a) your name and (b) your age. Then should follow the song.


The duration of your recording should be a minimum of 1 minute and a maximum of 4 minutes.


Upload your recording on YouTube


Share the YouTube file on the facebook page of Season 8 here: https://www.facebook.com/IndianIdol.08


What next?
Those who like your singing and are eager to see you in the Mumbai audition rounds will vote for you simply by making a one word comment: "YES".

That's it. Who knows? Perhaps a lot of those "Yes" comments will get you a direct place in the 2014 Indian Idol Mumbai audition rounds!

So what are you waiting for? Quick! Belt out a great Hindi song in your own voice, get somebody to record it and upload it on YouTube. The online selection may not be open for long, so hurry...

You can also simultaneously apply for vocal training from the maestros in the field of singing. Learn more here: How to apply for online admissions to Indian Idol Academy talent courses
.