Benefits of Coriander.

Coriander leaves, also called as Cilantro is found in every Indian house. It is a packed with health benefits that most people completely miss. They are rich in Vitamin C, Vitamin K and protein, a great source of dietary fiber, manganese, iron and magnesium as well. Continue reading to find out more about this humble herb and the spice – coriander seeds.


What is Coriander?
Like many other spices coriander is available throughout the year providing a fragrant flavor that is hard to miss. The fruit of the coriander plant contains 2 seeds which, when dried, are used as a dried spice. Coriander seeds are available in the markets in whole form or in ground powder form.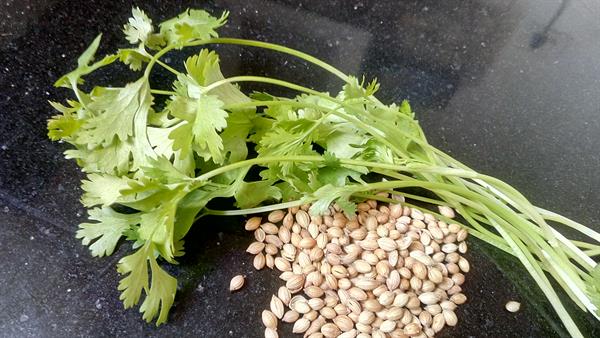 History
Coriander is native to the South-Eastern Europe and grown extensively all over the Europe, Middle East, China, India, and Turkey. It has been known in Asian countries for thousands of years. It can be easily considered as one of the world's oldest spices, as its use can be traced back to 5,000 BC.


How to buy Coriander?
Fresh coriander or cilantro leaves should look fresh and deep green in color. They should be firm, crisp and free from yellow or brown spots.
Buy whole coriander seeds instead of the powdered form since the latter loses its flavor and fragrance more quickly, coriander seeds can be easily ground with a mortar and pestle or mixer.


How to store Coriander?
Fresh coriander leaves are highly perishable, hence should always be stored in the refrigerator. If the roots have been removed, wrap the coriander leaves in a paper towel and place them in a plastic bag. Use as early as possible since it loses flavour and nutrients quickly if kept for longer periods.
Coriander seeds and coriander powder should be kept in an tightly sealed airtight container in a cool, dark and dry place. Ground coriander will keep good for about four to six months, while the whole seeds will stay fresh for about one year or even more.


Some Health benefits of Coriander Leaves or Cilantro
Coriander is one of the popular Mediterranean herbs widely used in savory dishes in almost all parts of the world. It carries many plant derived chemical compounds that are known to have disease preventing and health-promoting properties. It has 11 components of essential oils, 6 types of acids (including ascorbic acid, better known as vitamin-C), minerals and vitamins, each having a number of beneficial properties.

Coriander is very low in calories and contains no cholesterol. Its deep-green leaves hold good amounts of antioxidants, essential oils, vitamins, and dietary fiber, which may help reduce LDL or "bad cholesterol" levels in the blood.
It is a good source of minerals like potassium, calcium, manganese, iron, and magnesium. Potassium is an important component of cell and body fluids which helps in regulating the heart rate and blood pressure. Iron is essential for red blood cell production. Manganese is used by the body as a co-factor for antioxidant enzyme.
It is also rich in many vital vitamins, like folic-acid, riboflavin, niacin, vitamin-A, beta carotene, vitamin-C, which are essential for optimum health. Vitamin-C is a powerful natural antioxidant. About 100 gms of coriander leaves provides 30% of daily recommended dose of vitamin-C.
Coriander is one of the richest herbal sources of vitamin K. Vitamin-K has a potential role in bone mass building. It also has established role in the treatment of Alzheimer's disease patients by limiting neuronal damage in their brain.
Some Health benefits of Coriander Seeds
Coriander seeds are rich in dietary fiber. 100 gms of this seed provides about 41.9 gms of fiber. Much of this fiber is metabolically inert insoluble fiber, which helps increase bulk of the food by absorbing water throughout the digestive system and help easing constipation condition.
The Coriander seeds are also an excellent source of minerals like iron, copper, calcium, potassium, manganese, zinc and magnesium. Copper is required for the production of red blood cells. Iron is essential for cell metabolism and red blood cell formation. Zinc is a co-factor in many enzymes that regulate growth and development, sperm generation and digestion. Potassium is an important component of cell and body fluids that helps controlling heart rate and blood pressure. Manganese is utilized by the body as a co-factor for the powerful anti-oxidant enzyme, superoxide dismutase.
Other dry spice seeds lack in vitamin C, but coriander seeds contain an ample amount of this anti-oxidant vitamin. 100 gms of the dry seeds provide about 21 mg of vitamin-C.
The seeds are also the storehouse for many vital B-complex vitamins like thiamin, riboflavin, and niacin.
Few more health benefits
Coriander seeds are a good household remedy for many pitta disorders, mainly those of the digestive tract or urinary system. This humble Indian curry ingredient is also an invaluable medicine. It soothes the irritated digestive system and cools any burning sensations in the body. It is often used with sugar to increase the anti-pitta effect.

Digestion:
Coriander seed is an excellent remedy for promoting digestion. It is safe to use when there is an inflammation in the digestive system. It is prescribed in IBS (Irritable bowel syndrome) and colic. Both the leaf and the seed are used to clear flatulence, gripping and bloating. For gas and indigestion a tea (an infusion with the seeds) can be prepared. It is an effective digestive agent, often used together with fennel and cumin which are related plants with similar properties for digestive disorders. Coriander can be used roasted alone or with fennel and cumin, one teaspoon after meals for cramping and flatulence.
Urinary tract:
It is good for strengthening of the urinary tract. Both the seeds and the leaves can be used as an infusion for infections of the urinary tract. A cold infusion of the seeds is used for draining heat out of the urinary system. Warm infusion is also advised for burning on urination, this tea will make the urine more alkaline.
Allergies, hay fever, skin rashes:
The fresh juice of coriander is effective internally, it can also be used externally for itch and inflammation. Skin rash is treated with an application of the pulp of coriander leaves directly or by taking coriander tea. When used internally it helps in purifying the blood, and externally it relieves the burning sensation.
Vomiting:
Warm infusion of the coriander seeds is used, it also helps with nausea.
Eye Infection:
The eyes are rinsed with the cooled decoction of the coriander seeds.
Diabetes:
This herb has a hypoglycemic effect. It lowers the glucose level in the blood.
Respiratory system:
It is used for sore throat and is useful for coughs. Coriander seeds can be ground and mixed with honey in the ratio of 1:2 and consumed in regular intervals. Coriander helps clean mucus from the lungs with its antispasmodic and expectorant properties.
Diarrhea:
It acts as an absorbant, useful in malabsorption syndrome and diarrhea. Chewing coriander seeds is recommended.
Bad breath:
Chewing of a few coriander seeds as needed takes care of the problem.
Cooking Tip:

We all use coriander leaves for garnishing, be it Poha, Upma, Dal or any vegetable. Next time use it in a little different way. Keep aside some for garnish as usual, but while you are tempering any of your recipe just like you add onions, tomatoes, etc. add a little chopped coriander leaves as well. It will give a very different flavour to your recipe. Try it, you won't be disappointed.

Our ancestors had a deep knowledge of herbs and spices and this knowledge was used in designing the curry and spice blends in which coriander is an important component. The intention was to balance and heal.