Coast guard women officers operating hovercrafts

It is the first time in our defence service that women officers are operating hovercraft. Coast guard women officers are getting trained for handling this amphibious craft. You will find all the information regarding the Indian Coast Guard in this article.


Training of women officers for hovercraft
The Coast Guard has already trained many women officers for operating fixed-wing aircraft and helicopters. And now the service is expecting these bravery women to operate hovercraft, an amphibious craft that guards the coastal area of shallow depths.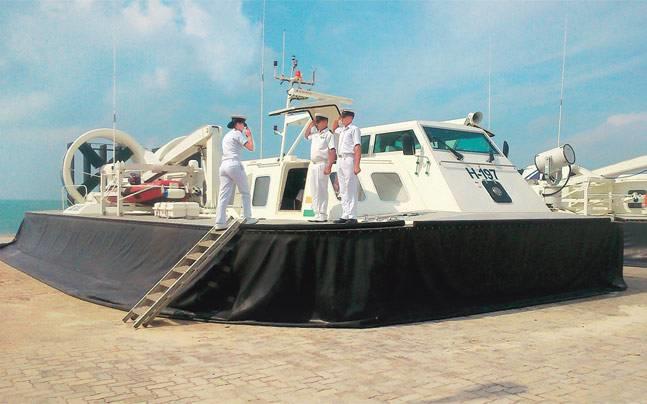 The first batch of this training program consist of four women officers, who had under gone 10-day of first-phase training capsule at ICGS Mandapam in Ramanathapuram district.

The training for the first batch is already over. The women officers of first batch were Assistant Commandants Sneha Khatayak, Anuradha Shukla, Shirin Chandran and Vasundhara Chouksey from Coast Guard stations in Paradip, Mumbai, Chilika and Chennai.

Ms. Chouksey had been a part of different training before under the command of Commander Dilip Donde. Commander Dilip had circumnavigated the globe on INSV Mhadei and he was the first Indian to do so. Also, Commandant S. Bhattacharjee of ICGS, Mandapam has said that these women officers would proceed for training at different places once they are done with their first phase training. Also, he said "For the first time it is happening that women officers are allowed to operate craft". At present, Presently, 18 hovercraft are there with Coast Guard, which are connected to the units in Okha and Jakhua in Gujarat, Mumbai in Maharashtra, Mandapam in Tamil Nadu, and Haldia in West Bengal.


First batch of women officers getting trained for Hovercraft
Assistant Commandant Sneha Khatayak - Paradip station


Assistant Commandant Anuradha Shukla - Mumbai station


Assistant Commandant Shirin Chandran - Chilika station


Assistant Commandant Vasundhara Chouksey - Chennai station
Indian Coast Guard
Indian coast guard is the fourth armed force of India to guard India's vast coastline. Its structure is similar to other paramilitary forces such as Border Security force(BSF) or CISF. It was created on 18 Aug 1978 as an independent entity as per coast guard Act. It operates under ministry of Defense.

The coast guard works closely with Indian Navy and the Indian customs Department, fisheries department and the police. It is at presently headed by Director Genreal Rajendra Singh PTM, TM.

Some of the roles of coast guard includes:
1. Enforcing the provisions of enactment in force in maritime zones.
2. Assisting the customs and other authorities in anti smuggling operations.
3. To pressure and protect maritime environment.
4. To control marine pollution.
5. Safety and protection of artificial islands, offshore terminals,oil and gas companies.
6. Aid to mariners in distress
7. Measures for safety of life and property.
8. Responsibilities for policing of over 2.01 million square kilometers of ocean, including 1,200 islands.

The search and rescue region(SAR) of India is divided into three areas located at Mumbai, Chennai and Port Blair with sub-centres at Porbandar, Goa, New Mangalore, Mumbai and Kochi in west, Vizag, Paradip and Haldia in the east and Diglipur, camp Belbay in Nadaman and Nicobar.

The classes of Ships available with Indian Coast Guard include:
1. Sankalp class - Advance Offshore patrol vessel
2. Samar class - Advance Offshore patrol vessel
3. Vikram class - offshore patrol vessel
4. Samudra class - Pollution control vessel(PVC)
5. Jijabai - Inshore patrol vessel
6. Vadyar Class - Interrupter craft
7. Bristol class - Interrupter craft, fast patrol vessel, extra fast patrol vessel(XFPV), seaward defence boat,inshore patrol craft.

[Image source: indiatoday.in]