Indian Air Force to induct women fighter pilots

It is really a proud moment for us to witness the first women fighter pilots of India. Soon, we will see these women cadets getting commissioned. This articles provides all the information regarding these women fighter pilot. Currently, they are undergoing training for Jet Fighter plane.


First Indian Women Fighter Pilots
Flying cadets Avani Chaturvedi, Bhawana Kanth and Mohana Singh are soon going to create history. When they were young, they would have dreamt about flying in the sky.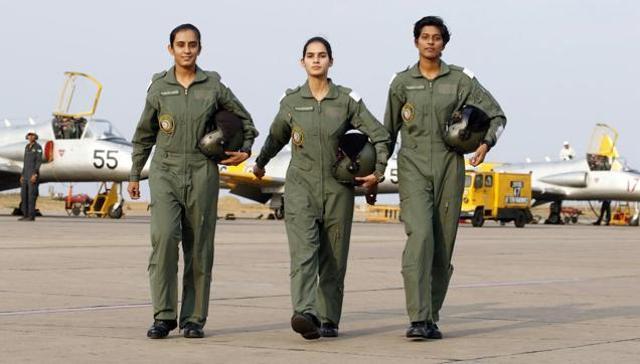 Now, finally their dreams are going to come true. The current batch of spring term 2016 is going to produce first three women fighter pilot of India. Successfully clearing the test of flying fighter aircraft, Flying Cadet Avani Chaturvedi, along with flying cadets Bhawana Kanth and Mohana Singh are soon going to become history. For the first time, India will witness women pilots. Flying Cadet Bhawana Kanth said "It doesn't feel very special just as yet. Our main focus is to undergo training and live up to the expectations of our instructors and excel in all examinations''.

These three women flying trainees are getting trained at the Indian Air Force base in Hakempet along with their male counterparts. Women cadets are getting trained the same way as men. The rigourous training develops officer like qualities in them. Flying cadet Mohana Singh said "No concessions for us. Physical fitness or mental robustness, the tests are the same,''.

Since 1991, IAF have been training women pilots flying helicopters and transport aircraft. The decision taken by Prime Minister Narendra Modi and Defence Minister Manohar Parrikar to open the cockpits of fighter aircraft for women is going to be a success soon. There were certain huddles in the execution of the decision but later IAF has agreeg to take the initiative to make this a success.

Sources in the IAF headquarters said, "This is a learning experience for us. This is the first time we will be putting women cadets in the fighter aircraft cockpit. There are lessons for all of us. We will benefit from these experiences,''


First batch of Female pilot in Indian Air Force
Flying Cadet Avani Chaturvedi


Flying cadet Bhawana Kanth


Flying cadet Mohana Singh
Training stages for becoming Fighter jet pilot
The first stage includes the mandatory 55 hours of flying on the Pilatus PC 7 basic trainer. Once they clear this stage, they will graduate to the Advanced Jet Trainers (AJT) for fighter flying training.


The second Stage training on the Kiran Mark II is on progess for these women cadets. Currently, the women cadets are going through this phase of training.


Once they are done with the second stage, they will get graduation for Advanced Jet Trainers(AJT). This will be part of fighter flying training.
Operations for Women fighter pilot
It has been announced by Air Chief Marshal Arup Raha, chief of air staff that Indian Air Force will produce its first woman fighter pilot on June 18, 2016. This thing was announced on Women's International day when he was addressing a seminar on women in uniform. Physical, mental and psychological test has to be cleared by the women trainees for flying fighter jets.

It has been found that the women trainees selected for this task are performing much better than expected. They will be tested for 5G+ once they are put in fighter plane. It means that they would be test to experience gravitational pull upto 5 times of that of normal value. Men fighter pilots undergo 9G gravitational pull in severe conditions. Even the women cadets will have to go to this level of training.

Also, it has be found out that missions envisaged initially for women fighter pilots will be little different from their male counter parts. Women pilot will be flying combat air patrols (CAPs) and will protect Indian sky. They will not be allowed to fight over foreign territory. There are many missions withing our country which requires high expertise. For these kind of operations women pilots would be utilized.


First Female pilot of India to be announced in June
On the International Women's Day, which was celebrated throughout the world, Air Chief Marshal Arup Raha had announced that India will witness its first batch of female fighter pilots in the month of June this year.

He added "As of now three women trainees have volunteered to join the fighter stream. They are under the second phase of their training. Once they complete their training and are at par with their male colleagues and the passing out parade is scheduled on June 18th,"

All the three trainees who are undergoing through fighter jet training will get commissioned on the same day. Also, they will go under advanced jet training once they complete their second stage of training, and later proceed to the regular squads. Air Chief Marshal Arup Raha has thanked the Defence Minister for approving IAF's proposal to induct women fighter pilots in Indian Air Force. According to sources, the women fighter pilots won't be allowed for pregnancy for four years after getting commissioned.

[Image source: hindustantimes.com]