How to apply online for Kailash Mansarovar Yatra (KMY) 2016

Ministry of External Affairs has announced online applications for Kailash Mansarovar Yatra this year. Here is step by step procedure to submit online registrations for KMY. Also know various instructions, precautions and download consent form, indemnity bond and undertaking for yatris from here.


Like every year, Ministry of External Affairs has announced kk in the months of June, July and August, 2016. Applications can be submitted latest by 15 April 2016. This trip is like a dream for devotees of Lord Shiva but also holds equal importance for the Jains and the Buddhists. The major change introduced this year is that now you can register online for the yatra through any route- Lipulekh Pass (Uttarakhand) or Nathu La (Sikkim). Estimated cost per person through Lipulekh Pass is Rs. 1,60,000 and through Nathu La is Rs. 2,00,000. Time duration will be approximately 25 days and 23 days through Lipulekh Pass and Nathu La, respectively. Applicants are required to stay in Delhi for 3-4 days for medical tests and other preparations. But you can select a place as 'End point of journey' according to your conveinece. You can choose Dharchula or Delhi for route 1 and Gangtok or Delhi for route 2.



Who can apply for Kailash Mansarovar Yatra

We all are aware that this yatra involves trekking at altitudes at the height of up to 19,500 feet without any proper hospitalisation facility and while facing extreme/ hazardous weather conditions. Hence, government of India has laid down certain conditions for a person to be eligible for this trip. Please note that applications providing wrong/ false/ incorrect/ complete information will be rejected straight away.



Apart from eligibility requirements provided here, applicant must be free from any health problem like high blood pressure, diabetes, asthma, heart disease, epilepsy, etc. He/ She must not be undergoing any legal or executive sanction in force.

Applicant must be an Indian citizen.
He/ She must have Body Mass Index (BMI) of 25 or less.
Age limit for applicant is 18 to 70 years as on 01-01-2016.
Applicant must possess an Indian passport with validity of not less than 6 months as on 01-09-2016.
Applicant must be physically and mentally fit and healthy.
How to submit online applications at KMY official website

If you are well aware of all terms and conditions related to this journey, then you can proceed to register according to these steps. You also need Acrobat Reader software on your computer before proceeding.
Step 1:
Go to http://kmy.gov.in/kmy/yatrireg.do and enter your passport number, date of birth and passport expiry date. You need to enter all details correctly and carefully as you cannot change them later. Liaison Officers can apply through http://kmy.gov.in/kmy/officer.do?lang=en_US.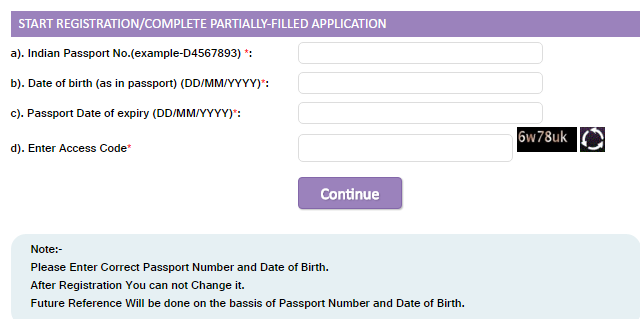 Step 2:
Enter preferred route for yatra, your personal details, complete postal address, passport details and other required information.

Step 3:
Upload your image/ passport size photograph in JPG format of maximum 300 kb in size.



Step 4:
Upload scanned copy of required documents including Passport showing page containing photo & personal particulars and last page containing family details. Document must be uploaded in pdf format only of size not exceeding 500 kb. Liaison Officers are not required to follow this step.

Step 5:
You will receive a confirmation email and/ or SMS at provided email ID and/or mobile number. Take a print out of application form and keep it safe with you for future reference. Liaison Officers are required to sign a copy and send it to postal address provided here along with attached administrative and financial approvals.

Last date to submit online forms is 15 April 2016.


Contact Information

Postal address:
Under Secretary (EA), Ministry of External Affairs
Room No. 270-A, South Block, New Delhi 110011
Phone: 011-23012847
EMail: dsjk@mea.gov.in
Email for yatra related problems/ queries: kmyatra@mea.gov.in


How to get consent form, indemnity bond and undertaking for yatris

Check these links to download these forms:
Download Consent Form from http://kmy.gov.in/kmy/downloadDocs.do?lang=en_US&fname=eng_yatri_consent_print.pdf

Download Indemnity Bond from http://kmy.gov.in/kmy/downloadDocs.do?lang=en_US&fname=eng_yatri_indemnitybond_print.pdf

Download Undertaking from http://kmy.gov.in/kmy/downloadDocs.do?lang=en_US&fname=eng_helicopter_undertacking.pdf