The two great classmates of Tamil Nadu(Sujatha and Kalam)

This article is an attempt to give brief biography of the two great legends A.P.J. Abdul Kalam and Rengarajan (writer Sujatha). It is really unique that the two classmates really reached greater heights in life and also people of Tamil Nadu really enjoyed along with them during their life time.


Introduction

The biographies of the two great legends has been combined in this article due to the uniqueness that they were class mates during graduation and also they have place in the hearts of Tamil people..


A.P.J. Abdul Kalam

His biography has been briefed in his first book Wings of Fire which is mostly on the experience of his career as a Rocket Scientist until launch of Agni.

He was born on 15th October 1931 in a middle class family in Rameswaram, the Island town of Southern part of India, Tamil Nadu. He did his early schooling in Rameswaram and then in the district Headquarters Ramanathapuram. He did his intermediate as well as graduation in Physics in Trichirappalli, St Joseph's College and Masters in Technology in Aeronautical Engineering in MIT, Madras. His career graph is: he grew up under the supervision of Vikram Sarabhai, training in NASA.and then he was a part of ISRO's SLV rocket project. Later, he moved to become the head of the DRDO (Defence Research and Development Organisation) at Hyderabad in the Department of Space. He successfully accomplished missile projects, Prithvi, Agni, Akash, Nag . Then he became advisor to the prime minister and played a significant role in the stalled light commercial aircraft (LCA) project, to fly. And to his credit, he has developed cost effective medical devices using indigenous defence technology. And in 2002, he has been elected by huge majority to India's office and became People's President. After his presidential term, he has become visiting faculty for many IIMs in India and also a research scientist cum Professor in Anna University and guided many students. Apart from Science, he has mingled with many young students in many meetings in schools and colleges and became preferred President of India. He received many awards of greater in nature Bharat Ratna, Padma awards etc.,

Source: Taken snap shot from the Printed book Wings of fire.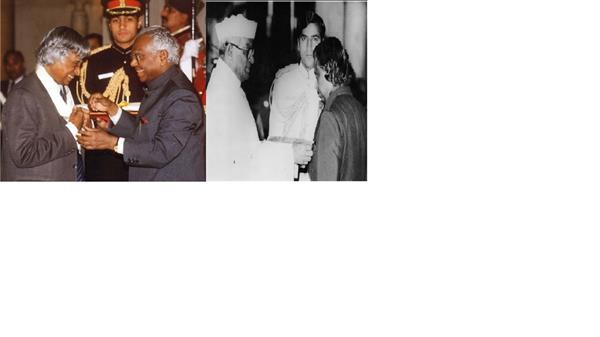 Besides Science he is passionate to Music, Tamil Poetry etc., and he always used to practice Veena and in his books he has shared many quotes written by him as well as from others.


Sujatha

S. Rengarajan (wrote with pseudonym with his wife name Sujatha) Born on 3rd May 1935 in Madras but brought up in Srirangam of Tamil Nadu. Did his schooling in Srirangam and college in St.Joseph College, Trichirappalli. After his graduation in Physics, he did Masters in Technology in Electronics from MIT Madras. He worked in Bharat Electronics Ltd. But he has been in limelight with his writing of stories, short stories with his capability of many great techniques like linking science, science fiction, places etc., He has to his credit more than 150 short stories,100 big stories and script writing for few films and especially science fiction films. His first story published in 1953 in a magazine called Sivaji during his student life. Officially his first story published in magazine called Kumudham. He was one among who had initiated and invented Electronic Voting Machine(EVM).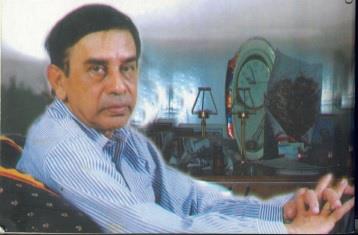 Source: Taken snap shot from the printed book of one of his story Aah.

Togetherness

Their togetherness shared by the writer Sujatha in his article Katrathum Pettrathum before Kalam became President of India. When he explains about his college days in Trichirappalli, he shared, during lunch breaks in the big assembly hall, they used to banter until the bell rang for the lectures and he recalled from those times and told that Kalam would not talk much then, and if someone poked fun, he would gently laugh it off and even he would not come with the rest of them to watch movies. They both joined in MIT too but one with electronics and the other with the aeronautics course in the same year. They both shared a common passion for Tamil and he recalled their frequent meetings on that count and also shared that Kalam was very much interested in Subramania Bharathi (nationalist poet) songs and Tirukkural (Tirvalluvar's omnibus of couplets). Also shared that Kalam was very clear that he wanted to accomplish something practical in the field of aeronautics or rocket science and hence even wanted to write a story together on this field in Tamil right from the time of Tipu Sultan but could not find time as he was very busy with government appointments..

Also shared that their Professor Raghavachari, who taught them Physics, was passionate about Tamil too and for a competition that invited essays in Tamil on science, that both of them took part, with titles of essays as "We will build a plane" by Kalam and "Anantham" on the basis of infinity mathematics by Sujatha and Kalam won the prize for his writing in Tamil and one can see that Kalam did not stop with his writing and really built a rocket.

Both of them shared about their professors in their writings as one German professor, and one Indian professor showed their way and recalled that was the first time in India, they made an engineless-glider and took it to the Meenambakkam airport, part by part and put it all together and used a winch to pull it and hoisted it like a kite in the sky. It caught the hot winds and soared.

Kalam in his book Wings of fire said, When he visited Madurai Kamaraj University and on enquiry he knew that his teacher of Ramanathapuram School was in suburb of Madurai and so he visited his house and brought him to the University lecture hall in his age of 80. That time the Governor of TN even requested him to share a dais with his elderly teacher. After Kalam finished his convocation address, bowed towards his teacher and also told that great dreams of great dreamers are always transcended' but his teacher replied that he has not only reached the goals but eclipsed them. Every one really moved with the touching reunion of teacher and pupil.

He also shared that if he were to look back and compare themselves with their batch mates, Kalam's rise is manifold and none of them rose to become a Bharat Ratna. The main reason for his success was his dedication towards work, tireless labour and self-confidence. His personal needs were few. He was a bachelor and a vegetarian with no "bad" habits. To top this he had a devout Muslim's sense of good conduct. In fact even he has shared about his leadership qualities that how he fixed the responsibility without shouting but make them missing the deadline squirm in discomfort. When he was working 24/7/365, others were compelled to match up.

Other few things shared in social networking and among them the most popular one is their college photograph signed by both of them on the photograph which is available in many blogs and social networking sites like facebook,etc., When a party took place in Hyderabad, Kalam managed without knowing to them by exchanging vodka glass with water glass from Sujatha.

In one of the short stories of Sujatha where he used to write connecting his native place Srirangam(Srirangathu Devathaigal) and a technique of involving first person as one character and so while mentioning college mates in the story, he mentioned Kalam's name also.

Sujatha died on 27th February 2008. One wonder I could see in his death date too, in one of his science fiction stories, he would have told that the date has been fixed to reach Thimala(Thirumala) as 20th February 2080 and as quoted by Kalam great dreams of great dreamers are always transcended has become true in his death date too.

Kalam died on 27th July 2015 and a memorial is under construction in his birth place Rameswaram and the tributes are still going on in some form or other by the entire nation which is really very rare and may be first time in Indian history.