How to reach Taj Mahal Agra from Bangalore, Karnataka

In this article, you will know how to reach Agra from Bangalore. What are the transport modes to reach Agra or Taj Mahal from Bangalore? Find the detail about one of the best tourist places in India or one of the wonders of the world. Also, find Agra fort detail. Read to know more detail about them.


Are you eager to see one of the wonders of the world that exist in India? If so, here you go for its detail. If you are planning for holidays and going to visit Agra or Taj Mahal in anytime or any season then no issue for your journey as long as there are couples of transport modes are available to reach Agra from Bangalore or nearby cities. Yes, travelers can enjoy the transport like Train, Flight or even by Travel Buses or a break up journey through buses to reach the said destination. If you are interested to see the best places in India then Taj Mahal is one of them. Find the detail as below;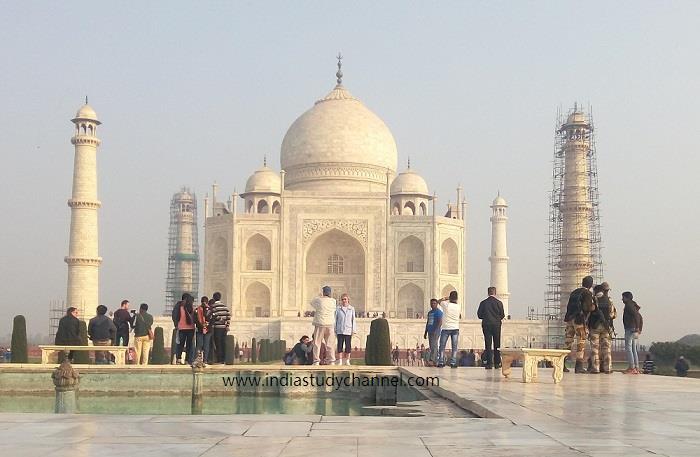 To reach Agra by Flight

It is better to catch the Delhi flight from Bangalore in case if you would like to reach Agra, this is far better than a flight of Gwalior from Bangalore. Yes, there are just few kilometers differences between these two destinations (Delhi vs Gwalior Airport) to reach Agra. There are frequent flights for Delhi than Gwalior from any cities across India, so, it is better to book the flight accordingly. Also, there are many transport facility from Delhi to Agra like frequent buses and train anytime. So, it is far better compare to Gwalior to Agra transportation. The journey / flying hours are 2.10mins. You can book a flight ticket online itself and you may get cheapest air ticket if you book it in advance.


To reach Agra by Train

There are couples of daily trains to Agra from Bangalore. Most of the Delhi trains going via Agra only, so, no issue to book it in advance. Yes, it is better to book it in advance for Agra quota or else it is also better to spend very few extra Rupees and buy a Delhi ticket and get it down in Agra Railway station or as per your convenient or travel planning. It takes more than twenty four hours / a day to reach Agra by train. It is better to keep food and water items along. Also, you may keep power bank and charger in advance for your smartphone on travel connectivity.


To reach Agra by Bus

This is one of the best options for those who always like to travel by bus only and prefer accordingly. There are some people who don't like to travel by train or a flight, the luxury bus is the best choice for them. Yes, there are few travel buses available to reach Agra or nearest destination from Bangalore. One can enquire and book it accordingly. This is one of the best option to travel during long holidays.


Hotel Accommodation in Agra

Once you reached Agra, you will get its assistance to reach Taj Mahal and Agra Fort etc. so, no issue about it. At the same time, one can get the budget hotel in Agra too. If you book the hotel in an advance then well and good and if not then you may suffer during peak or summer or holidays season only. The rest of the time, traveler can simply get the hotel / accommodation. There are so many cheap hotels are available in Agra for a pleasant stay and save money. So, nothing to worry about it and you can enjoy the tourist hotspot. The one who have hotels or resorts' timeshare can enjoy its benefit over here for a week or so.

Note: It is better to have light breakfast in the early morning and reach Taj Mahal to enjoy the beauty, climate, avoid crowd and disappointment etc. The distance from Bangalore to Agra is 1932 kms. Also, it is safer to keep warm clothes like jacket, sweater etc. during winter season. The entrance fee for Indian is lesser price and one has to buy a shoe / slipper cover at the entrance itself which costs around Rs 10. Also, the local transport charges to reach Taj Mahal and Agra Fort is nominal one. Tourist can take photos and videos over there that too within permitted places. Archaeological Survey of India is doing the best services to the monument and visitors.