Unisys announced Cloud 20/20 ver 7 Contest winners for Technical Project

In this article, you will know how to participate Unisys Cloud 20/20 technical project contest, who is eligible for Cloud 20/20 Contest, how to approach Unisys for it and so on. Also, find Unisys Cloud 20/20 version 7 Contest winners for Technical Project detail. Read this article for more info on this.


Are you an IIT student or Engineering student? Are you pursuing currently in any of the Engineering or IIT institutes in India? Are you interested to join in any Technical project contest in India? If so, you are in the right page to get the right information over here. Yes, Unisys India every year announce the Cloud 20/20 technical project contest for an outstanding Engineering or Technical background students to come up with the innovation thinking and oriented result on relevant project to execute.


Unisys India contest for Technical students

Unisys India offering India's largest annual technical project contests every year to deserving students from reputed Engineering colleges. They offer to those right candidates who can come up with innovative thinking around for technology development. This year, the topic to participate were, Cloud-based application and services, Internet of Things, Computing everywhere, Data analytic, Cloud security, Context rich system and Potential future technology.

Unisys India announced the winners of the seventh edition of Unisys Cloud 20/20 to deserving candidates on their outstanding and innovative projects. These projects done by couple of IIT institutes across southern part of India and respective students, they had practiced their expertise project since six months to participate in this contest.

There were many students from many Engineering and IIT colleges participated for this Cloud 20/20 version 7 contest. Most innovative ideas they brought forth. After many rounds of evaluation to select the winners and runners, under the category of Student Innovation Projects (SIP), Unisys finally announced the winner for the project as below;


Unisys Cloud 20/20 version 7 contest winners and runners

The first prize won by "God's Secret Key" innovative technical project, and its participants got the winner title. They are, Sofeiyakalaimathy C., Laavanya N., and Priyadharshiny S. from Pondicherry Engineering College, Puducherry, India. Their project was something unique and explained with the DNA example and its function matching the technology requirement. The DNA mainly plays important role on human's appearance and result, thus their technological project too can be of helpful in the same way.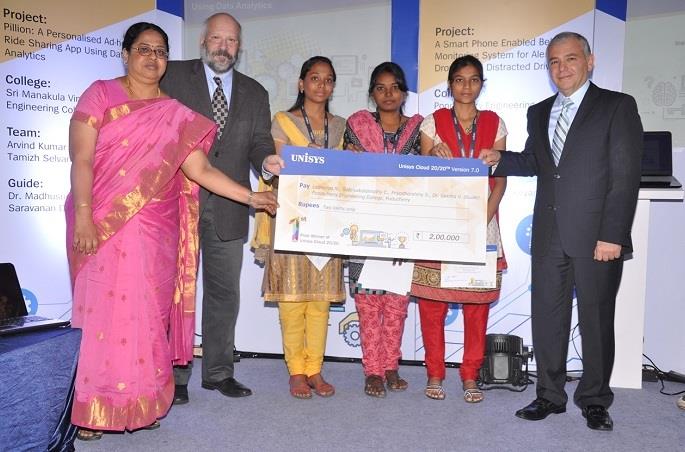 Image courtesy: Unisys India

The second prize won by Vellore Institute of Technology student Ankush Rai for "Internet Vigilante". This project helps to see the video clips to identify the various mischief acts around. The video and particular circle with human movement helps to recognize the mischief act done by whom among crowd. This is a must innovation at the moment which can even cross the CCTV clips.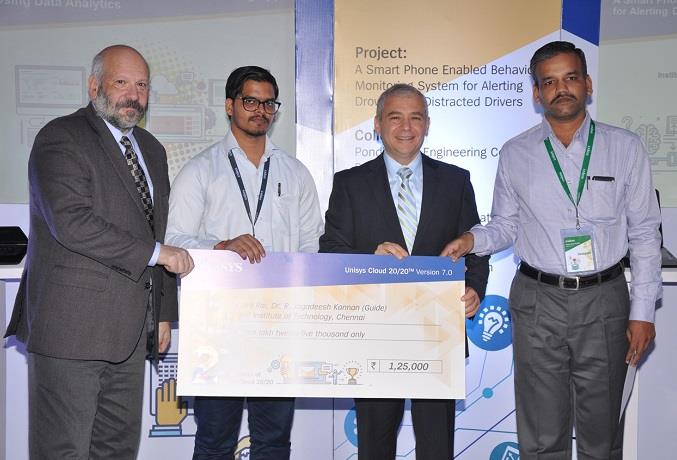 Image courtesy: Unisys India

The third prize won by "Triplet Li-Fi" project which handled by Mangalore Institute of Technology & Engineering student, Shibin George and Prinson V. Jacob. What is Triplet Li-Fi other than normal Li-Fi? Read this brief note to know about it. This Triplet Li-Fi can work at three places differently at the same time, for example, it can work for hazard area (land), flight (on-board) and sea / ship (coastal) etc. This is something outstanding, of course.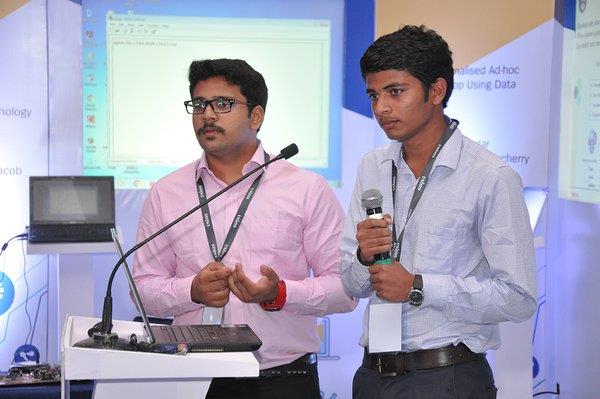 Image courtesy: Unisys India

The fourth prize won by "A Smartphone enabled behavior monitoring system for alerting drowsy and distracted drivers". The team members were J. Kanimozhi and I. Valarmathi from Pondicherry Engineering College, Puducherry.

These students were supported by project guides from Unisys and their respective institutes. If you or any student would like to participate on Cloud 20/20 contest then keep in touch with Unisys website at www.utfi.co.in or http://www.app5.unisys.com/common/about__unisys/Cloud20_20V7/index.html

About Unisys India
Unisys is a global information technology company managing with many of the world's largest companies and federal government organizations to solve their Information Technology, Engineering and Business challenges. Unisys offering services include security solutions, Cloud and Infrastructure services, application services, and high-end server technology etc.

Note: You may add comment below for question / suggestion, if any.