How to move from Blogpost to WordPress for free

In this article, you will know how to migrate a blog from blogspot to wordpress self hosting without any tough job. I have stated herewith few simple steps to move from a blogspot to wordpress theme. Read this article to know more detail on this.


It is normal that a newbie start blogging from BlogSpot because this is the simple and zero investment platform to start with. When they get use to it, they try to improve their existing blog for adding quality content and bring more natural traffic etc. However, some of the blogger would like to change the existing blogspot blog to a different platform especially a platform like a Wordpress where one can get much more freedom for a writer to write in their way of style. Also, they would like to change the blog theme, design and various features from the current one.


Why to move from Blogspot to Wordpress

One of the main reasons to change from Blogspot to Wordpress self hosting is, domain name itself. Yes, blogspot gives its name itself in every (free) domain (like xyz.blogspot.in) unless one buy a domain and associate with it. The other one is, less features in BlogSpot compare to wordpress, thus, bloggers would like to move or migrate their growing blog to a new platform like Wordpress. In simple words, WP platform gives much more benefit compare to blogspot or other free domain or paid one. The WP helps for customization, SEO and mainly is freedom of do anything you want.

On the other hand, it is not that BlogSpot is not the best platform but the reason is enrich one's blogging career by having a full control on blog and that will only be possible with own self hosted platform like WordPress.

Many thinks that migrating from blogspot to WordPress is a tough one and it will reduce current organic traffic, ranking and data, but that's not true. If you follow the right procedure for migrating it then it is easily possible to do it without losing any of these.

I have mentioned here with a simple step by step process for migrating from Blogspot to WordPress.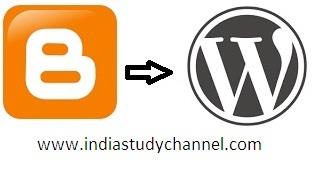 Step by step procedure for moving from Blogspot to Wordpress

1. Download WordPress on new account
This is very simple, you just need to install WP on your new hosting account to ensure your process of migration simple and easy. This can be done by just one click option available there. After installing WP on your new account, there would be some technical and tricky which the next step (given below) will clear it without any issue.

2. Start importing all your Blogger content to WordPress
Since you are moving your old content to a new platform, you need to simply go to admin page of WP and visit tools option. Follow the steps given below.
Select the word "import" in WP
Click on Blogger import option
A popup will come to install the Blogger to WordPress importer.
Click on install
WP will download the Blogger Importer plugin
Click on activate plugin and now everything is done.

3. Setup permalinks which match with previous ones
Since you are migrating from one platform to another, so this process requires a URL structure to be much similar to your previous platform. As you know, Permalinks are the links used to build various URL structures of individual pages, so, one has to be concentrate on this.
Thus, Go to settings
Select "permalink" option
Select month and name as permalink structure.
The best feature of WP is that it comes with an opportunity to set up SEO friendly structure.

4. How to set up redirection page and RSS feeds
While setting a redirection page one need to redirect visitors to their new website page, beside, RSS migration for subscribed users is very important to get in touch with new domain. Learn, how to setup redirection page and RSS feeds?
You can do it by logging into your Blogger account.
Go to settings-other page option
Select site feed section and click on add link.
Now you need to enter new site's feed address.

5. How to import images and archives to WordPress
The final step is, one has to transfer all media files, photos and archive folders from Blogspot to WordPress. It can be done by WordPress importer only. One can easily transfer their archive folder just by saving .htaccess file from old Blogger to WordPress.

Hope the above simple guideline helps you to move from Blogger to WordPress without any hassles.