Nalanda - The world's most ancient university

Nalanda, which is about 95 kms from Patna was a huge centre of learning from 5th century AD to 13th century AD. Many notable scholars studied from Nalanda including Aryabhata, Aryadeva, Atisha, Chandrakirti, Nagarjuna, Dharmapala, etc. However, this university was further destroyed by army of Bakhtiyar Khilji in 13th century.


Nalanda was founded in the 5th century AD which is now containing only ruins and remains of it. It is widely spread at an area of about 14 hectares. After a series of systematic excavations, 11 monasteries and 6 brick temples are arranged here on grounds. Every year, this world heritage site attracts lot of tourists from different parts of the country especially from China, Indonesia, Japan, Myanmar, Bhutan, Singapore, Korea, etc. This site of learning flourished with full zest till 13th century. During the 13th century, Bakhtiyar Khilji, the ruler of Mamluk Dynasty destroyed the entire complex of Nalanda University with the help of his cruel army. They burn the books that were kept in the library as well as killed the monks and scholars brutally. This led to tragic end of Nalanda University as well as downfall to the Buddhism in India. The best season to visit here is from October to March. Nalanda has its own railway station which is about 1 km from the town Nalanda. Also, there is notified area near Nalanda called Rajgir which is 12 kms from Nalanda is well connected from various railway stations of India.


Origin of Name
Various theories exist about the etymology of the name, Nalanda. Hieun Tsang, a chinese traveller who visited in 6th century, preached 'Na alam da' meaning 'no end in gifts' or 'charity without intermission'. While Yijing (also called I-Tsing) was also a chinese traveller prescribed 'Naga Nanda' meaning 'a snake in the local tank'. Apart from travellers, Hiranand Sastri who was head in the excavations of ruins believe the name due to abundance of nalas (lotus-stalks) in the area.


Points of Interest in Nalanda
Nalanda has been acclaimed as the World Heritage City. Hence, it attracts a large mass of international tourists every year. Apart from remains, tourists also visit Museum, Memorial Halls, Monastery, Temple located in the nearby area.


Nalanda University Remains
The remains of the University is spread over an area of about 14 hectares containing stupas, temples, lecture halls, dormitories. The remains attracts international tourists from all over the world. Every year explorers from Japan, China, Indonesia, Sri Lanka, Korea, etc. visit here to explore.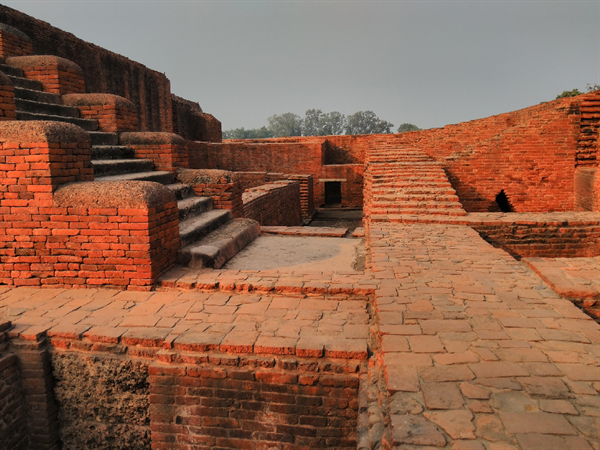 Image: Clicked by me

Nalanda Archaelogical Museum
After the certain excavations of ASI, a Museum was developed to protect the stuffs obtained from excavations. The coins, manuscripts, pottery, inscriptions, pottery and samples of burnt rice are found here. It remains everyday except Friday. Timing: 10 AM to 5 PM.


Hieun Tsang Memorial Hall
This Memorial Hall was built in the memory of Hieun Tsang who was a chinese traveller visited Nalanda to get education. His manuscripts carried away to China revealed crucial information about ancient India.


Points of Interest in Rajgir
There is a very popular and historical district located 12 kms from Nalanda called Rajgir. Rajgir was once capital of Magadha Empire before Pataliputra. Nalanda visitors often visit Rajgir as it contain Lakes, Stupa Peak, Caves, Museum, etc.


Vishwa Shanti Stupa
Vishwa Shanti Stupa, which is one of the 80 peace pagoda around the world and one among the 7 peace pagoda of India is the major attraction of Rajgir. Ropeway is the best mode to reach here as it is located at a hill. The ropeway can carry only single person at at time. Hence, children and senior citizen are prohibited to use Ropeway. However, they can reach their by road.


Hot Water Springs
Rajgir is widely known for its hot water springs which have its own medicinal and religious significance. The springs are considered sacred to Hindus, Jains and Buddhists.


Ghora Katora Lake
Ghora Katora Lake or 'a bowl of horse' was once stable of Jarasandha, a famous character of Mahabharata. The lake is a perfect picnic spot which is surrounded by hills from all sides. To reach here, you will have to hire a Tuk-Tuk(horse cart) from Rajgir itself.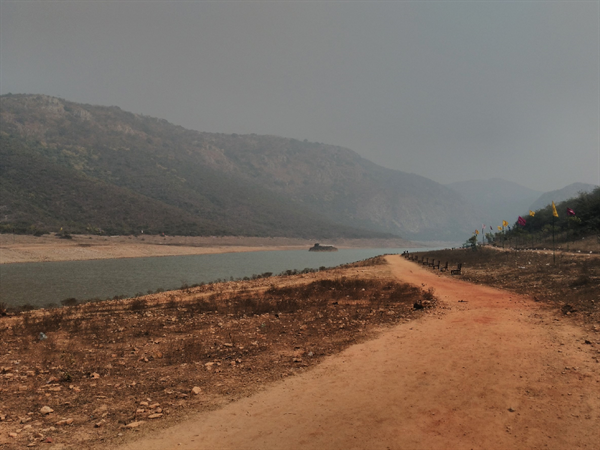 Image: Clicked by me

Swarna Bhandar Caves (also called Son Bhandar Caves)
The caves are divided into two segments i.e. Eastern and Western Cave. The caves are concerned with Jainism and believed to be constructed around 3rd and 4th century AD.


Pandu Pokhar
Pandu Pokhar is newly developed Tourism project inaugurated by CM of Bihar to attract more tourists to Rajgir. It is spread over 22 acres, containing light, sound and laser show. It also contains a jogging track, children playing areas, beverage counters, etc.


Ajatshatura Fort
The fort which is now in ruined condition was built by Magadha King Ajatshatru of Haryanka Dynasty. There is also Ajatshatru's stupa built here.


Bimbisara Jail
Bimbisara Jail was a confined imprisonment where Bimbisara was sentenced to jail by his son Ajatshatru to acquire the throne in Magadha Empire. Bimbisara requested to built his prison on the way to Gridhakuta Hill (where Lord Buddha visited every day for meditation), so that he could get a glimpse of Lord Buddha.