What are the benefits of doing a Plank exercise.

Planning to follow a new workout regime? Have you included Plank in it. If no lets explore what are the benefits of doing the plank exercise and henceforth why it should be part of your daily workout. This article highlights the benefits and various variation of plank exercise.


Body weight exercises are gaining popularity these days, as these are simple, i.e. it can be easily performed by anyone and secondly the results are pretty awesome. No workout regime can be completed without adding those one minutes of plank. Yes, you read it right just one minute of your whole day to give you that perfect shape. We appreciate time effective things and time effective exercise that too with enormous health benefits is just like icing on the cake. So body weight exercises do bring substantial results in a short period of time. There are many body weight exercises, but the one ranking at the top and indeed my personal all time favorite is plank exercise. This is one of the best body weight exercises that targets the whole body at the same time. This exercise targets your upper body, core abdomen, glutes, hamstring and legs all at the same time. Apart from the calories burn while performing it, it does have many additional benefits that everyone will definitely like to follow it without a miss. So here are the few benefits one can avail by including plank in their workout regime.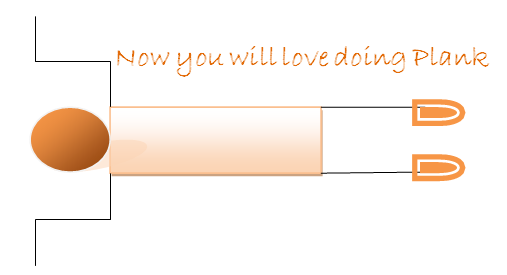 Toned belly along with improved core definition
The foremost benefit one can avail by including plank in their exercise regime is to have a perfectly toned belly. Plank when combined with cardio and some other weight training exercise targets the abdominal fat like hell. You can easily see, going away those abdominal flab in just few days. Apart from this it provides strength to each and every muscle that eventually plays vital role in lifting heavier weights and improves stamina for vigorous exercises without getting tired and exhausted.


Prevents back injury and supports spinal column
Doing plank is the most relaxing experience you can provide to your spinal column. They even strengthen your spinal column that they are strong enough to provide support and prevent any form of back injury. If you are suffering from intense back pain, then this exercise will take away all the pain in no time. Each time you perform this exercise your back will surely thank you. Hence plank easily targets the cure for back pain and provide you relief, you have been looking for long.


Improves metabolism
The mystery of unanswered weight gain or no weight loss is the core result of sluggish metabolism. So correcting and improving your metabolism at the very first place is what demanded. Since plank challenge your whole body, it eventually initiates the calorie burn in very effective manner that continues to burn the calories even when body is at rest. This extra burn of calories while you are resting directly results in improved metabolism. And improved metabolism is way to achieve successful weight loss goals.


Improves posture, overall balance and provides flexibility
Flexibility is the most desirable outcome of performing plank on a daily basis. As you practice plank regularly, you will notice overall flexibility in your body. This exercise provides desired stretch with each and every muscle in the body. Along with this it helps in improving posture and provides you better balancing of your own body. Flexibility along with perfect balance provide efficiency in performing many other exercises.


Plank variations
It is always suggested one must keep on increasing the exercise duration, repetition and challenges to avoid hitting a weight loss plateau. When someone hits a weight loss plateau, the weight loss on scale seems to seize. So it is advisable to always mix and try new exercise which challenges the body enough to bring the desired weight loss. The various plank variations one can try are as follows-
1 minutes side plank altering on both side
Plank and push up
Elbow plank
Elbow plank with donkey kicks
Up down plank
Side plank leg lift
Reverse plank with leg lift
Plank row
Side plank crunches
Plank side walk


Few planks mistakes that should be avoided
Any exercise when done in its correct form provides maximum benefit, the same is applied when one performs plank exercises. The key is to learn performing the plank exercise in a correct form. Any exercise when done in an incorrect way defy the person from all its major benefits and in some case might be a possible reason of sprain and muscle soar. The various mistakes one should avoid while performing the plank exercise is as follows-
Never hold the breath while performing plank. Breath in, breath out at regular pace and simply relax.
Holding yourself in plank position is bringing all muscle in neutral position to create balance. In this process if you seek negligence in locking your lower body and pelvis to your abdomen, then you are missing on the various benefits.
Never let your lower back arch. Try to keep your body in a single straight line and avoid any form of arching
Plank is being long and in straight line. But if you seem to find yourself in downward facing dog, then you are performing it in incorrect form. Pay attention to your body posture and stay in correct single straight line.
Avoid the shoulder hump while performing plank. Overall don't let your head, neck and shoulder fall
Last but most effective point to take into consideration. Never try to sacrifice quality for quantity. Always try to perform the plank in correct form for a short period than performing with wrong posture for longer period.


Wrap up
A plank is one of the most effective exercises when one wants to perform some body weight exercises. It's totally relaxing and like any other exercises it even helps in curbing away the stress. I personally like to perform plank exercise after vigorous cardio and some weight training. It helps me to relax and have a complete body stretch. This is one of the must do exercise for availing all the benefits mentioned above. So just try doing basic plank along with various variations to witness the amazing results. Well all the best to the journey of happy planking.