Aurangabad - Tourism capital of Maharashtra

Aurangabad named after the Mughal Emperor 'Aurangzeb' is a tourism hub in Maharashtra containing various points of interest and heritage sites. Aurangabad has many famous architectural buildings like Ajanta Caves, Ellora Caves, Daulatabad Fort which comes under World Heritage sites of UNESCO. Apart from this, it is also called City of Gates because of its surrounded walls and gates in the outskirts.


Aurangabad, located in the heart of Maharashtra is a popular tourist destination all over India. Many historical monuments had been established here. That is why Maharashtra Govt. declared it as Tourism Capital of Maharashtra in 2010. One of the most visited pilgrimage site Shirdi is located at a distance of 89 kms from Aurangabad which attracts visitors from all parts of the country.


Origin of Name
The name Aurangabad is named after 'Aurangzeb', the sixth Mughal emperor of India. There are demands from Shivsena to change the name to 'Sambhaji Nagar', after the son of Maratha warrior Shivaji.


History
Aurangabad was founded in the year 1610 by Malik Amber. However, at that period, its name was Khadki given by Amber, the then Prime Minister of Murtaza Nizam, Shah of Ahmadnagar. But after death, his son ascended the throne and renamed it Fatehnagar. In 1652, Aurangzeb was honoured as the viceroy of Deccan and then he renamed it as Aurangabad by making it its kingdom capital. Recently in 2010, this city completed its 400 years.


Points of Interest
Due to abundance of tourist attractions in Aurangabad, this city has been crowned with 'Toursim capital of Maharashtra'. Historical monuments, temples, heritage cities attract tourists from not only Maharashtra but also from other parts of the country.


Bibi Ka Maqbara
One of the main attraction is Bibi-ka-Maqbara which is about 5 km from the railway station. It is burial mausoleum of Aurangzeb's wife, Dilras Banu Begum. It is also called 'Taj of the Deccan' as its architecture looks very similar to Taj of Agra. It remains open till 10 PM in the night, so you can see this monument in full moon night as well.


Daulatabad Fort (aka Devgiri Fort)
Also called as Devgiri fort is one of the strongest fort ever built during medieval period in India. The fort was built by Yadava dynasty. The Britishers called it the 'best fort of India' because of its extraordinary militiary defence. It is built on a 200 metre concial hill and also surrounded by a deep gorge. During its period, the gorge was filled with water along with crocodiles. Daulatabad was capital of Delhi Sultanate for few years but due to water shortage and absence of river, Qutub-ud-din-Aibak shifted his capital to Delhi again.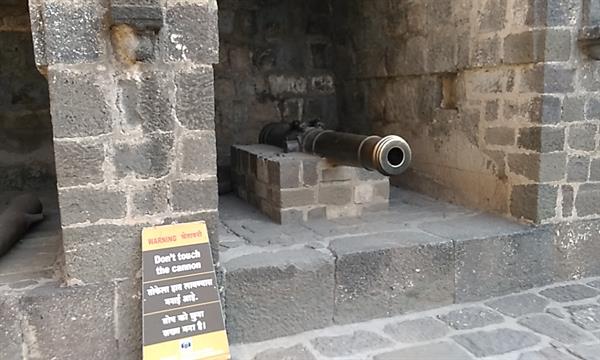 Description: Cannon placed in Daulatabad Fort, Courtesy: Clicked by Me


Ellora Caves (locally called 'Verul Leni')
Ellora caves is the major attraction of Aurangabad which is located at a distance of about 29 kms from the city. There are about 34 caves containing monastries and temples built during 6th and 10th century AD. Among 34 caves, cave 16 is very impressive as it contains Kailasha Temple. These caves became a World Heritage Site by UNESCO in the year 1983.


Grishneshwar Temple
This holy temple is one among the 12 Jyotirlinga shrines. The temple is 30 kms away from Aurangabad city. Ellora Caves are located very near to this temple.


Panchakki (Water Mill)
Placed inside Baba Shah Musafir Dargah is a 17th century water mill. It was constructed to collect underground water from the 8 km far hills to the pond built near water mill. It was an efficient effort to overcome water shortage during that period as this city doesn't contain any river flowing through it.


Aurangabad Caves
These caves are located at about 2 km north of Bibi-ka-Maqbara. It is believed that these cave temples were built between 6th and 9th century AD.


Salim Ali Lake & Bird Sanctuary
Also called as Salim Ali Talab is located in the northern part of Aurangabad just 4 km away from Bibi-ka-Maqbara. During the Mughal period, it was known as Khiziri Talab but later on it was renamed as Salim Ali Lake after the great ornithologist Salim Ali. There is a bird sanctuary maintained by Municipal corporation of city.


Tomb of Aurangzeb
The tomb of the great Mughal emperor is located in Khuldabad city which is 24 kms away from the Aurangabad district. Aurangzeb died in the year 1707 because of his illness. His tomb is built just near the dargah of Sheikh Zainuddin, his "spiritual guru" which was his wish.


Points of Interest in outskirts of Aurangabad
Lonar Crater Lake
Lonar is actually world's third largest crater formed by impact of Meteorite or a comet 52 thousand years ago. It is 1.83 kms wide and 150 metres deep. Presently, the crater is now known as Lonar Crater lake as its water is saline and alkaline in nature. Large amount salts and sodas can be found in lake. November to December are the best months to visit here as the climatic conditions are favourable for sight seeing.


Ajanta Caves
Ajanta Caves comes under Aurangabad district though they are 107 kms far away from city. However, Jalgaon is the nearest city to Ajanta Caves at a distance of 55 kms. Here, you may find about 30 rock-cut Buddhist cave monuments which are built around 2nd century BC. The caves come under UNESCO's World Heritage site.


Shirdi Temple
One of the most visited and richest religious temple of India is located just 89 kms away from Aurangabad. To get there, you can board a bus from MSRTC or train that will drop you to Sri Sai Shirdi Railway station which is 3 kms away from the temple.


Ideal Time to visit
The best time to visit here is from October to December during winters. And then again from February to March during summers. As this city experiences a semi-arid climate, so the humidity is low here.


Where to stay
There are about 200+ hotels in Aurangabad to stay. You can easily find budget as well as luxury hotels for living and spending holidays. Some of the best hotels in this city includes Hotel Panchavati, Vivanta by Taj Aurangabad, Hotel Green Olive, Hotel Oberoi, Lemon Tree Hotel, Hotel JP International and much more.


How to reach
Aurangabad has its own airport which has direct flights from Hyderabad, Delhi, Pune, Udaipur, Mumbai, Jaipur, Nagpur. Aurangabad Railway comes under South Central Railway Zone having proper connectivity with Mumbai, Delhi and Hyderabad. Aurangabad is well connected by roads to major cities of India.