Two weeks Summer Training Program on Drug Discovery & Development

Drugs and medicines have attracted the attention of not only Biotechnology / Pharma or Life Sciences students but even the common man. This article gives information on a unique opportunity for students to learn Drug Discovery Methods and their Discovery in the Training Program.


Medicinal Systems around the Globe
Drugs and medicines have become part of our modern life, be you are a chronic patient or even an healthy individual. Almost none could say that they have never taken a medicine. There are several systems of medicines all over the world. In India traditional medicines are Ayurveda, Siddha and Unani are more popular. Apart from this around the globe, famous indigenous system of medicines are Chinese, Arabic, African, German, etc., can be a few names. Many of these medicines use various herbs in certain combinations and the preparations administered could be in a liquid or solid such as powder, pill or semisolid or even inhalation products, etc., Some medical systems such as Siddha and German products use minerals in combination with herbs. Apart from these there is Homeopathy developed by a German Samuel Hanhemann in 1796 which talks of high potency drugs by way of diluting "mother tinctures". It is disputed whether Homeopathy could be scientific at all. The modern medicines could be containing ingredients called "Active Pharmaceutical Ingredients" (API), that could be a single ingredient isolated from plants, for example Quinine from Cinchona bark or could be a purely synthetic molecule such as paracetamol. Systematic study of Anatomy, Physiology, Biochemistry, Microbiology, Chemistry, Pharmacology, etc., lead to the drug discovery and development.


Drug Discovery Methods
Medicines can be a single molecule or a set of molecules. Each of them might act on one or more system in our body such as Nervous system, Digestive system, Circulatory system and other systems. How do Scientists know which molecule can act on which system and in what way, is the process called Drug Discovery. By traditional experience or using tools such as "in silico" methods involving Bioinformatics tools they might find out how a molecule will bind or react with substances present on say our special cell surfaces or simply use a process called Bio-prospecting to search for new molecules from nature for a particular cure.Our course will cover in detail various processes and methods used with practical on-hands training and how such molecules will be developed into a well developed medicine or drug which will be approved by the Regulatory body called Food and Drugs Administration (USA). The course is supposed to be an informative and fun-filled overview to the world of medicines.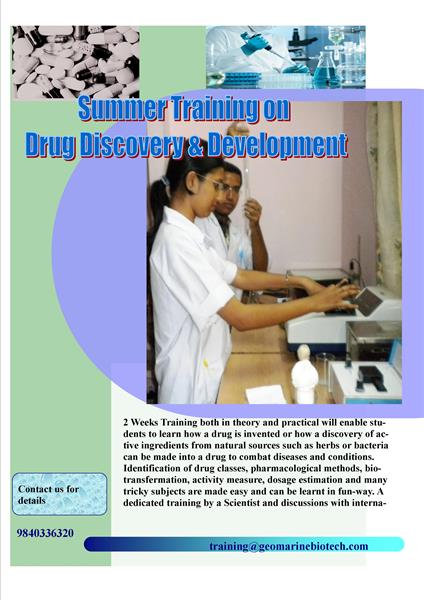 Disclaimer:Image and photographs used in the .jpg image is our own and the persons seen are our own students in actual work situation.