How to buy and recharge FASTag to pay toll online

Are you a frequent toll tax payer? Willing to purchase FASTag? NHAI has introduced Electronic Toll Collection (ETC) / FASTag for nonstop movement of vehicles at toll plazas. Read complete and detailed information on Electronic Toll Collection (ETC) / FASTag and how is it beneficial to you.


What is FASTag and how it works

National Highways Authority of India (NHAI) and Indian Highways Management Company Limited (IHMCL) have started an Electronic Toll Collection (ETC) program for cashless payment of toll tax at toll plazas. This program is to be termed as FASTag.

Some people think that it is a card and we can make payment through it. But this is not correct. It is actually a device which is fixed at the windscreen of your vehicle. The device uses Radio Frequency Identification (RFID) technology to make payments directly from your online linked prepaid account.



Image courtesy- NHAI official website
Should I purchase FASTag

The first and foremost question which arises in the mind in the mind of the people is- should I buy FASTag or is it useful to me. Hence here I'm going to pen down few advantages of this wonderful device.

Nonstop drive- You can drive almost non-stop without giving any break at toll plazas.
Easy payment- You need not to carry hard cash or loose money with you.
Saves fuel- A lot of fuel is wasted at toll plazas while waiting in queue. Hence you can drive few miles extra with FASTag.
Reduces pollution- Generally, air at toll plazas is highly polluted due to heavy number of vehicles standing in a queue. Nonstop movement of vehicles will also lead to less pollution.
Online recharge- You can recharge your device online through Credit Card / Debit Card / NEFT/ RTGS or Net banking.
SMS alerts- SMS alerts are sent to registered mobile number for each transaction debited and credited, low balance in account, etc.
Account statement- You can check periodic statement of your account on the website of the Issuer Agency.
Incentive- NHAI has planned to give cashback of 10% on all Toll payments through FASTag during financial year 2016-17. Such cashback availed will be credited in your account within a week of subsequent month.

Please note that you need separate device for each vehicle owned. Thus, if you are having two cars, then you need two FASTag- one for each car.




How to purchase FASTag

So you have planned to buy this device. Great! You need to pay one time fee of Rs. 200 only for this device in addition to refundable security deposit. This security amount depends on the type of vehicle owned by the person. Validity of FASTag is 5 years.

You need to visit any of the Point of Sale (POS) locations at Toll Plazas or Issuer Agency. They will create your FASTag account. Check out the list of POS locations here: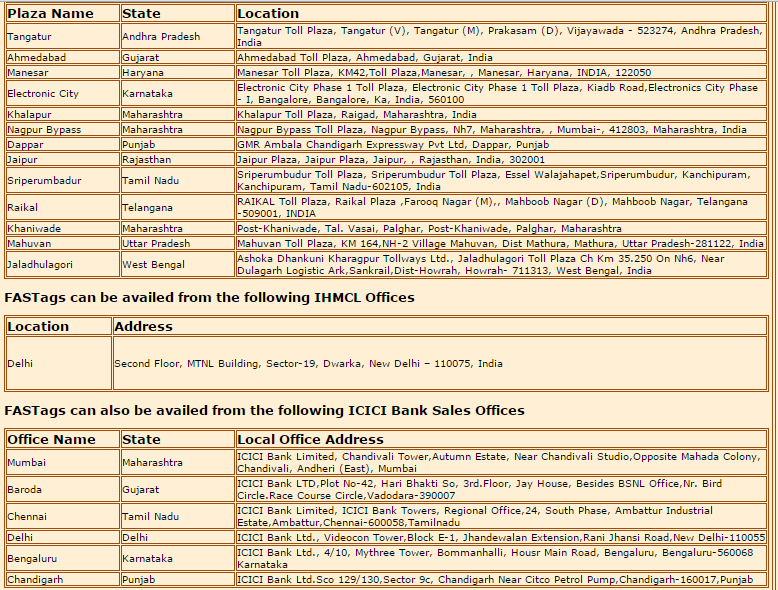 Image courtesy- NHAI official website
Documents Required

A person needs to submit copy of following documents while applying for the device. But don't forget to carry original documents also for verification purpose.

Registration Certificate (RC) of the vehicle.
Passport size photograph of the vehicle owner.
KYC documents as per the category of the vehicle owner.
ID proof and Address proof (Driving License/ PAN Card/ Passport/ Voter ID Card/ Aadhar Card with address).
How to online recharge FASTag account

You can recharge your account offline or online. To recharge offline, you can make payment through cheque. To recharge online, you can make payment through Credit Card/ Debit Card/ NEFT/ RTGS or through Net Banking. You have to recharge with a minimum amount of Rs. 100 with maximum limit of Rs. 1 lakh only. Amount can be recharged in multiples of 100.



Other important things you should know
Call customer care of the issuer agency if your vehicle/ device is lost or stolen. They will block your FASTag and will transfer the balance in another new opened account.

Inform Issuer Agency if you are going to sell or transfer your car.

Customer care number of ICICI Bank- 1860 267 0104
Customer care number of AXIS Bank- 1800 103 5577