How to exercise when suffering from hypothyroidism and PCOS

Slow metabolism and weight gain comes as a curse when suffering from Hypothyroidism and PCOS. So here are types of exercises that helps in getting rid of those extra weight and most suitable for these medical condition.


Hypothyroidism is a medical condition which leads to slow metabolism and weight gain. Beside slow metabolism and weight gain it does have effect on how you look, how u feel and how you perceive anything. Its a silent havoc to your both physical and mental state of mind. And to correct this situation, medicine along with exercise is must on regular basis. When you seek a doctor for help, they will definitely prescribe your to lose weight, eat healthy and take medicine daily. Weight loss equation is simple, the number of calories burn must be more than number of calories you eat on daily basis. But with slow metabolism, sluggish body, joint pain and deficiency of calcium and hemoglobin thing go bit difficult. You try hard enough to end up with slow results or no results. Why to let go all those motivation and energy go in vain, to end up with mere results. what needed is to plan the right kind of exercise that comforts your situation and even brings the desirable result. So here are few excises that one must opt while losing weight with hypothyroidism.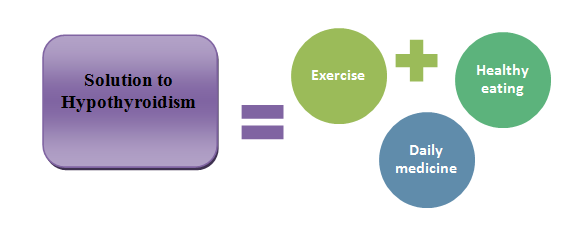 Stretching exercises

You know very well that you need to lose weight and for that exercise is must. But even after every positive fact to correct your situation you will feel stuck to start with. When I initially got detected with hypothyroidism and PCOS, I truly positively know how exercise is must for me but every morning when I get up I find myself with severe body ache and in this situation getting ready to go for walk or even hit the gym is like next to impossible. So in this situation the light stretching exercise helped me allot. I start doing all basic and simple stretching exercises simply lying on bed. The exercises that I followed was Butterfly pose, single leg lift, bridge pose, leg circle, arms circle, All this takes 20 minutes to complete. And this 20 minutes are quite enough to take away all the stiffness. And making me prepared well, for all the rest chores of the day. In the evening I follow the same routine with 30 minutes of walk. And to my surprise, I eventually feel better. I followed this routine for 3 months with no weight changes on scale. But morning looks fresh and alive with more energy. I deal with insomnia and get out from being tried all day with no reasons.


Yoga particularly Surya namaskar

After following the stretching exercise for 3 months along with healthy diet and regular medicine, I was able to beat that stiffness, laziness and severe joints pains and ready to do some real intense exercise that helped me lose some weight. At this stage I use waking and stretching exercise as warm up and follow Surya namaskar as my main exercise. This exercise regime include 20 minutes of stretching along with walking in fresh air and then follow with 30 minutes of Surya namaskar and 10 minutes of alom vilom and breathing exercises for relaxation. Following this regime for a month, help me lose 1st set of 2 kgs from 75 kg. The progress was slow but I was happy that things started to work my way.


Low Impact aerobic exercises

After restoring my basic health condition in two months, with better hemoglobin and calcium in body. I was all set to try low impact cardio exercises. It was fun and enjoyable doing those exercises and for sure, great for losing those extra pounds of weight. I started to workout 2 hours a day religiously. Morning workout comprises of same old exercise of stretching, walking and Surya namaskar. In the evening I tried low impact cardio exercises which includes cycling, mountain climber, high knees, burpee, squat, lunges, push up, sit ups, basic crunches, plank and some simple cool down exercise in end. This routine help me lose 6 kg more and I was 67 kg . Now all the health havoc seems to get resolved which gave me better metabolism. And this eventually leads to desired weight loss.


Weight training and body weight exercises

Now coming to my favorite exercise i.e weight training and body weight exercises. I love these exercises as they help you burn calories even when you are at rest. And every minutes spend doing them is like additional benefits. They also helps in body toning and sculpting. Initially I started with dumbbell and body weight circuit. This includes-side bend with dumbbell, dumbbell curls, overhead press, triceps kickback, one single leg dead lift, dumbbell lunges, jump squat, burpee, mountain climber, plank, side plank. I followed this mix and match exercises for next 1 month and lost another 4 kg. And with this I fall under normal BMI i.e body mass index .


Wrap up

With all the above mention exercises I was able to lose 12 kg in 6 months out of which first 3 months was really disappointing. You eat healthy, exercise and take medicine timely but no weight changes. My condition was very severe due to hypothyroidism, PCOS and low hemoglobin and calcium. My whole system was crying for help. And so it has taken time to put everything back to track. But once I recover weight loss was fun. Each month I was able to see the better version of myself. And within a year I was able to lose 20 kg overall. At present I weigh 53 kg with 5'5 height which fall under normal BMI. And just 30 minutes morning and evening walk along with healthy eating helped me maintain this weight, without any difficulty. I still take 25 mg hypothyroidism medicine and a multivitamin daily. But off from all other hormonal balancing medicine, having regular periods without miss, having no irritability or severe mood swings, no severe hair loss and patchy skin. Overall my illness was a blessing in a disguise that given a way to healthy way of living for a lifetime.