Mussoorie - Queen of Hills

Planning for visiting a hill station this summer vacation? Visit Mussoorie, a wonderful hill station established in the foothills of Himalayas and located in Uttarakhand state of Northern India. The given article will guide you to explore this beautiful hill station.


Mussoorie located around the Shivalik ranges and the Doon Valley is visited by local as well as international tourists every year. Not only scenic beauty, the hill station is famous for higher education services. Lal Bahadur Shastri National Academy of Administration is situated in Mussoorie which trains applicants for administrative services like IAS, IPS, etc. Mussoorie located at an elevation of 2005 metres has population of 26,069 according to 2001 census. Hindi, Garhwali, English are the common languages being spoken here. The highest point in Mussoorie is Lal Tibba which is located at a height of about 7500ft in Landour region of Mussoorie.


Origin of Name
Mussoorie has derived its name from 'mansoor' which is a shrub and found in abundant quantity in this region. Though the name of hill station is 'Mussoorie', still you can find some locals calling it 'Mansoori'.


History
The lush-green hill station was founded by Lt. Frederick Young in around 1823 who visited here and decided to build a hunting lodge along with the first Gurkha Regiment in the valley. He stayed here upto 1844 until his regiment ended.


Points of Interest
Because of its scenic beauty and natural surroundings, Mussoorie is filled with a large amount of points of attractions. One can find lakes, falls, sunset points, picnic spots, etc in abundant here.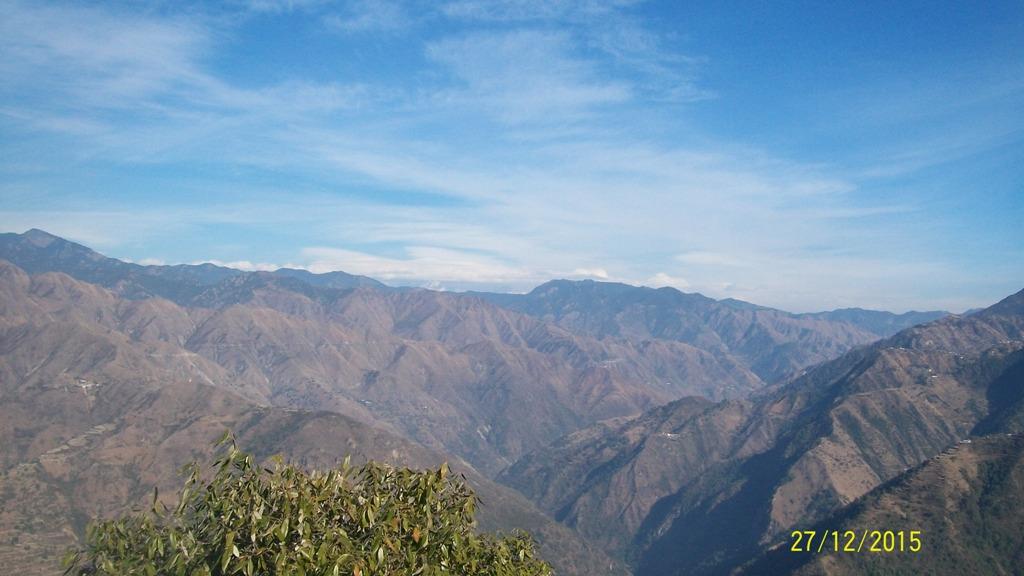 Image Source: Author


Kempty Falls
One of the most visited tourist point is Kempty Falls which is located at a distance of 15 kms from Mussoorie on the Chakrata Road.


Lake Mist
On your way to Kempty Falls, you will find a lake called 'Lake Mist' which is a good picnic spot having accomodation, restaurant and boating facilities.


Company Garden
Located at a distance of about 4 kms from Mussoorie is also known as Municipal Garden. There is a mini lake developed in the garden where you can enjoy paddle boating.


K Dev Bhoomi Wax Museum
Inaugurated last year in 2015, this wax museum is located in Company Garden of Mussoorie. This is the fourth wax museum of India. One can find wax statues of many notable personalities around the world like Angelina Jolie, Michael Jackson, etc.


Jwalaji Temple (Benog Hill)
The temple is located 9 km west of Mussoorie on the top of Benog Tibba. Tourists can view Aglar river valley from here.


Jharipani Fall
Jharipani Fall is located at a distance of about 8.5 kms from Mussorie on the Mussorie-Jharipani road.


Gun Hill
Gun Hill, situated at an altitude of about 2024m, is the second highest point of hill station. A clearview of Himalayan range is visible from here. Gun Hill can be reached through ropeway facility.


Bhatta Fall
Bhatta Falls are located in Bhatta village. Falls are located at a distance of about 7 kms from Mussoorie. After reaching here, you will have to walk away 3 kms more to reach the fall.


Mossy Fall
Mossy Fall is located at distance of about 7km from Mussoorie is located in Barlow Ganj area of Mussoorie. Tourists can visit here by Cart Road.


Cloud End
Cloud End was one of the first four buildings of Mussoorie which has now been converted into a hotel for tourists. This bungalow was built by a British major in 1838. Often visited by honeymooners and foreigners, this hotel is surrounded by thick deodar forest.


Nahata Estate (formerly called 'Childer's Lodge')
Popularly called Childer's Lodge is a massive property of the Harakh Chand Nahata family. It is spread over 300 acres near Lal Tibba. Snow peaks of the Himalayas are clearly visible from here.


Dhanaulti
Dhanaulti is another popular hill station which is located at a distance of about 24 kms from Mussoorie. It is located at a height of around 2286m.


Ideal Time to Visit
The best season to visit Mussoorie is March to June and September to November. During these season, you can enjoy trekking, rock climbing and camping. During winters, the temperature may drop to 1 degree celsius during nights. Also, environment would be slightly foggy causing unable to view Himalayan snowy peaks. You may also face road blocks due to heavy snowfall during winters. Monsoons are unfit for trekking and driving as it makes the roads unsuitable.


Where to stay
Mussoorie is flooded by hotels and restaurants. This hill station is facing overdevelopment of hotels and tourist lodges. Hence, garbage collection, water scarcity and parking shortages are slowly and steadily emerging as serious problems in Mussoorie. During Summers, the population of Mussorie increases rapidly because of tourists. Here, JW Marriott Mussoorie Walnut, Jaypee Residency Manor, Fortune The Savoy, Hotel Padmini Nivas, Country Inn, Fortune Resort Grace, The Golden Palms Hotel, Rokeby Manor, Hotel Vishnu Palace are among the top hotels in Mussoorie.


How to reach
Mussoorie is well connected by roads to major cities. Though the railway station is not here, but you can reach here by boarding a bus or taxi/cab from Dehradun which is just 34 kms from Mussoorie. The nearest railway station is also located in Dehradun. If you wish to visit by air, then the nearest airport is Jolly Grant Airport in Dehradun.