Study Graphic design course abroad in Budapest, Hungary

Graphic Design courses have recently been very popular among people. If you are looking for admission to graphic designing courses abroad, then this article will help you a lot. Here I have given the details of graphic designing courses in Budapest city of Europe. The eligibility criteria, objectives, and job prospects of studying a graphic design course in abroad are given here.


Introduction
If you want a shining career in graphic design, then it is better that you pursue one in abroad. It will be even more beneficial for you if you pursue your graduation in graphic design from India and your master degree from abroad. Having a master's degree from a reputed abroad university will add a feather to your CV while applying for a job.


All about graphic designing
Graphic designing is a course which is very helpful when you wish to be a web designer or a graphic artist or a cartoonist, etc. This course is meant for people who have a deep passion towards designing and painting. This course can be equally valuable for people who are familiar with crayons and canvas only and know nothing about computer systems. But the basic requirement for this course is a creative drive and an artistic ability within you.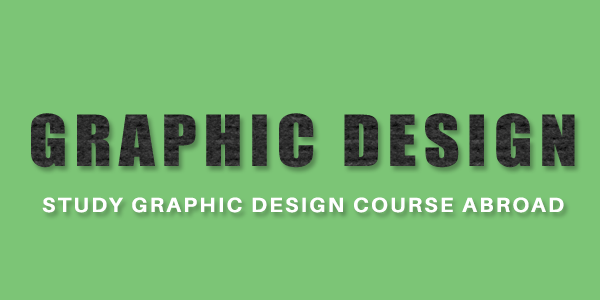 Graphic Design in Budapest
Budapest, the capital city of Hungary, has some of the best colleges in graphic design. The best thing about such courses is that you can apply whatever you have learnt, in the final year project work. Also, while being in the last session of your course you can apply for internships in various companies and that way you will have a job in hand before you leave the course. You will learn to hone your creative side in this course and also also carefully select the respective aids in hardware and software to enhance your creativity. Some college will you award you with bachelor of arts degree in graphics design or bachelor of science.


Eligibility Criteria

The eligibility criteria for this course are:

You must pass the senior secondary with more than 50% marks. Although there is no specific restriction over the aggregate score, but when a lot of students apply, a higher aggregate score becomes your advantage.


You must also clear any English language proficiency test. The most popular test is the IELTS examination. You can sit for this examination around 2-3 times a year. The latest highest score that you get will be automatically sent to the visa office. The visa application office will judge whether your score is sufficient to study a graduation course in Budapest or not.


Last but not the least, as you may understand from the previous criterion is that you must possess a student visa before you apply in Budapest college. In fact, when you apply to study in Budapest, they will ask if you have a hassle free student visa with you or not. If you don't possess one, there are very low chances that your application will get accepted.
Course fee details
As you may understand that the course fee will be in Euros. The tuition fee will range between 1500-2000 Euros per semester. Since it will be a three year graduation program the maximum tuition fee will be 12000 Euros altogether. There will be other fees per semester, including library fee, sports fee, maintenance fee, laboratory fee, canteen fee, etc. The total fee every semester will thus rise to around 3000 Euros. You might require a loan to pay each semester fee. In that case my suggestion will be joining as a laboratory assistant in the same college. This will help you recover some of the money in your student days.


Your final objective
The final question remains that who should apply to this course. Firstly, you must have a passion towards graphic designing, interface designing and web designing. Some people choose the career of cartoonist after finishing this course.
Secondly, if you want to be a digital illustrator this is the ideal course for you. There is a huge demand of such illustrators and cartoonists in abroad. In fact, IT sectors also need such illustrators.
Thirdly, you can also apply for DTP jobs after passing out from this course. My suggestion will be to search DTP jobs in India. There are not many openings in DTP related posts in abroad, whereas India has a huge scope in this respect.

Conclusion
Finally, I would like to conclude by saying that graphic design course has a lot of growth these days. Especially as you have lots of scope in job positions in abroad. But the initial investment in such courses is a bit high. If you can afford that and can sustain through that, you will get jobs consisting of the good pay package. You will never have to look back after that.