Top 5 recipes with seasonal fruit - Watermelon

Are you searching for various watermelon recipes? This is the right place then. Here you can find different watermelon recipes on how to make in the home. The unique among the one is making curry with watermelon. Wondering? Eagerly waiting? Go through the article for more recipes.


Introduction
Summer… It's hot. Temperature almost reaches to 45 degrees. Starting from morning 8 am to night 7pm, we are not able to go outside due to hot winds. At this time, we need to have more amount of water. Keep water bottles with you always and wash your face 3-4 times only with water.

However, in this time we need to take more amount of water. If we only take water then sodium will go out from our body and we will become dull. To avoid that, here are some recipes for you in a homely preparation method with summer seasonal fruit "Watermelon". Especially, I concentrated on the drinks since it has more water quantity. So go through one by one in order.


Watermelon curry
Ingredients:

Watermelon – 3cups
Chili powder – 1 table spoon
Turmeric powder – half of the tablespoon
Coriander powder - half of the tablespoon
Ginger & Garlic paste - half of the tablespoon
Oil – 2 tablespoons
Cumin seeds– ¼ table spoon
Lime juice – 2 table spoons
Sugar – ½ tea spoon
How to make
Take watermelon and cut it small pieces after rind it. Make this as two parts. Grind the one part of watermelon pieces. This will turn like a fury. Now, switch on the stove and keep kadai on the stove. Pour 2-3 table spoons of oil. Add cumin seeds, watermelon fury, chili powder, turmeric powder, coriander powder, Ginger and Garlic paste, salt to it. Keep it on the stove up to 5 minutes and heat it. After that, add watermelon pieces, Sugar, lime juice and heat up to 3 minutes on the medium flame. That's all. Watermelon curry is ready to serve. Have it with kulcha.


Watermelon smoothie
Key Ingredients:

Strawberries – 1 cup
Watermelon pieces – 2 cups
Cardamoms (black/ green) – 3
Sugar – ½ cup
Pinch of Peppercorns powder
Ice cubs – as per your wish
Making process
First step is to cut as small pieces (that is both watermelon and strawberry). Remove seeds from the both fruits. Add 1 cup of water to the fruits and grind it in the mixer jar. After that, take it out in a bowl and keep it aside for some time. Add ice cubes, sugar, Cardamoms to this smoothie and grind it in the mixer jar after some time (say 5 minutes). Your watermelon-strawberry smoothie is to serve! Pour it in the glass and sprinkle peppercorn powder and serve it as cool.

Fruit chat with watermelon
Ingredients:

2 cups of Pine-apple pieces
Green apples – 2
2 cups of Watermelon pieces
Cumin seeds – 1 table spoon
Pine apple, Apple, watermelon juices – ½ liter
Pinch of Chat masaala powder, salt
Lime juice – as per requirement
Making process
This is one of the easiest preparation methods once we have juices with us. Pour these three juices (Pine apple, Apple, watermelon juices) in separate bowls. Add chat masala, salt, lime juice, Cumin seeds to this and mix it well. Keep this mixture in fridge. Pour these juices in the small pieces of fruits only after 2-3 hours. Sprinkle mint flavor powder or leaves to it so as to increase the taste.


Watermelon freeze
Ingredients:

Watermelon pieces – 4 cups
Sugar – ½ cup
Cherry gelatin – 1 cup
Curd – 1 cup
Hot water – ¼ cup
Making process
Take a bowl and in that add cherry gelatin and sugar mix it well. Pour hot water in this mixture and mix well until it becomes liquid. Add this fury to the gelatin mixture and mix it again. Again add curd to the same mixture. Pack it with bottle cap and keep it in fridge so that it will turn into solid with less time. So this is the making process. Are you ready to have it now? Hmm… yummy!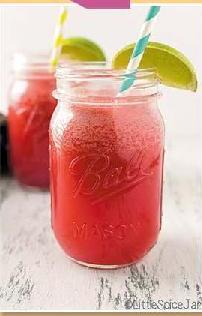 Watermelon – Basil leaves drink
Key Ingredients:

8 cups of water
8 tea bags
Medium sized watermelon
Basil leaves – few

Sugar – as per your taste
Preparation method
First step is to heat water. Add tea bags to it. After 10 minutes take it out and cool it to make tea grounds. Cut the watermelon into small pieces. Add watermelon pieces, basil leaves to this mixture before serving. If you want to drink it as a cool then add ice cubs to it. This drink is better for our health in this hot summer because the sweat is going out from our body so we need to take lot of water.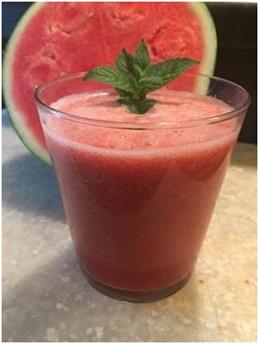 wrap up:
Watermelon contains 90 percent of water in addition to the other contents. However, having watermelon in this season makes you fresher. Take care of maintain sodium and potassium levels in this summer. I will come here with more interesting recipes of watermelon soon. Meanwhile, try it and enjoy it!