Home made mango recipies

Want to have recipes with seasonal fruit, Mango in this summer season? Then check it out how to made recipes in home and enjoy it! In this article, you will get how to make various recipes of mango.


Summer season! What to say about summer season. Especially, seasonal fruit in this summer is Mango. However, watermelon also considered as summer fruit as it contains 90% water and we can make recipes with watermelon too. Mango is having different taste like combination of sour, sweet. Have you ever tasted Mango? The person who tastes mango once, he will be feeling like in heaven! We have different types of mangoes. Wherever you go Maharaja Mangoes greets you. Am I Right? I think most of us say a big Yes!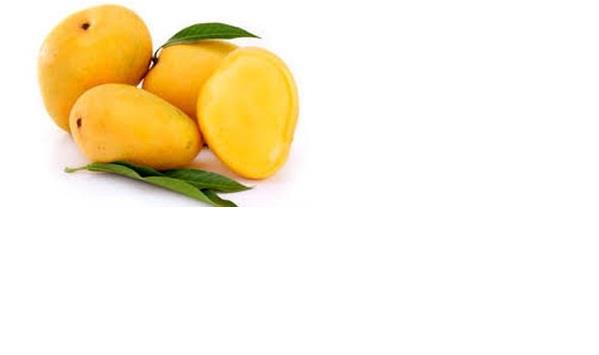 Image source: http://www.ukmalayalee.com/images/money-saving-tips/11767.jpg

During this period, people willing to take mangoes in the form of liquids. In that, ripe mango juice is the famous one and we all know how to make juice with it. However, if we think differently do many varieties with mangoes.
Here the list goes.


Mango Phirni
Ingredients:

Basmati rice - a quarter cup
Cream milk – 4 cups
Sugar - one-third of cup
Almonds - 10
Mango Pulp - 1 cup
Green cardamom flour - half of a teaspoon
Pista - As per your requirement
Making Process
Pour 4 cups of milk in a bowl and let it heat until it turns into 3quarters. Grind the soaked Basmati rice with the milk after boiling. Add another cup of hot milk to this mixture and mix it well for 5-10 minutes on medium flame. Put Almond paste in this mixture which has been already prepared. Add cardamom powder and sugar in it. Put on the stove and heat it for 10 minutes. After the mixture came to room temperature add the blend of mango pulp and mix well when combining Mango pulp to get Mango Phirni. Add small pieces of Pistachio which have to be worn for garnish. You mango fir is ready to eat.


Mango Rice
The desirable ingredients:

Rice - 2 cups
Oil - 3 tablespoon
Mustard seeds – Half of a tablespoon
Curry leaves – 6
Dried Chilies -2 (seeds need to be)
Ginger paste - a half teaspoon
Green Chilies – 2
Bengal gram – 1 table spoon
Black gram – 1 table spoon
Ground nuts – 10grams
Turmeric powder- 1 tablespoon
Pinch of Asafetida (is for digestion)
Green mango – 1
Salt – enough for the recipe
Making process
This is also called as "pulihora" and the process is like this. Rinse clean and remove rind from the mangoes. Grate it using box greater. Add greater mango to the fluffed rice (It should be hot). Mix oil and turmeric powder. Later, add it to the rice. Add salt to it. It adds taste to the mango rice. Pour oil in the pan and keep the pan on the stove. Keep it in medium flame. Mustered oil should be boiled. As soon as it gets heat, roast them with stirring constantly until it came to brown color and add this to the rice. Do the same process for Bengal gram and Black gram. Do the same process for green chilies, red chilies, Mustard seeds, Curry leaves, Aasafoetida one by one. On the medium flame, let it pop and after that add it to the rice. Mix it well. That's all. Your favorite Mango Flavored rice is served on a hot sunny.
This is one of the south-Indian famous recipes and you can do it with tamarind (same process) as we do for the grated mango. This you can buy in the temples as Prasad but mango rice you should prepare at home only. No where available in the market.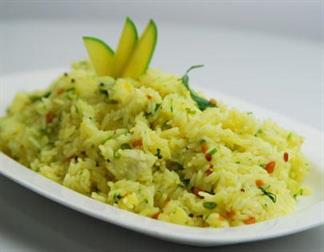 Image source: http://www.sanjeevkapoor.com/UploadFiles/RecipeImages/Raw-Mango-Rice-Sanjeev-Kapoor-Kitchen-FoodFood.jpg


Mango Mouse
The desirable ingredients:
ripe mangoes – 2
Gelatin - 15 grams
Eggs - 3 (yolk only be taken)
Enough salt
Sugar – ¼ cup
Cream - 6 tablespoons
Making
Remove rind from the mangoes after rinse clean. Mango juice should be taken for the next two through blending mango pieces. Take a bowl and add the cream for the mango juice. Add salt to the yolk eggs and do double boil. Add sprinkle sugar in it. This mixture heated up to as no liquid in the mixture and turn as cream. Mango pulp should be dipped in the mixture and keep it aside for some time. Add this mixture to the water-soluble gelatin. Keep it in the refrigerator for three hours and after you can serve it.



Mango Smoothie
Materials needed:

Sliced ripe mango 1 cup
Milk (low fat) – ½ cup
Ice – ½ cup
Curd – ¼ cup
Honey or sugar - 1 tbsp
Making Process
Mango slices, milk, ice, honey and the curd should be blend. Blend it well until Soft, foam Fly come. You can serve one glass of fresh mango smoothie with the above ingredients.
Can't you say "Yeah Dill Mango More" AAha! After drink it!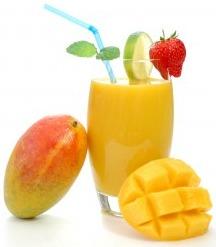 http://www.all-smoothie-recipes.com/images/7010946_s.jpg
If you want more flavor to the recipes you can add mint(2-3 leaves), lime juice - 2 to 3 drops and strawberry for mango smoothie.

Note This list will goes on and more Mango recipes will update soon!!