How to activate your UAN and link it with Aadhar?

Want to obtain your UAN number? Looking for the method to activate your Universal Account Number. Here's detailed procedure to register online and link your UAN number with your Aadhar card. Also know the method by which an employer can access UAN and manage KYC.


Employees' Provident Fund Organisation is a statutory body under Ministry of Labour and Employment, Govt. of India. It has introduced the system to allot one EPF account to one employee, no matter if he/she is working with more than one employer. In other words, if a worker is working with 5 or 6 employers then he will have only one EPF account. For this purpose, EPFO has introduced UAN. UAN stands for Universal Account Number.


What is UAN

If a person works with multiple companies, then he will get separate Member ID from the employer of each establishment. To overcome this, UAN has been launched. UAN is a unique number which links multiple Member Identification Numbers allotted to a person by different employers. Thus, Universal Account Number solves the complexity of having multiple Member IDs. Workers already having an UAN need to provide the same to the new employer while joining a new establishment.




How to activate your UAN based registration

A person can obtain his UAN from his employer. To activate your UAN based registration online, visit the website link provided herewith and click on 'Activate your UAN based registration'. Make sure that you have read and understood all instruction carefully. Enter your UAN, mobile number and Member ID to generate authorised PIN on your mobile number. This will activate your UAN on the Member Portal. Here is a screenshot of the page.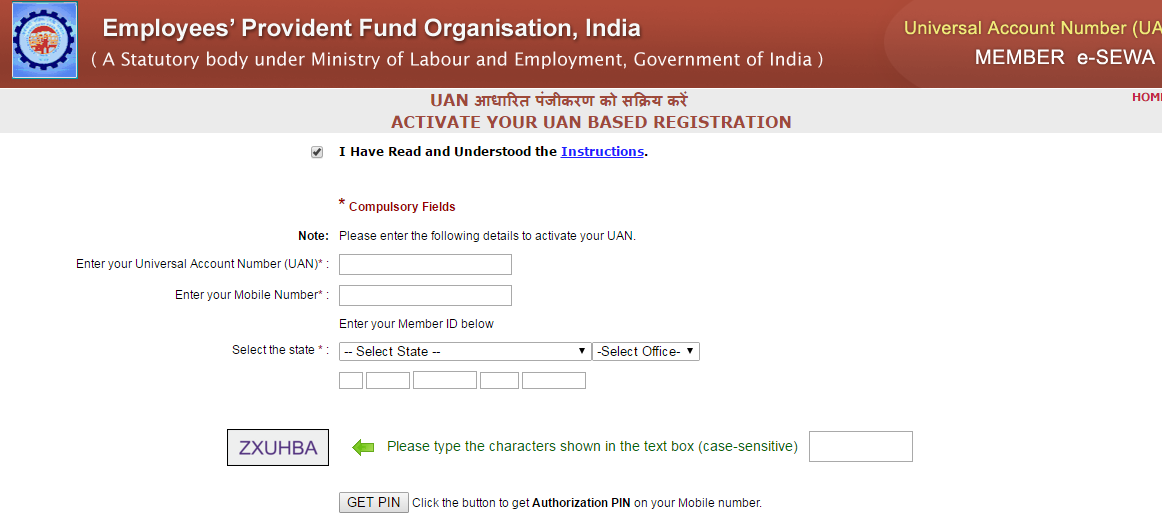 Please note that only one registration can be done with one mobile number.


Advantages of registration

Following are the benefits of UAN registration:

You can see the passbooks of EPF accounts tagged with UAN.
You can Download/Print your UAN card.
You can Download/Print your Updated Passbook at any time.
You can file and view claims directly to EPFO without employer's confirmation.
You can combine all provided Member IDs with UAN.
You can submit digital life certificate through Jeevan Pramaan.
You can get regular SMS and email alerts on registered mobile number and email ID.
You can update your KYC data.
How to change your KYC information through member portal uanmembers.epfoservices.in

Step 1: Visit the website link provided herewith.
Step 2: Go to the Profile menu.
Step 3: Select 'Update KYC Information' in the Member Portal'.
Step 4: Make desired changes.

Please note that KYC status will appear as pending unless it is approved by the employer.



Similarly, you can also update your mobile number or email ID. Just select desired option under Profile menu and proceed accordingly.

You need various documents for KYC. Here is a list of required documents.

National Population Register
Aadhar Card
Permanent Account Number
Bank Account Number
Passport
Driving License
Election Card
Ration Card
Contact Details

If you have any query or problem, related to Member Portal website (http://uanmembers.epfoservices.in/), you may contact at of these:
Helpdesk Number: 1800 118 005
Helpdesk Email Id: uanepf@epfindia.gov.in
Official website of member portal: http://uanmembers.epfoservices.in/
Facebook page (not for queries): https://www.facebook.com/socialepfo
Follow on Twitter @socialepfo