Admission and visa procedure for study in Ireland?

Are you interested in studying abroad? Facing difficulties to get admission in countries like USA or UK? If you are one of them who wants to achieve a golden career to study in lesser known countries then Ireland is the best option for you. All the necessary details, steps, application procedures along with visa procedures are mentioned in this article which will be definitely useful for you.


Why to study in Ireland

Ireland is a very dynamic and modern country with more than 40% populations are below 25 years. It is a part of The European Union and one of he fastest growing economics in the World. Following are few best features studying in Ireland:

Over 35,000 international students, from over 161 countries
1 year master's degree
Ireland has only 4.4% unemployment rate
No prior work experience required for MBA
Part-time work permit for International students
Modern, safe and secure environment
the only English speaking country in the Eurozone
Home to companies such as Google and Microsoft
Irish peoples are very friendly in nature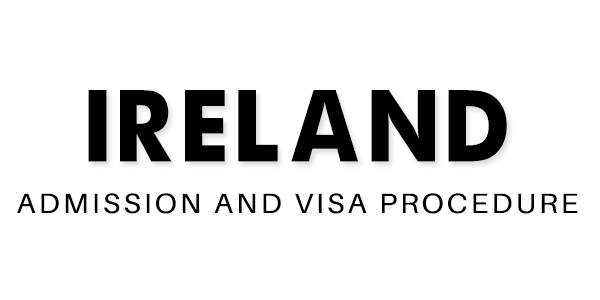 Admission Procedure
Intakes

The major intake offered by most of the Colleges and University is September and few Universities offer February intake as well.


English requirements

Any aspiring student wishing to study in Ireland must meet the minimum English language requirements. All the student should undergo IELTS preparation before joining any Irish University. Each University has specific requirements for admission.


Entry requirements

International students wishing to study abroad in Ireland have below options:

Attend any secondary school in Ireland and complete the leaving certificate Examination with Irish students. This is the easier route is chosen by a number of students
Undertake recognized public examinations in their own countries. It is more common route and it is essential that every applicant check that the educational qualifications are adequate to satisfy entry requirements.
Student can also apply to the institutions directly or to the Central Applications office for Undergraduate Programmers
Documents required
Attested copies of the mark sheets of X,XII etc.
2 Academic reference letters from professors who have taught you recently
If you are experienced then at least one work experience letter from the employer
Curriculum Vitae/Resume
Extra Curricular activities certificates
Portfolio for Arts and design courses
Examinations required

Students have to pass one or more additional tests before they can be considered by most Universities for admission. These ranges of admission tests are GRE, GMAT and SAT. Also few English language tests like: TOEFL and IELTS.


Scholarships

The application procedure begins 8-12 months prior to the intake. Study Abroad Scholarship deadlines vary amongst institutions. The government of Ireland and Irish Universities have announced a scholarship scheme Indian students in 10,000 awarded for living expenses and full tuition fee waiver.
The student can apply for this Ireland scholarship once they have an offer from an Irish University for a full time postgraduate program.


How to apply for a student visa

The online visa application facility is available worldwide and must be used by all applicants. Visa application will only be processed when the online form is completed, all required documents, passport photograph and fees are received by the relevant office. You should read the visa application details very carefully. Otherwise, your visa might be refused.
Following are a few points to remember:

Complete online application form
Check with Irish Embassy details where your documentation is to be sent
Provide passport sized photo
Ensure your passport is valid for 12 Months
Pay the application fee
Provide a signed letter of application which explains your visa requirement
A letter of acceptance from the Irish University, college or school, Confirming you have been accepted and enrolled on a full time education course
Payment of fees

Always keep the evidence that all fees have been paid prior to the visa application being submitted.

A copy of Electronic Transfer of funds from the applicant to the Irish bank of the college, showing details of name, address, bank details etc.
A valid receipt showing the course fees
Where the course fees are less than 6000 euro must be paid in full to the college
Show evidence of language proficiency. If your chosen language is English. I require IELTS of 5 but most Irish universities and colleges require IELTS of 6.5
Make sure you keep copies of all your documents submitted
Finances

You have to show proper evidence that you have access to sufficient funds to cover your tuition fees and cost of living expenses. To show the sufficient finances, you will need a detailed statement of your bank.
The account is covering a six month period immediately prior to your visa application. Also produce official confirmation that you are in receipt of a scholarship.


Checking visa status regularly
You should apply early for your visa as it normally takes eight weeks to be processed, but sometimes it takes much longer than this
You can check online to see if your visa has been processed. This list is updated weekly
If you get approval for a visa, the Embassy will affix a visa to your passport
If your visa has been refused, you may appeal the decision within 2 months


There are only a handful of genuine study abroad consultants who takes Ireland.