Applying to a Business School abroad? Things you should know

Business schools around the world offer MBA and specialized masters degrees that Indian students can apply for. Admission requirements and application processes vary from school to school. Learn more about applying to a business school of your choice.


Are you applying to a business school abroad but do not yet know how to go about it? This brief will get you started on your application to the wide range of business school courses available overseas, their admission processes, requirements, costs and more.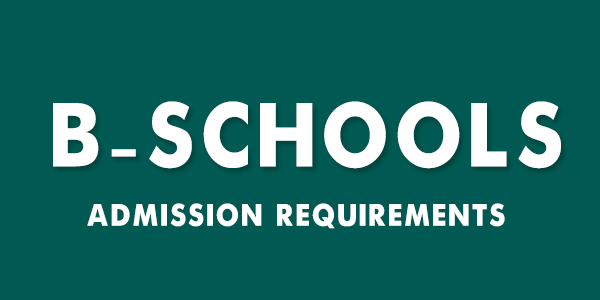 Types of business courses offered abroad

Business schools in India and around the world typically offer the following subjects:
Accounting
Business Technology
Business Management
Business Administration
Communications
Entrepreneurship
Economics & Econometrics
Finance
Human Resources
International Business
Law
Marketing
Mathematics
Marketing Sciences
Public Relations
Project Management
Statistics & Sociology

You may be able to take a joint degree on two of the above subjects in some schools. You may also be able to combine a master's and bachelor's course for completion in four or five years, depending on where you study. While business schools do not offer bachelor's degrees, this second case is one of the few instances when you can do a bachelor's degree from a business school. It usually involves doing your undergraduate course from a main university with some integrated courses from a business school.


General admission requirements & Work experience requirements to study management abroad

While requirements differ depending on the school, most B-schools require an undergraduate (bachelor's) degree from a recognized university. Most also expect a minimum of a UK Upper Second Class Honours, the Indian percentage equivalent of which is a minimum 60% or First Class. However, there is no hard and fast rule; some institutions are more flexible with requirements.

In addition, many B-schools also require:
GMAT or GRE score
TOEFL/IELTS score for proof of English-language proficiency
Academic transcripts from your college/university

Check the admission requirements for the school you are applying to, for any indication of work experience required. Many MBA programs require a few years of work experience. Some other master's degrees however, do not require it.

If you are still completing your bachelor's degree and will only receive your degree certificate in a few months, you may still be able to apply to a B-school. Check with the school and send your mark sheets in to find out if they will process your application.

Most countries do not have an upper or lower age limit on applications, though some countries do. You can read more information about the best countries to study abroad. Also, find our comprehensive study abroad guide to learn how to plan your overseas education.


Acceptance of Indian Qualifications
Most US B-schools accept Indian degrees and qualifications from recognized colleges and universities. Your B-school's website should have more information on the qualifications accepted. If you're still unsure about the requirements, you should contact the school to find out.


Language Requirements
All Indian applicants, since they are not native English speakers, are required to take an English-language test like TOEFL or IELTS before they can apply for a B-school. These tests are usually easy to pass for students who are confident English speakers and have reasonably good written English skills.

If your language test scores are below entry requirements, a few schools may be flexible about it. But most schools will not, since English is the medium of instruction and you should be able to effectively complete group projects, case studies and assignments in English.


Admission Tests for B-Schools
Most MBA and specialized master's programs need you to take an admission test. The most common tests that are acceptable worldwide and in more than 200 programs at over 100 Indian B-schools are GMAT (Graduate Management Admissions Test) and the GRE (Graduate Record Examination). There are test centers for both GRE and GMAT in major Indian cities.

The costs for the two tests are as follows:
US $250 for GMAT
US $195 for GRE

Before you take these tests, be sure to check with the admission requirements of the school you are applying to. This will help you avoid taking an expensive test that you may not need.


Application Process, Documents Required & Fees
Application processes can be very different across schools and countries. Be sure to read all the information on the school's website regarding application. You will typically be able to download the application form, fill it and submit online with supporting documents.

The application will typically include the following:
Resume/CV
Academic transcripts and certificate of degree
SOP (Statement of Purpose)
Academic references
IELTS/TOEFL test scores
GMAT/GRE test scores
Copy of passport

Most schools charge a fee for every application, to weed out applicants who are not serious about applying. The fees are usually less than $100.

Some schools may invite you for a video interview after you submit your application. However, this is not the norm and varies from school to school. Some schools have telephonic interviews, while others conduct alumni interview.

Tuition fees for MBA and other specialized business degrees are higher than other postgraduate courses offered in the country's schools. But MSc and MA degrees have similar fee structures as compared to other postgraduate courses at major universities. Scholarships and fellowships may be offered to help you finance your education. Check with the school, the Indian government websites and the websites of the school's home country to find fundings available. You may also look for bank loan to fund your higher education abroad.

Overseas education is usually very expensive compared to studying in India. However, if you obtain good scholarships, you can complete the studies without a big burden on your parents. Learn more about the scholarships to study overseas.

For more advice on MBA related issues, please have a look at Are you waitlisted for MBA, Should you do an MBA or Masters and href="http://www.indiastudychannel.com/resources/169504-Are-You-Waitlisted-for-MBA-Abroad.aspx">Are you waitlisted for MBA, Applying to a business school abroad? Things you should know.