How to get Student Visa for Germany

Germany is a target country for many Indian Students who wants to pursue their further studies from there only. Are you among them, please find the step wise procedure and other details for making Student Visa Application for Germany.


When do you need a Student Visa for Germany?
Student Visa is the most important requirement while planning for studies from other countries. When a student get enrolled himself/herself for a course from any of the German universities, he/she needs a students Visa early before the start of course. Visa is required before leaving our own country.
For Visa application, your prior enrollment in any of the German University is must.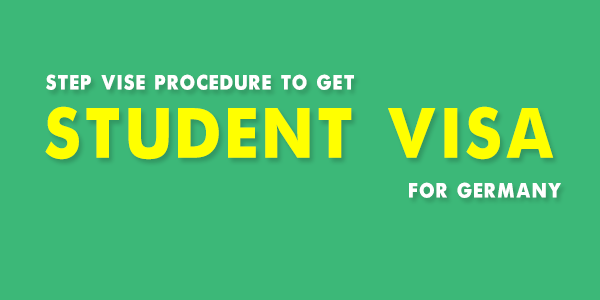 Step vise procedure to get the Student Visa for Germany
Selection of German University for study
This is the very first and important step for Visa application. Candidate need to make admission application to the desired university. Once his/her application get accepted, he/she needs to enroll for the course, then only the Visa application can be placed.
India, many cities have free counseling services from German Academic Exchange Service (DAAD) are available for interested students. The information regarding DAAD can be obtained from- "http://www.daaddelhi.org/en/23869/index.html"


Time for Enrollment
Once you have finalized a German University, you need to enroll yourself for a course. For Enrollment, certified copies of academic mark sheets and certificates are required. This certification can be done at the German Missions. The appointment details can be obtained from "http://www.india.diplo.de/Vertretung/indien/en/06__Consu__Visa/visa__new/appointments.html"


Declaration of financial status
It is the correct time to manage funds in your account. For student Visa application, one need to give proof that he or she is holding sufficient funds and is financially able to bear living cost in Germany.
There is an option for this is to open a blocked account at a bank in Germany. The information about Blocked account can be obtained from "http://www.india.diplo.de/contentblob/3589060/Daten/5367644/sperrkonto_neu.pdf"
Please note that, it takes around 4-6 weeks hence applicant need to apply well in advance for this account.


Documents preparation for Visa Application
Once you received a confirmation letter from German University, you need to give a quick start for Visa Application. You need to read the complete form and collect all the required documents before submitting the application.
Please find below the list of documents required for Visa application-

Valid passport with at least 12 months validity ahead


Downloaded Application form


Signed Declaration


A4 size copy of your passport Data page


Covering letter stating reason for stay in Germany


Letter of admission at German University


Proof of fee paid


A valid Proof of language proficiency in English (TOEFL/IELTS) and/or German if required


Academic details with proof


Proof of financial status- this may include scholarship details if a candidate is going to have.


3 passport size photos


Proof of Health Insurance coverage


Demand Draft for Visa Application fee



Fill the Application Form
When you are done with all the documentation requirement, please fill in all the asked details in downloaded application form. Once filled, sign it an submit it. Please do not forget to enclosed other required documents along with the Application. A self signed Declaration is also required with the Application.
The Application can be downloaded from "http://www.india.diplo.de/contentblob/4355090/Daten/4777010/AntragNational.pdf" and Declaration format can be downloaded from "http://www.india.diplo.de/contentblob/4017028/Daten/6179134/Declaration_true_information.pdf"
Check list of enclosed documents and a covering letter may also be enclosed with Application.


Get scheduled for an Appointment
The last step for scheduling an appointment. Please note that you need to prepare a demand draft of Visa Application fee after checking the exchange rate of that time before going to Embassy.
This fee cannot be paid in cash and is non refundable in any circumstances.


Details of Residence Permit
Once you reach Germany, you need to apply immediately for Residence permit. It is required when your stay is longer then 2 months in Germany. The documents requirement is same to that of Visa application. The validity of Residence permit is for 2 years and can be extended if required before it get expired.