How to attend and pass the UK student visa interview

The UK student visa interview aims to verify that students are genuinely interested in the university they are applying to, meet the requirements, and have the ability to finance their stay and education in the UK.


UK universities have attracted Indian students for years, with their top quality higher education. One of the steps in the process of application for studying abroad in the UK is the student visa interview. The UK visa interview need not be nerve-racking at all if you know what to expect. In fact, the questions you will be fielding at your visa interview are questions the answers to which you already know!

Nevertheless, you may be nervous when you are preparing for your interview, and that is to be expected. You are preparing to head out to a new country with a whole new culture after all. But the interview itself is going to be a breeze, with friendly visa officials and only a few minutes' worth of questions.

Just make sure you have all the documents that you need with you, including the receipt for your application and medical certificate.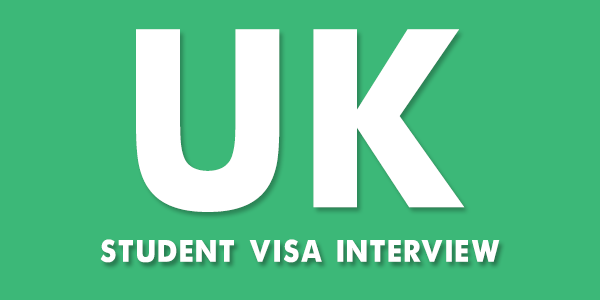 The Student Visa Interview

The interview will be based mostly on the applications that you have already filled. You may be asked to attend a phone interview. For face to face interviews, you will be making an online appointment and you will be informed about the date and time of interview. Most general student visas for Indians over 16 years going to study in the UK are Tier 4 Points Based System visas. According to the latest processing standards for tier 4 visas, most applications are processed within 10 days. 42% will be processed within 10 days, 57% within 5 days and 100% within 10 days.

When you attend your interview, be sure to turn up 15 minutes before the scheduled time. If you are late, you have to reschedule the date. Submit your documents and visa application, pay any fees remaining to be paid, and submit your biometric data as well.


Documents needed for UK Student Visa Interview

The UK visa website will tell you the documents you need to bring with you. These include:
A valid passport
Recent passport sized photo
Signed printout of application
Any official financial sponsorship letters/documents
GWF reference number (a unique number assigned to you at the start of the application process)
Originals and photocopies of education, address and identity proofs
TB test report from a hospital or clinic approved by the British High Commission
You can pay your visa fee at the center if you have not already done so.
Read more at the official visa FAQ at UK visa website.

If you don't have a passport yet, you may apply for passport in Tatkal scheme for expedited processing.


Reasons for visa application rejection

The only instances when student visas are rejected are when there are discrepancies in the information that they have provided, documents are found to be fake, important information is kept back during the interview, scores are poor, students cannot finance living or education costs, required English standards are not met, when students do not know enough about the university they are applying for and when they fail the TB test. In most other cases, the visa application is accepted. I strongly recommend you to fully read the study abroad guide.

The visa official will keep your original passport, and return it only after the Embassy has made a decision on your application. Also, note that the visa fee is non-refundable. If you reapply, you will have to pay the fees and submit your biometric data all over again.


Tracking Your Application

While the Embassy tries to process visas within their standards, but if there are delays the website will inform you. You can also contact the VFS call center to find out the status of a visa that has been delayed without any intimation. You can also track your visa status through the Track Your Application service offered by VFS Global, which also offers an SMS notification service.

Overall, as long as you are honest in your application, meet the eligibility criteria of the universities you are applying to and have the funds to stay and study there, your visa interview and application should be a smooth process.