What You Need to Know About the Italian Education System

Italy's major cities have many technical and specialized music and arts institutions where Indian students are increasingly pursuing world-class education. If you are confused about the Italian education system, find out more by reading on.


It is rarer to hear of students travelling to Italy to pursue higher education when compared with the UK, US, Australia and even Singapore. But Italy has much to offer Indians seeking higher education abroad, particularly in the performance arts. After all, it has one of the oldest modern education systems, which started with elementary, business and technical courses way back in 1872. Italy was also one of the first four countries to introduce higher education reforms, through the Bologna process.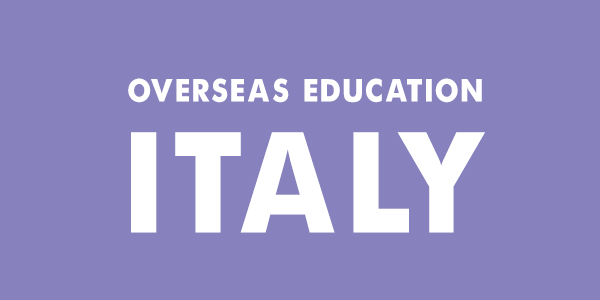 With an increasing number of Italian universities finding a ranking among the top 200 international universities, the Italian education system has begun getting the rightful attention, it deserves. Notable among them is the Politecnico di Milano, as it is ranked among the top 25 universities in the world, for its engineering and technology courses. The Sapienza University of Rome, Universita Cattolica del Sacro Cuore, the Universita di Bologna and the Universita degli Studi di Milano are progressing at a remarkable pace in the international academic arena. Italian universities are progressively becoming accessible to international students who are not fluent in Italian. Not only do Italian universities provide a solid academic grounding, in various educational fields, but more and more universities are switching to English as a medium of instruction.

Today, universities in cities like Rome, Florence and several cities in the Alps play host to international students who come to study in the land of fashion, food and football. Around 32,000 international students on average come to study in Italy annually, and the numbers are increasing every year.

The Italian higher education system is not very difficult to navigate when you are trying to choose a university to study in. Italy generally has three types of institutions that you can study at:
Universities (which include Polytechnics)
AFAM schools for high level music, art and dance education (AFAM stands for Alta formazione artistica e musicale)
Higher technical institutes
Universities

Italy's universities offer undergraduate, master's and doctoral degrees in various fields. These universities can be public or private. There is usually an application process to admit students, which can vary across universities. Some universities may offer specializations, but in general, the trend is to offer cross-departmental courses so that students are prepared for future careers.


AAFM

This category of schools includes schools that specialize in the arts and music. Students can learn dance, music performance, design, theatre, visual arts, cinema and more at these schools. The coursework at these schools are naturally more specialized, and may offer 3+2 or 5-year master's courses as mentioned below. Like universities, there are application procedures to be followed for students to be accepted for study.


Higher Technical Institutions

A third category of institutions in Italy offer vocational, industrial and technical training to students who are preparing for a specific career or job. While universities tend to hone academic prowess, technical institutes are used by working professionals and others to hone practical skills.


Degree Cycles

The Italian higher education follows three cycles of education. The first cycle and second cycle include the 3+2 system like many Indian universities do. The first three years of study, which is called the Laurea triennale corresponds to what we know as a bachelor's degree. After the three years of studies are completed, students can pursue two years of specialization, called the Laurea Magistrale. This study corresponds to a master's course in India.

After completing their Laurea Magistrale, students can go on to third cycle doctorates, Post-MA degrees or courses at specializing schools between 2 and 5 years. PhD courses usually take 3 years in Italy. There are also some courses, such as that for law, music and arts which offer a Laurea Magistrale Quinquennale or a Five-Year Master of Arts.

Note that after gaining your bachelor's and master's degree, you will be given the title of Dottore and Dottore Magistrale respectively. When you complete a Ph.D. or a Post-Ma degree, you earn the title of Dottore di Ricerca, which means Research Doctor or Doctor of Philosophy.

There is another kind of master's degree offered under the Italian education system today. The Laurea Magistrale degree is a 120 ECTS (European Credit Transfer and Accumulation System or credit points) degree course, after which you can go on to third cycle courses post-MA. The Master universitario course on the other hand, requires a minimum of 60 credits and is divided into a 1st level master's degree and a 2nd level master's degree. This type of master's course is offered by some autonomous universities. Students cannot go on to pursue a Ph.D. after this because this type of master's deviates from the norm.

Short-term specialized courses that can be completed in six months to a year are also available for students, depending on which field they are studying in.

Italy is a fantastic place for Indians to study in, given its history, culture, excellent food and warm, high-spirited culture. There are plenty of places to travel to, and studying literature in the land of Socrates or the arts in the country where Michelangelo painted can be very inspiring for students. If the prospect of funding studies in Italy bothers you then take a look at some of thescholarships in Italy that you can apply for. There are http://www.indiastudychannel.com/resources/169391-Funding-Higher-Education-at-a-Foreign-University.aspx>loans and scholarships that you can apply for as well. Lastly, to earn a scholarship you must ensure that you submit a brilliant scholarship essay that stands out from the rest of the applications.