Ten good reasons to study in Canada

Traditionally Indian students have always preferred going to the US or UK for higher studies. But in recent times many countries including Canada are coming up as popular destinations for higher education. Let's see what's so cool about studying in Canada.


Canada has always been a popular choice for immigrants around the world, including Indians. But the country ranked low in the priority list of students who wanted to study abroad. The majority of students always preferred US, UK or at the most Australia. But times have since changed. The Canadian government and the people are now more receptive towards the idea of admitting foreign students on the rolls of its numerous universities and colleges. Canada has always been favourable towards immigration and that's why we can see immigrants forming a large chunk of its population. So there is no reason why foreign students should not be welcome in the country. There are scores of reasons why one should study in Canada. This article however, focuses on the ten most important ones.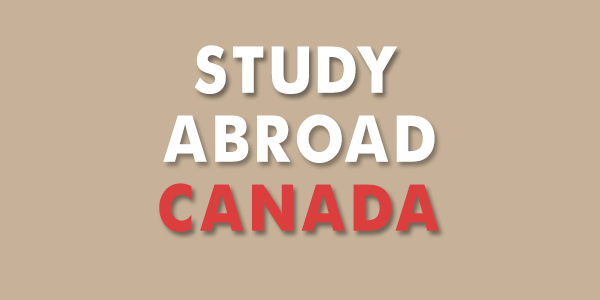 Ten reasons why you should select Canada for your higher education
Cheaper than most countries

Since affordability is an important aspect from the point of view of an Indian student, Canada scores very high in this respect. Staying and studying in Canada is far cheaper than say, staying in the US or UK and studying there.



Permit to work after finishing studies

Another important feature from the point of view of foreign students is - one gets the work permit to stay in Canada for a period of 3 years after finishing studies. Compare this with UK, which has cancelled the provision for work permits to foreign students since the year 2012. Students there have to leave within 3 months of finishing their education. Things are not favourable in the US too, where the lawmakers are making it hard for foreign students to stay back in the US after their studies. Americans these days are very concerned about losing their jobs to immigrants and foreign students, especially to Indians. A good many lawmakers, both in the US and UK have made it hard for Indian students to study in the two countries.



Permanent residency in Canada

Even after the lapse of the 3 years work permit, foreign students can choose to stay back and work in Canada by opting for permanent residency in the country. The Canadian government is quiet liberal towards educated and skilled immigrants becoming part of its workforce. None of the European countries or the US has such relaxed rules on immigration. They are on the other hand curbing on immigration by introducing various restrictions in visa rules.



High standard of academic excellence

Canadian colleges and universities provide a high standard in education and they are comparable to the best in the world. The tution fees here are among the cheapest and there are a number of schemes providing scholarships to foreign students. Ontario, British Columbia and Quebec are the provinces home to the top universities in Canada. As per one study 3 universities in Canada feature among the top 50 in the world. Another 10 come among the top 300 of the world, a feat unmatched by most countries.



International recognition for Canadian degrees

The country's universities provide with degrees that are recognised world over, including the United states and other leading nations. There is a wide range of degrees and diploma programs and a large number of colleges to choose from for a foreign student eager to study in Canada.



One of the best places to live in the world

Canada is by far one of the best places to live and work in the world. That's why it has always been the choice of millions of immigrants who have made Canada their permanent home. Even the United Nations has ranked it very high as one of the best places to live considering the effective education system, high standard of living, peacefulness, abundance of natural resources and a slew of welfare measures by the government.



High quality of life

Canada is famed for providing a high quality of life to all its citizens. The government spends a lot on healthcare system and welfare measures. Canada is a very peaceful country and provides safe and secure life to every one residing in the country. Crime rates are very low in the country and racial discrimination is abysmally low as compared to many other western nations.



A picturesque country

The country is one of the most beautiful places in the world. It has a number of scenic locations spread across the length and breadth of the country. Thin population density has ensured that most of its regions have been left safe from human exploitation. Its maritime borders are kissed by three of the mightiest oceans - the Pacific, the Atlantic and the Arctic. From the Niagara falls to the ski slopes of British Columbia, the famed Rocky mountains, the Great Lakes and the prairies of Manitoba, Canada is a land blessed with natural beauty.



A multi-ethnic and multicultural society

People of all ethnicity and race reside in Canada. Canada as a country of residence is very popular with Indians. Indians from all regions of India can be found in the country in large numbers. As such an Indian student in Canada very much feels at home because of the large number of Indians living there. A good number of Indian restaurants and easy availability of most Indian cuisine gives a feeling of home to those living thousands of miles away in a foreign land. Indian festivals and cultural activities too are celebrated with much fanfare by the Indian diaspora settled there.



The advantage of language

Indian students are at an advantage because of being very familiar with the English language. Further they get the opportunity to polish their French too, as Canada gives both the English and the French language equal importance. After all as a foreign language French is very popular with many Indian students back home in India.

With so many good reasons, eventually more and more students are likely to opt for Canada, instead of the US or UK for their higher education. And why not, Canada has always been friendly towards foreigners, has an open door policy towards immigration and is a very safe, peaceful & beautiful place to study and live. What else a student can ask for?