What is Page-level Ads from AdSense and how to use it?

In this article, you will know what is Page-level Ads from Google? How to set and use Page-level Ads in Smartphone effectively? Learn Tips and tricks for it, and pros and cons of Page-level Ads etc.


As you are aware, Google AdSense has rolled out a new type format of Ad display for Smartphone users, it is nothing but the publishers can use it effectively to earn ad revenue from mobile device users. How?


What is Page-level Ads?

Google AdSense has introduced two new format ads viz. anchor / overlay ads and vignettes and they are just for Smartphone / mobile phone display adv only. Anyhow, this is still in BETA and it is right now available to some limited publishers only.

Page-level Ads are already available to use by the selected publishers to display the ad on their blog which mobile user can see them on visit.

Since Smartphone or mobile phone users are increasing every day, thus, Google has introduce AdSense new innovative ad format to match the device and users' requirement. Responsive Ad is generally available since long to all publishers that is a solution and helpful for the mobile users too.
Page-level ads are built to get benefitted by the advertisers and Adsense publishers.

To get some idea, you can check your website online typing URL (your website name) as www.xyz.com/#googleads (for e.g. www.indiastudychannel.com/#googleads) to know the status and it may show the result as screen-shot given below;

Anchor/Overlay Ads


Vignette Ads



Nothing to worry if you got the above screen-shot result, you may try the same in Smartphone too to know the status.


Differences between Page-level Ads and responsive ads

Page-Level ads are the new ad formats which would help to increase publisher's earnings than responsive one.

Responsive ad is limited in certain case like three ads per page whereas Page-Level ads break this rule and possibly an increase to earn through mobile users usage.

Page-level ads are built with user experience in mind. They are easily dismissible and limited per user (more on that in ad types below).

The ads are easy to implement, and you only need to place the same piece of code for ads to be displayed on every page.

Similar to other ad formats, you can experiment and see if these ads work better for you and decide if you want to keep them activated.

With Page-level ads, AdSense has made two different types of ad formats available to the publishers, as stated below;

1. Anchor/Overlay Ads – Google AdSense
Anchor ads stick to the bottom of the user's Smartphone screen and it can be easily dismissed by the user while scroll up or down.

2. Vignette Ads – Google AdSense
Vignette Ads cover the full Smartphone screen of the users. This Ad shows only between page loads on your blog and have 'skip' option to come out easily by the user.

This ad also doesn't appear when a user comes to your website but when they go to next page on your website then shows. This is one way helpful for the visitors too.


How to check Page-level ads in AdSense account?

Login to your Adsense account to see it.
Navigate to My Ads tab on top menu.
Select Content > Page-level ads (only for approved publishers).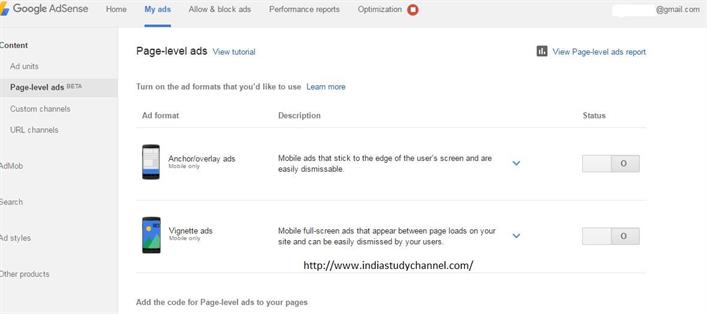 Turn on the page-level ad formats that you'd want to implement.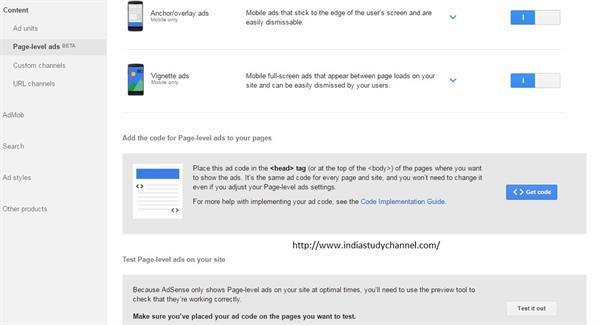 Click on the Get code button to generate the required code for your AdSense account.
Add the code in the head section of your blog / website.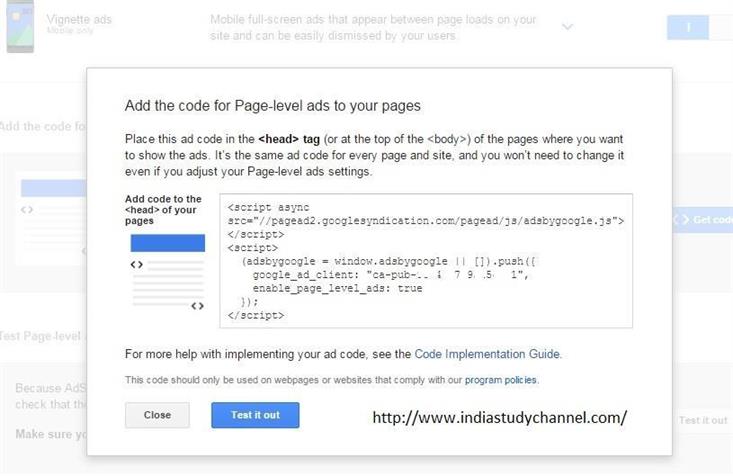 You may check the following official links for more detail…
https://support.google.com/adxseller/answer/6068103?hl=en

http://adsense.blogspot.in/2016/04/AdSense-page-level-ads.html?

You have to learn how to use Page-level Ads in Wordpress and Blogspot or custom domain etc. You may get its guideline online too.