Top International Government Scholarships to Fund Your Studies Abroad

Indian students applying for foreign studies abroad can pursue their dreams with the help of generous scholarships from foreign governments including Australia, Italy, UK, USA, Singapore, South Korea and China.


It has become more common for Indian students to go overseas after completing high school or a bachelor's course to head abroad for higher studies. Popular traditional destinations include the ,a href="/study-abroad/countries/18-Study-in-Canada.aspx">Canada, UK, USA and Australia. But other countries like New Zealand, China, Singapore and South Korea area also emerging as education hubs, drawing Indians and other international students with their high quality of education. Read more about the best destinations to study abroad.

Overseas education in these mostly stronger economies can be expensive for an Indian student to bear without the assistance of student loans and scholarships. Many private scholarships are available for international students in these countries, but these can be hard to find and time-consuming to locate.

Government-funded scholarships, on the other hand, have well-established administrative processes in place. So applications can be processed quicker. These scholarships are also often more generous than private scholarships. The interest of foreign governments offering funds lies in attracting quality global talent to their countries for research studies. On the other hand, scholarships that the Indian government offers Indian students for overseas research are investments in talent for the future.

Here is a list of top scholarships offered by the governments of some of the top destinations for Indian and international students going to their country to pursue higher education.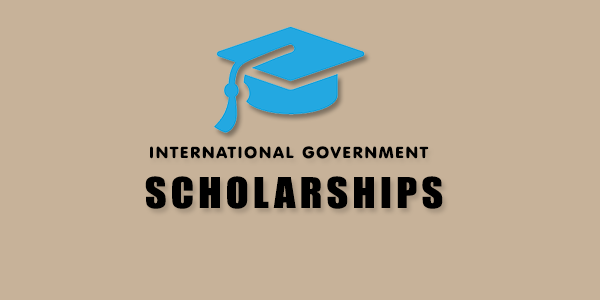 UK: Commonwealth Scholarships
Every year, the Commonwealth Scholarship Commission (CSC) offers fellowships and scholarships to the UK. These are awarded to outstanding students who want to pursue professional and postgraduate developmental research courses in the Commonwealth countries. There are fifty-three countries that are members of the Commonwealth, spanning across the world in Asia, Africa, the Americas, the Pacific and Europe. The Commonwealth awards are funded by the Department for Business, Innovation and Skills, the Department for International Development and the Scottish Government in association with UK universities. Students from developing Commonwealth countries are the usual awardees.

The Commonwealth scholarships are merit-based. They are only offered for full-time programs and you cannot undertake any other study program while you are under the scholarships. Many Indians have won these awards in the past. There are other eligibility criterions that vary depending on the scholarship you have been nominated for.

Awards offered include those for:
Master's and doctoral programs
Shared scholarships
Medical fellowships
Academic fellowships
Professional fellowships
Split-site (PhD) (where part of your PhD in an Indian university is taken up in a UK university)

Commonwealth scholarships generously cover tuition, exam fees, return air fare to UK, maintenance allowance, thesis grant, living allowance, establishment allowance etc.


To Apply: Applications cannot be applied for directly by candidates. Nominating agencies or your university in India must nominate you for the awards. Applications should be made through the EAS (Electronic Application System).
Australia Awards Scholarships

Awarded by the Department of Foreign Affairs and Trade, these Australian scholarships are also offered to students from developing countries. Preference is especially given to students from Indo-Pacific countries. Levels of study on the award list include both postgraduate and undergraduate courses. You can apply for the award whether you are going to pursue studies at a TAFE institution (vocational training or Further Education institutions) in Australia or participating Technical and traditional universities in the country.

The awards cover full tuition, return airfare, CLE (contribution to living expenses), establishment allowance, OSHC (health cover), any costs for pre-course English, Introductory Academic Program, fieldwork, supplementary academic support etc.


To Apply: You must be 18 years to apply, and other criteria depend on the institution you are applying to. Fill in an online application on the OASIS system. Deadlines vary by country. No Indian applicants are being accepted for the 2017 session. For future years, watch for application announcements in April and February.
Australia: International Postgraduate Research Scholarships (IPRS)

Also offered by the Australian government, the IPRS is awarded for Master's and PhD degrees. Students of all countries except New Zealand are eligible to apply. It aims to attract outstanding postgraduates for research.

The scholarship covers tuition, health cover (for awardee and their dependants), over a period of two years for master's degrees, and three years for doctoral degrees.


To Apply: You must be starting a full-time course in a Master's or Ph.D degree by research at a suitable Australian university to apply. You can directly apply for IPRS to the university. Deadlines and application process varies, so you should contact your university for more details. However, deadlines typically fall between April and October.
USA: Fulbright Scholarships

If you are interested in a program at a US university, the Fulbright Scholarships and fellowships are what you should aim for. These awards are given to professionals, graduates and artists for study programs and research programs. It is administered by USA Embassies or the Binational Fulbright Commissions. Each year, nearly 4000 students from around the world receive the Fullbright awards.

The Fulbright Program covers tuition, monthly stipend, airfare throughout the duration of your course. The selection process for Indians varies depending on the course you are applying to. Applications for all fields, including interdisciplinary fields, are eligible and even encouraged.

To Apply: Applications are online. You can visit the USIEF (United States-India Educational Foundation) website for more information on the scholarships. Selection program and deadlines vary, but you can typically expect deadlines to be between February and October every year.
Italy: Italian Government Scholarships for Foreign and IRE Students

If you want to pursue undergraduate, postgraduate or doctoral degrees in Italy, you can apply for the Italian Government Scholarships for Foreign students and nationals. Not only can you win financing for traditional courses, but also be able to finance excellent Dance and Music courses at Italy's AFAM institutes, institutes for higher education in art, advanced courses in the Italian language and more.

Scholarship duration range from three to nine months (or one month for programs for teachers of Italian language). Contact the institution you are applying to for more information on tuition fees and taxes.

To Apply: Registration and application is online. Deadline is 15 April.

There are several other foreign governments offering prestigious scholarships that Indian students can apply for. These include: the Singapore International Graduate Award, the Chinese Government Scholarship-Bilateral Program, Korean Government Scholarships, National Overseas Scholarships by India's Ministry of Social Justice & Empowerment and the Singapore MOE Tuition Grant Scheme.