Best film making schools in USA

Do you want to learn Hollywood film making from some of the best institutes in the World? This article talks about some of the popular film making institutes and courses on offer and the various career opportunities for aspiring students to study Filmmaking in USA.


Overview

Cinema as an art form offers us an experience that simple yet complex. For the common man and woman, it gives them a chance to lead the lives of their super-heroes on screen. Only cinema offers the experience to all of us. Although filmmaking is not currently covered as a subject in the QS World University Ranking, film studies are a very popular area at universities and colleges around the world.
A wide range of course options is there from undergraduate film studies programs at large universities to more specialized postgraduate programs at specialized arts institutes. Filmmaking qualifications include the BA (Bachelor of Arts), BFA (Bachelor of Fine Arts), MFA (Master of Fine Arts) and, in some cases, an MPhil/ Ph.D. It is also possible to complete a one or two-year diploma instead of a full degree.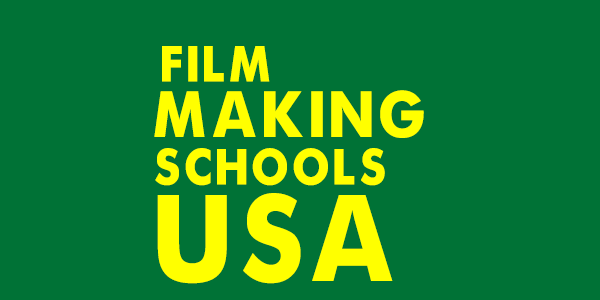 Top film schools in USA
American Film Institute (AFI)

The American Film Institute is perhaps the most famous of all film schools in Los Angeles or best of the US. It hosts festivals and star-studded events throughout the year. Despite some challenges in maintaining its previous reputation, the AFI in recent years has settled back on track, now enabling students to produce a maximum of four personal films during their studies and to get advice from visiting industry experts including McQueen. Boasting 28 Emmy nominations among alumni in 2014 alone, The AFI also counts South Park producer Anne Garefino and Black Swan director Darren Aronofsky among its past students.

Tuition fees for 2015/16: US $47,030 (The AFI Conservatory Program, 1st year students) and $58,216 (2nd year students)


CalArts

The CalArts School of Film and Video, dreamt up by Walt Disney shortly before he died in 1966. It joins AFI as another of the most repudiated film schools in Los Angeles. Though CalArts is located in the suburb of Valencia, it is now one of the best grounds of many of the best animators and filmmakers in Hollywood.
Tim Burton, one of the early graduate from CalArts, was followed by a series of notable Disney animators including Andrew Stanton (Finding Nemo), Brad Bird (The Incredibles) and Chris Buck and Jennifer Lee (Frozen). In the year 2014, CalArts students were lucky enough to be taught by Academy Award-nominated actor and director James Franco. CalArts offered degrees like BA, MA, MFA, and DMA (Doctor of Musical Arts).

Tuition fees for 2015/16: US $43,400 (All students)


NYU Flim School

Outside of Los Angeles, most leading film institute in the US include New York's NYU Film School. Although a part of New York University's Tisch School of Arts, the NYU Film School is an institution in its own brand value. Located in the center of one of the World's most culturally vibrant and renowned metropolises, it boasts World class alumni such as Martin Scorsese and the much-praised creator of US TV series Breaking Bad, Vince Gilligan. In the past season, 10 of NYU film school's alumni were nominated for an Oscar. In addition to NYU Film School's main NYC campus, the school also has a campus in Singapore. It also offers numbers of undergraduate film making degrees, it offers a postgraduate-level MFA in Filmmaking.

Tuition fees for 2015/16: US $25,093 (All students). Students should also expect to pay an additional US $1,212 for registration per term, US $1,570 per additional unit and US $2,000-15,000 per year for equipment and insurance.


USC School of Cinematic Arts

It is under the University of Southern California, a place where many Hollywood's most famed filmmaker started out. It offers world class media facilities such as IMAX theatre and research lab, making it one of the most famous art-film schools in Los Angeles. Alumni of the USC School of Cinematic Arts include comedy writer and producer Judd Apatow and Kevin Feige, the president of Marvel Studios. This film institute offers degrees like BA, BFA, and the MFA.

Tuition fees for 2015/16: US $48,347 (Undergraduate students) and US $34,079-49,601 (Graduate students). Additional fees for equipment may also apply.


Los Angeles Film School

It is located in the middle of Hollywood on Sunset Boulevard, anyone can easily see the Los Angeles Film School. Its name is one of the most notable schools for famous Hollywood filmmakers. It offers bachelor and associate degrees in all areas of the entertainment industry, the Los Angeles Film School also offers online programs in digital filmmaking and the entertainment business.

Tuition fees for 2015/16: US $74,622 (Domestic students) and US $79,617 (International students)


Other Well known filmmaking schools
College of Communication in Boston University
College of Visual and Performing Arts in Syracuse University
School of the Arts in Columbia University
Department of Visual and Media Arts in Emerson College
Dodge college of film and Media Arts in Chapman University
School of film and Television in Loyola Marymount University
Moody College of Communication at University of Texas in Austin
Colorado Film School
New York Film Academy
School of Theater, Film and Television in UCLA


Checkout IndiaStudyChannel's comprehensive guide for study abroad in USA which will help you find complete information on best universities, admission procedure, visa application process, fees and cost of living, etc.