Top 5 things to consider for SOP - Statement of Purpose

Are you applying for admission in foreign countries? It is better to write SOP rather than using recommendation letters. In SOP, you can narrate everything about you to admission authorities. Now, confuses arises. What to write and what not to. So, here is the article which tells you to things to follow. Eager to know? Then click on page down button and follow the tips.


Introduction
Study in abroad! This is becoming a common thing among Indian students. Students don't want to join in a normal college in abroad. They are choosing the best college among all foreign universities/ colleges. For this, marks they have scored up to now are considered and economic affairs too. That is – Statement of purpose. In short, this is called as SOP. When you write SOP you need to remember some key points and they are as follows:


Preface
SOP – sometimes also called as 'Statement of purpose'. Every student can explain about himself through SOP. It tells many things that even recommendation letter unexplained. In one piece, it is the mirror that shows clearly the student's career goal. Admission authorities will realize about your future ambitions like Education, career, with the student's personality, knowledge, experiences etc. through SOP only.

Since admission authorities impressed through your SOP, you should try to write it in interesting and clear manner so that they will know the reasons that why you want to apply to that particular college or course.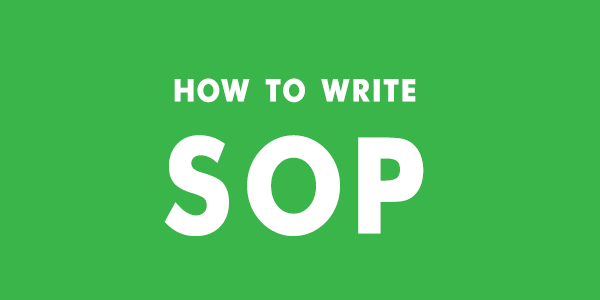 Things to include in SOP
While writing SOP we have to include some key points and they are as follows:

First Impression
First impression is the first section while writing SOP. Here you need to introduce yourself. As well as, what you are trying to say in the later part in SOP you can add in this part. You can briefly specify any details like brief introduction to your personality, to incorporate the wishes etc. can be written in small short lines.


Goals
Explain about your education or career goals. Briefly explain the reasons behind your target here. In addition to this, you should interpret what is your goal and how is this establishment of goal suits you? You have to explain the long-term career goals and the details are also very useful.


Deeply

Specify in detail about your personality. It must educate them about reading to your future goals. While applying you should write in detail one-by-one about your
Course Work
Research work
Professional career

How you will get knowledge through the course work which you have selected, the course, internships' etc can also explain. You have to state them each and everything in detail. In addition to this, you have to explain, how it will be helpful to reach your goal in an effective way. If you are doing the job related to same field you have to explain about the skills / technologies related to the profession. You can incorporate cultural and personal opinions also.


Intention
Intension, it is the most important section in SOP. Why would you want to read this course particularly? In addition to the details of the previously mentioned elements, details of the course related to your studies also mentioned. As well as, how will you use your education that should be helpful to the public, institutions, society, and the country? Better to include about this topics regarding how will you reach the above mentioned.


Being Fit

You should write the choice of selection of your college or particular program. When writing this paragraph, you should specify the benefits about research opportunities and teaching methodologies. Your established goals should be connected to the college and course which you have chosen. For that, you have to research deeper about graduate / undergraduate research programs while writing about this.

How will you impress authorities if they asked about why should you want to join in that particular college? You can simply say: I would like to read the program in a particular college, since many students are benefited from this program to attend the college.

If you have more skills then chances are more to get better chances. They believe that (Through your SOP) after joining the College you can increase the value of your college then it is possible for you in the seat. In recent years, many colleges adopted give and take policy.


Together
In this final section, encapsulate your personal talent. As well as you should mention about your support. It is far better off, if you should explain how much you can help them after joined in the program. To reach your professional goals in the future, what kind of program will may help. Explain once again. Keeping in mind the above five said things, the chances are more to get the seat in the desired college.


Conclusion
If Admission authorities feel that, all the details mentioned in the SOP is true then you'd like an abundance of opportunities for college admission are available. If you want to reach the goal you should write SOP in systematic manner by including the below items.