How to submit application for Fulbright Nehru Masters Fellowships?

Do you know about Fulbright Nehru Masters Fellowships? What is the eligibility criteria and what is the last date of submitting application for it? How to submit application for Fulbright Nehru Masters Fellowships? Read this article to know answer of these and many other such questions.


Introduction
The United States India Educational Foundation (USIEF) offers a variety of grants to Indian scholars to pursue higher studies in US. High level of support ranging from covering the cost of education, visa processing, health insurance to pre-departure orientation are provided. However the scholars are selected through a rigorous application and interview process. The Fulbright Nehru Masters Fellowships enables the selected outstanding Indian students to pursue masters program in selected US universities in eligible areas of studies.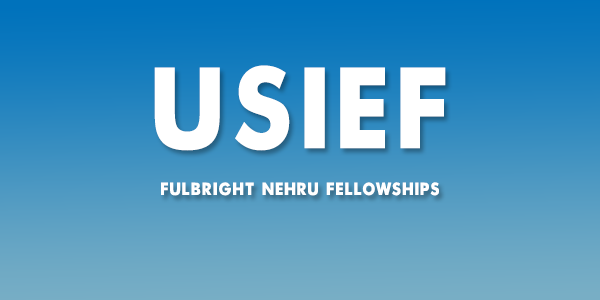 Timeline
Application due date for 2017-2018 awards - 15.06.2016.
Short listing of candidates - June/July 2016
Interviews of short listed candidates - by mid August 2016
Notification to nominees by USIEF - by end of August 2016. Nominees appear in applicable standardized tests like TOEFL and GRE etc.
Forwarding applications of recommended candidates to the U.S. by USIEF for approval and placement- by September 2016.
Notification to finalists by USIEF - March/April 2017.
Pre-departure orientation - May/June 2017.
Pre-academic training in the US, if required - July/August 2017.
Degree program begins - August/September 2017.
It may be noted that the fellowship is not applicable to following degree programs -
Masters degree in Business Administration (MBA).
Public Administration or Public Policy e.g. MPA , MPP and MA or MS in Public Administration or Public Policy.
Dual or joint degree programs e.g. MA-MBA or MA-MPA or MA-MPP



Fellowship benefits
Fulbright Nehru Masters Fellowship recipients are granted following benefits -
Tuition and fees cost.
Living and related costs.
J-1 visa support. The exchange visitor (J) non-immigrant visa category is for individuals approved to participate in work and study based exchange visitor programs.
Economy class air travel (round trip) to US host institution from the fellow's city of residence.
Health insurance i.e. accident and sickness coverage as per US Government guidelines.
However it may be noted that -
No financial support for dependents is provided.
USIEF funding may not cover all costs and therefore supplement from other resources may be required.



Eligibility
The following is the eligibility criteria for the fellowship. The applicant should -
Possess 16 years of education i.e. a 4 years bachelors degree or a masters degree in case the duration of bachelors degree is less than four years, from a recognized Indian university with at least 55% marks.
Have at least three years professional experience in the proposed area of study.
Must not have another US degree or enrolled in a US university for any degree program.
Have demonstrated leadership and experience in community service.
General requirements
Besides the specified eligibility requirements, the applications are generally required to fulfill following general requirements also. The applicant -
Should be a responsible Indian citizen who is willing to and capable of promoting understanding and friendship between the peoples of the United States of America and India.
Must be residing in India at the time of application.
Must be proficient in English language.
Should have a high level of academic/professional achievement.
Must attend interview at the USIEF office in New Delhi, in case called for the same.
In case employed, must be eligible for leave.
Must be in good health.
Must give an undertaking to return to India on completion of the fellowship.



Fields of study
The fellowship is admissible only in eligible fields of study e.g.
Environmental Science/Studies
Public Health
Women's Studies/Gender Studies
Urban and Regional Planning
International Legal Studies
Higher Education Administration
Arts and Culture Management including Heritage Conservation and Museum Studies



Application process
Register online at https://apply.embark.com/student/fulbright/international/20
The email address of the applicant will be his user ID.
The applicants can complete application in more than one sessions also. The applicants can re-login to edit already filled data before final submission. However, in case of no activity up to 40 minutes at the time, the applicant will be logged out automatically and will have to login again.
After final submission of application, neither the data can be changed, nor any document can be uploaded.
The application should not have any grammatical and spelling errors.
Essays to be created on page 4 and 5 of the online application which may be either created online or text can be uploaded from another document. Study/research objective has to be created on page 4 and 'personal statement' has to be created on page 5.
Resume/curriculum vitae has to be uploaded on page 6 which should not be more than 3 pages.
On pages 7, university transcripts are to be uploaded, bachelors degree onward. High school or senior secondary school mark sheets or certificates need not be uploaded.
On page 8, names of persons to whom letters of references have been requested has to be mentioned. Three letters of references are required to be submitted either from teachers who have taught the applicants or from the persons who have supervised the work of the applicant in the proposed area of study. The letters of references can be submitted either online on webpage https://apply.embark.com/student/fulbright/international/20/ReqForms.asp or through 'confidential letter of reference form'.
On application page 9, personal financial information has to be filled.
A list of preferred universities has to be provided on page 10 of application including name of the department and the specific program.
On page 11, additional documents including signature form and bio page of the passport etc. are to be uploaded.
A writing sample of size not more than 2 MB is required to be uploaded on page 12.
Page 13 is meant for uploading test scores of standardized tests like GRE, TOEFL and scanned copies of proof of work or professional experience.
The applicant who are employed in any organization have to submit 'FN Masters Employers Endorsement Form' on page 14.
Completed application is reviewed by online 'application inspector' which prompts for correction in case there is any missing data.
Application should be submitted finally only after ensuring its completeness and reviewing the data filled.
The applicants are required to electronically sign the application by entering their first and family name exactly as mentioned in their passport and then clicking on 'Confirm Signature'.
Contact details

United States India Educational Foundation,
12 Hailey Road,
New Delhi-110 001
email: info@usief.org.in
Phone - 011-4209-0909/2332-8944
Fax -011-2332-9718
Contact Person for fellowships program for Indian citizens - Sudarsan Dash, Sr. Program Officer, Indian Program.
USIEF has regional office at Chennai, Hyderabad, Mumbai and Kolkata also.

Conclusion
The application for the Fulbright Nehru Masters Fellowships is very systematic and transparent. The applicant should visit http://www.usief.org.in/Fellowships/Fulbright-Nehru-Fellowships.aspx for knowing full and authentic details. Applications has to be submitted online. Resources like 'Masters Applicant Instructions', 'Masters Applicant Annexure', 'Masters Applicant Checklist' and 'Masters Employers Endorsement Form' are made available on the said website and should be thoroughly studied and adhered to.