How to submit application for Fulbright Nehru Postdoctoral Research Fellowships

Are you looking for information on the Fulbright Nehru Postdoctoral Research Fellowships? This article provides complete information on the application procedure and schedule, eligibility requirements, grant benefits, etc. of the Fulbright Nehru Postdoctoral Research Fellowships.


Introduction
Fulbright Nehru Postdoctoral Research Fellowships are designed for Indian faculty and researchers to strengthen their research capacities. The United States India Educational Foundation (USIEF) coordinates the fellowship program in India. However it is to be noted that the fellowship is considered for carrying out research in the specified areas only. The duration of such fellowship is eight to twenty four months.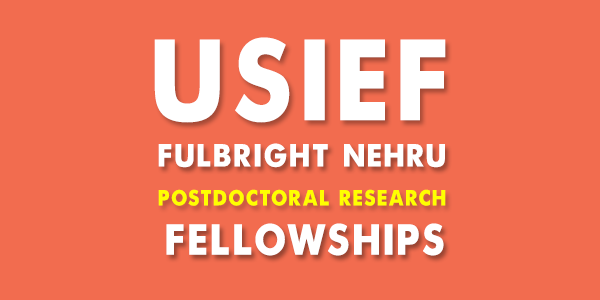 Timeline
Last date of submission of application for 2017-2018 awards - 15.07.2016.
Expert review of applications of short listed applicants - August/September, 2016.
Interview of short listed candidates at Delhi - by mid October, 2016.
Notification to nominees by USIEF - by late October, 2016.
Forwarding of applications to US for approval and in respect of recommended candidates - December, 2016.
Notification to the finally selected candidates- March/April, 2017.
Pre-departure Orientation - May/June, 2017.
Program begins - August/September 2017.
Grant benefits
A monthly stipend.
Accident and sickness program benefits as per U.S. Government guidelines.
Round trip economy class air travel from India to the US.
A professional allowance.
A modest 'settling in' allowance.
Subject to the availability of the funds, a dependent allowance and international travel cost to one eligible dependent who has to remain with the fellowship grantee for at least 80% of the grant period.
Affiliation
The applicants are expected to identify the US host institutions with whom they wish to be affiliated and correspond with them before hand and obtain letters of invitation mentioning the duration of the visit, preferably with dates. In case such letters of invitation are obtained from the US host institution, then the same should be uploaded as a part of the online application.


Prerequisites and eligibility requirements
The applicants should have obtained their Ph.D. degree during past four years i.e. between 15.07.2012 and 14.07.2016.
Publications in reputed journals and evidence of superior academic and professional achievement.
In case of the employed applicants, the employer should indicate that leave will be granted for the fellowship period and an endorsement from the competent authority of the employer on the 'FN Postdoc Employers Endorsement Form' is required to be obtained.
The general requirements applicable to all cases are as follows -
The applicant should be a responsible Indian citizen capable of contributing to the furtherance of mutual understanding and friendship between the peoples of India and US.
Must be residing in India at the time of application.
The applicants should have a high level of academic/professional achievement.
Should have proficiency in the English language. The selected candidates may be required to take TOEFL test.
Must be in good state of health.
Should not be applying for or holding a Green Card (permanent residence in the United States).
Must attend interview at the USIEF office in New Delhi in person, in case called for.
Must give an undertaking to return to India on completion of the fellowship program/period.
Research areas
The fellowship is awarded for furthering research in following fields only-
International Law, but limited to immigration law, environmental law and labor laws.
Neurosciences.
Computer Science with emphasis on cyber security and digital economy.
Bio-engineering.
Agricultural Sciences.
Energy Studies.
Materials Science with emphasis on environmental applications.
Economics.
Education Policy and Planning.
International Security and Strategic Studies.
Public Health.
Women's and Gender Studies.
Urban and Regional Planning with emphasis on smart cities and waste management.
Study of India limited to anthropology, history, sociology, and visual and performing arts.
Study of the US limited to anthropology, history, sociology, and visual and performing arts.
Application process
The application has to be submitted online only.
The first step is to register at https://apply.embark.com/student/fulbright/scholars/30/.
The applicant can write at postdoc@usief.org.in in respect of any question related to the fellowship.
Preference is given to candidates who do not have extensive recent U.S. experience.
The grant duration should be determined carefully as only the period mentioned in the application is considered for the grant which cannot be changed later.
The duration of the fellowship is eight to twenty four months.
Applications are considered for carrying out research in the specified fields only.
The application should be free of grammatical and spelling errors.
The applicant should not be applying for US permanent residency.
The name in the application should be filled exactly as it appears on the passport of the applicant.
No application of Indian citizens residing, working or studying outside of India is accepted.
The US Social Security Number (SSN) is required to be filled in the application form, in case obtained during previous visits to US.
Particulars of previous Fulbright grants, if any, should be mentioned in the application form.
The program period should preferably be selected to begin from the US academic year which is generally August/September to May.
Step by step detailed instruction for filling the form given in the document -'FNPostdoc Applicant Instructions' should be followed.
Contact details

United States India Educational Foundation,
12 Hailey Road,
New Delhi-110 001
email: info@usief.org.in
Phone - 011-4209-0909/2332-8944
Fax -011-23329718
Contact Person for fellowships program for Indian citizens - Sudarsan Dash, Sr. Program Officer, Indian Program.

USIEF has regional office at Chennai, Hyderabad, Mumbai and Kolkata also.


Conclusion
The applicants should visit the http://www.usief.org.in/Fulbright-Nehru-Postdoctoral-Research-Fellowship.aspx and study the same thoroughly and carefully for directly eliciting the authentic detailed information displayed on the same prior to proceeding ahead. Resources like 'FNPostdoc Applicant Instructions', 'FNPostdoc Applicant Annexure', 'FNPostdoc Applicant Checklist' and 'FNPostdoc Employer's Endorsement Form' are made available on the said website and should be thoroughly studied and adhered to.