Study Tech in the USA: MIT or Caltech?

MIT and Caltech are top choices for students who want to pursue education in cutting-edge areas of study. MIT also offers excellent non-science courses and Caltech is influential in the research sector. Find out which institution is the best for you.


MIT and Caltech do not need an introduction as two of the world's highest-ranked tech-based institutions. MITis ranked number 1 and Caltech is ranked number 5 in the QS World University Rankings. However, if you are in a position to make a choice between the two, how do you do so? Some of India's best tech students seeking to study abroad face this choice, given that they are pursuing knowledge in cutting edge subjects like quantum physics & string theory, nuclear reactors and supercomputers. Here is a comparison between the two as candidates for quality overseas education.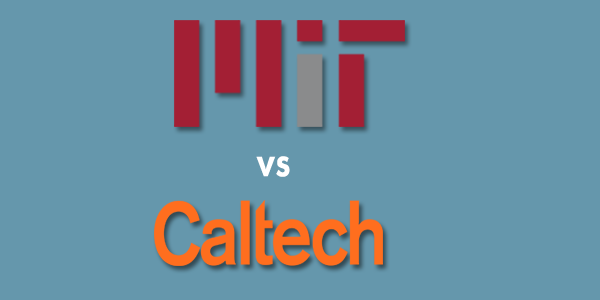 Comparing strengths

For many, the MIT (Massachusetts Institute of Technology) is the unquestionable winner. After all MIT has held top position for four years on the QS Rankings, while Caltech (California Institute of Technology) only climbed to fifth place from three places down this year. Overall employers and academics at MIT outrank those at Caltech. Also, MIT has a more diverse faculty, with a greater number of international faculty members.

But there are areas where Caltech comes out ahead. Caltech has a better student-faculty ratio. The California institute also has more number of research citations per member of the faculty. This implies Caltech has a higher research impact, possibly making it more suitable for students looking to learn from great influencers in the research sector. In the past, Caltech graduates were not as well-recognized by employers as they have been recently – Caltech has risen to the 75th position from its previous 107th place in employer recognition rankings.


Subject strengths

As expected, both MIT and Caltech come out top in science and tech program rankings. But MIT's Sloan School of Management also gives it an edge over Caltech in its business and social science programs. MIT is also ranked for its natural sciences programs, and maintains a rank within top 20 for areas like life sciences & medicine as well as arts & humanities.

Caltech on the other hand is not the all-round performer that MIT is, with the majority of its subjects making the top 200 but not top 20 like MIT. However, it is also known for its engineering and technology programs and natural sciences programs. The life sciences & medicine programs at Caltech rank within the global top 100 and social sciences, management, arts & humanities rank within the top 200.

When you look at the in-depth rankings per subject for each university, you will find MIT comes out first place for its courses in chemical engineering, architecture, chemistry, civil engineering & structural engineering, economics, computer science & information systems, linguistics, electrical engineering, mechanical engineering, materials sciences, statistics as well as physics & astronomy.

MIT's programs in art & design, accounting & finance, mathematics, environmental sciences, mineral & mining engineering are also ranked within the world's top 3. Such rankings are hard to beat, but Caltech beats many other science & tech institutions with its subject-based rankings in the top 10. Caltech's top subjects include chemical engineering, earth & marine sciences, biological sciences, chemistry, physics & astronomy. Within the top 20 are its mechanical engineering, electrical engineering, mineral & mining engineering, and materials sciences as well as mathematics. Its programs in computer science, environmental sciences and economics place within top 50. Within top 100 are medicine and civil engineering, and business and history courses rank in the global top 150.

When you make a choice between the two institutions for your education abroad, you will want to compare the performance of each university in your area or subject. But tuition costs may also need to be considered.


Comparison of Fees and Funding

It is not news that education in the US can be more expensive than most other international destinations. Both MIT and Caltech have annual tuition fees of around US$45,000 across all levels of study. These rates apply to both domestic and international students. Factoring in living expenses, transport, health insurance and other costs, you can expect to spend around US$65,000 for your education per year.

But the good news is that both institutions offer very generous financial aid. Average scholarships at MIT are over $36,000, and usually student's financial need is not considered when funding is offered. Unlike MIT however, Caltech does not extend its need-blind funding to international students. If you choose to study in Caltech, you may need to seek funding through education loans or other scholarships such as the Fulbright award, which many Indians have won in the past.